Egypt's President Sisi Meets With US Evangelical Leaders for First Time in Cairo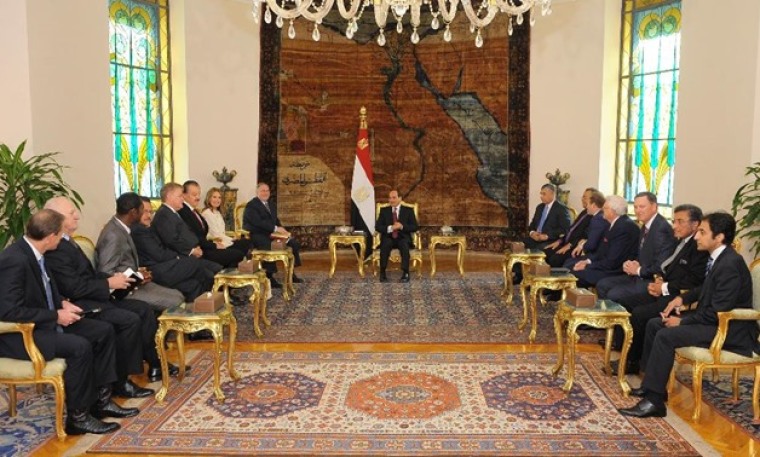 For the first time ever, a delegation of evangelical leaders from the United States met with Egypt's President Abdel Fattah el-Sisi for nearly three hours at the presidential palace in Cairo on Wednesday to talk about a series of issues including the persecution of Egyptian Christians by Islamic extremists.
"I appreciate the opportunity to meet with President el-Sisi to discuss the concerns we have, as American evangelicals, for the plight of religious minorities in Egypt, especially those who are our brothers and sisters in Christ," Family Research Council President and Baptist Pastor Tony Perkins said in a statement shared with The Christian Post.
Perkins was joined by other prominent evangelical activists and authors such as religious freedom advocate and informal Trump administration advisor Johnnie Moore, evangelical writer Joel Rosenberg, Egyptian-born Christian pastor and author Michael Youssef, and former Republican presidential candidate and former U.S. Congresswoman Michele Bachmann.
Those evangelicals and a handful of others met with Sisi and Egypt's General Intelligence Services Chief Khalid Fawzi. The meeting was also attended by Andrea Zaki, the leader of the Protestant community in Egypt.
The leaders addressed their concerns about the plight of the Christian community in Egypt, which over the past year has been targeted by extremists who have conducted church bombings and carried out murders of Christians.
The meeting was organized by Rosenberg, who's based in Jerusalem and has dual Israeli and American citizenship. Rosenberg first met Sisi when the president traveled to Washington, D.C. for his state visit in April and was invited to bring a group of evangelical leaders to Cairo.
"I was going to say they rolled out the red carpet for us but I don't want to leave the impression that we are being treated like royalty. What they are doing is that it has become clear that they want a friendship, they want a relationship with evangelicals," Rosenberg told The Christian Post in a phone interview. "We can speculate as to why. But the fact is, we were supposed to spend an hour with the president and it was almost three."
Although Egypt ranks as the 21st worst nation in the world when it comes to Christian persecution, according to Open Doors USA's 2017 World Watch List, Rosenberg explained that things are improving for Christians in Egypt under Sisi, who took office in 2014.
"It's really terrorism persecuting Christians. In Egypt, there are certainly challenges with local security services and local leaders. But at the national level — post-Muslim Brotherhood being in charge — there is still a lot of difficulties of changing the system," Rosenberg said. "President el-Sisi is trying to change the system. He passed the first churches law to build churches and renovate churches, the first real reforms in 150 years."
"As we asked about these issues, he said, 'Christians are being attacked and we are working to fight the very radical Islamist terrorists that are endangering Muslims as well as Christians. But we are also doing very specific things to help Christians to make them equal Egyptians. They are not second-class citizens. We don't want to think of them as Christians or Muslims. We want to think of them as Egyptians,'" Rosenberg recalled the president saying. "That was a big deal for him. What made it a big deal for us is that he has got three years of a track record. He is not telling us that he will do this one day, he is saying, 'This is what we have done and we got more to do.'"
Moore told CP: "Sisi is a great, great leader."
"When all these churches were burned down [in 2013] he rebuilt them," Moore, a former senior vice president for communications at Liberty University, said in a phone interview. "He rebuilt the churches. He told us yesterday that will never happen again. It will never happen again.' As long as he is in charge, that will never happen again."
Perkins also praised the progress that is being made under Sisi.
"President el-Sisi is committed to working to ensure that every human being can exercise their God-given right to religious freedom," Perkins stressed. "As part of this work, we encourage Egypt to increase public awareness of the cultural, economic, political and national security benefits of true religious freedom."
Another topic discussed in the meeting was the threat of the Islamic State terrorist organization, which has affiliates in neighboring Libya and in the Sinai region of Egypt.
"They are clearly at a wartime footing. It is not over. This is a war. It's a military war against the terrorists coming in from Libya, coming in from Sinai," Rosenberg told CP. "But it is also an ideological and theological battle. We talked a lot about that."
Rosenberg added that they talked about Egypt's peace process with Israel and building upon the legacy of assassinated President Anwar Sadat, who signed a peace deal with Israel in 1978 and was killed by Islamic extremists in 1981.
"We talked about education, we talked about the economy, we talked about housing, we talked about Church law, the role of a Christian in Egypt, what are Christians' civil rights, what is the government doing to improve the status of Christians and protect them," Rosenberg added.
Following the meeting with Sisi, the delegation of evangelical leaders also met with Sadat's widow, Jehan Sadat.
On Wednesday, the evangelical delegation met with a gathering of at least 60 top Egyptian Christian leaders.
"They have lived through Hell and their appreciation and admiration for el-Sisi was striking," Rosenberg said. "They didn't hesitate. We are talking about a man who rescuing the country ... and their lives and freedoms have been saved."