Elvis Bible Sold at Auction Reveals Singer's Faith: Was Elvis a Christian? (PHOTO)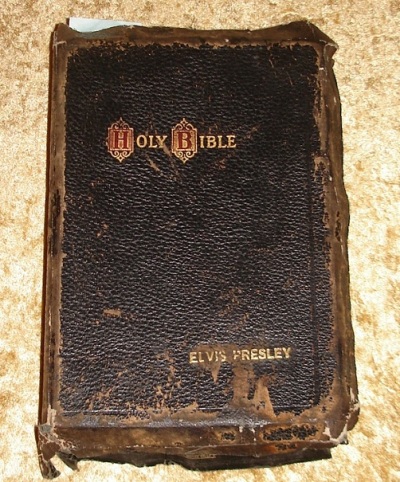 A Bible that was previously owned by Elvis Presley was sold for an unprecedented sum at an auction on Saturday, revealing the singer's long journey of faith.
A used Bible has a funny way of generating excitement in a room of believers. But a Bible sold Saturday generated a different kind of excitement when it sold for more than double its expected value. The Bible was previously owned by Elvis Presley, but that alone is not what made this Bible so valuable.
Perhaps no one will ever fill the now empty shoes of the "King of Rock and Roll." Despite the number of imitators, events, and nostalgic museums and eateries centered on Elvis Presley, the world seems never to get enough of the rock and roll idol. But little is ever said about the singer's religion, and the discovery and sale of his well used Bible has re-launched questions regarding the singer's faith.
Because Elvis Presley and his music were often considered "unwholesome" when he first hit the music scene, it seems hard to believe that the singer maintained any sort of faith. However, from the beginning, Elvis was inspired by a number of gospel singers. As a child, he also attended church with his mother frequently.
As Elvis reached his teenage years, he stopped attending church and it seemed to never have made much of an impact in his life. But, in spite of a lagging church attendance, for years Elvis kept a Bible that had his name inscribed on the front page. After his death, that same bible would reveal years of devotion the word of God.
The Bible, which sold for the final amount of $94,600, was particularly special due to the large number of annotations and notes that appeared to have been marked by Elvis himself.
"To judge a man by his weakest link or dead is like judging the power of the ocean by one wave," one quote written in the back of the Bible reads.
"Every man can be tempted, with God by your side every man can be saved," reads another.
Other notes reveal a plea to God for guidance and strength. Overall, not only does the item attest to Elvis' faith before his tragic death, but also it may provide the most intimate account ever of what the singer was going through on the inside while his life in the spotlight took its toll.
Elvis Presley's Bible is auctioned for £59,000