4 in 10 Evangelicals Think Physician Assisted Suicide is 'Morally Acceptable;' Joni Eareckson Tada Responds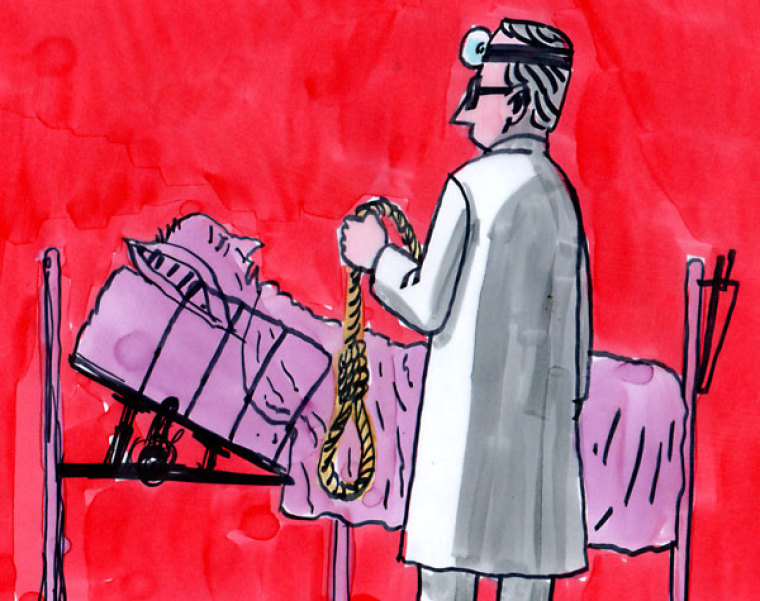 Over four out of ten evangelicals believe that doctors should be allowed to assist terminally ill patients in ending their lives, a new survey from the evangelical polling firm LifeWay Research has found.
The survey, which randomly sampled 1,000 respondents in a nationwide online survey between Sept. 27 and Oct. 1 and had a margin of error of plus or minus 3.1 percentage points, finds that 69 percent of Americans somewhat agree or strongly agree that "physicians should be allowed to assist terminally ill patients in ending their life."
"If they are facing a slow, painful death, Americans want options," Scott McConnell, executive director of LifeWay Research, said in a statement. "Many believe that asking for help in dying is a moral option. They don't believe that suffering until they die of natural causes is the only way out."
Forty-two percent of evangelicals expressed some level of agreement with that statement, while 70 percent of Catholics and 53 percent of protestants also agreed that doctors should be allowed to assist in ending a patient's life.
In total, 60 percent of Christians surveyed agreed with the statement, compared to the 88 percent of non-religious respondents and 77 percent of respondents affiliated with other religions.
Another question in the survey asked respondents whether or not they agreed that "it is morally acceptable" for a patient to ask for a physician's aid in taking his or her life if they are facing a painful terminal disease.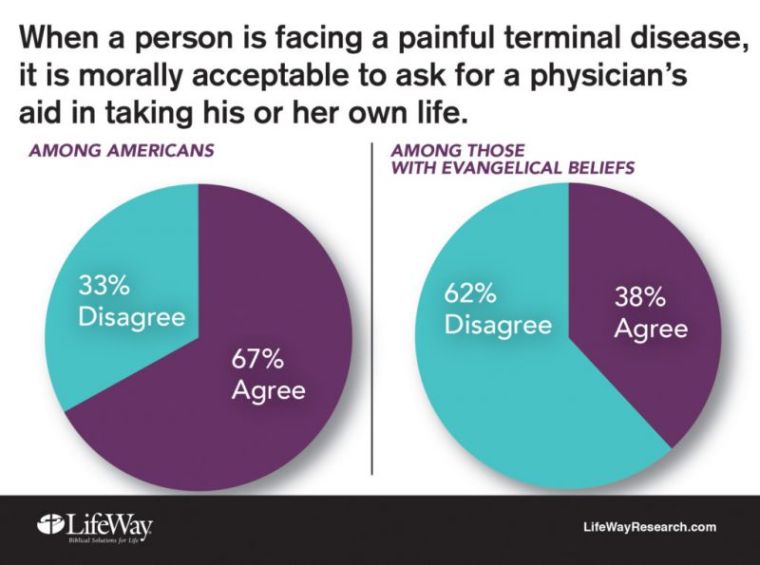 While 67 percent of respondents somewhat or strongly agreed with that statement, 38 percent of evangelicals also expressed some level of agreement that it is "morally acceptable" to ask for a doctor's aid in suicide.
Fifty-nine percent of all Christians surveyed expressed agreement with the statement, as 70 percent of Catholics and 53 percent of Protestants also agreed to some extent.
Fifty-two percent of respondents who attend religious services once a month or more also expressed agreement with the statement, while 78 percent of respondents who attend services less than once a month also agreed that it is morally acceptable.
While many research firms' polling of evangelicals can be skewed because they allow respondents to self-identify themselves as evangelicals, LifeWay has developed very elaborate requirements that respondents must meet in order to be classified as an evangelical.
Evangelical disability activist Joni Eareckson Tada, a quadriplegic, author and founder of Joni and Friends International Disability Center, told The Christian Post on Thursday that the LifeWay results show that evangelicals "have a basic fear about suffering."
"They have a basic fear about old age and pain and disability but fears are not the basis for good social policy. Fundamental fears about suffering and disabilities should never ever be the basis for social policy," Eareckson Tada asserted. "My contention is that most Christians do not understand that we already have good laws on the books, which allow for people to 'die with dignity.'"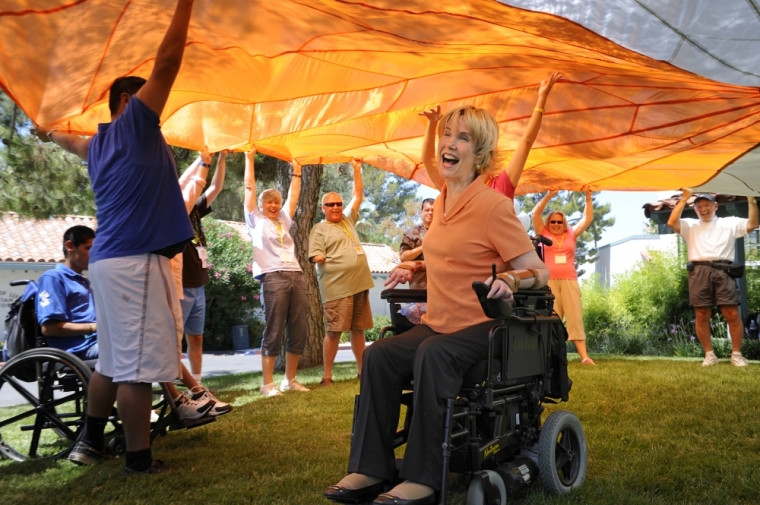 "You don't have to have extended treatment. You don't have to have that extra surgery. You don't have to take chemo. You don't have to undergo kidney dialysis. You don't have to prolong pain," Eareckson Tada continued. "If there is anything we should be focusing on, it should not be making it easier for people to die. Let's pull more resources into developing better pain management therapies, pain management techniques and educating more doctors on effective pain management."
She warned that she thinks Christians are becoming less willing to bear witness on this and other political issues.
"I think a lot of Christians are throwing in the towel and feeling like the culture is so large and so massive that there is nothing that we can do to change it and so, they are just ascribing to the notions and the cultural messages that they hear in the newspaper and magazines or across the backyard fence," she stated.
The release of LifeWay's survey comes after Colorado became the sixth state in the country to legalize physician assisted suicide for terminally ill patients. The state's voters voted on election day to change the state's statutes to allow mentally-capable adults diagnosed with terminal disease and have less than six months to live to ask for and receive a lethal prescription that they can voluntarily take to end their own life.
Opponents of Proposition 106 argued that proper safeguards are not in place and fear that "Proposition 106 would entice insurers to drop expensive treatments for terminal patients even when medical advances might add months or years more to a life that a patient may wish to take."
In October, it was reported that a terminally ill mother in California was denied coverage for her doctor-recommended chemotherapy shortly after the state passed its assisted suicide law. The mother was told by the company that suicide pills would be covered under her plan.
The release of the LifeWay survey also comes after it was reported last week that a doctor in the Netherlands euthanized a 41-year-old man in July because of his struggles with alcoholism, which critics say "is deeply concerning and yet another reason why assisted suicide and euthanasia must never be introduced."
Eareckson Tada told CP that it is not too far out of the realm of possibility that states with assisted suicide legislation will be forced to expand their definitions of terminal illness. She stated that all it would take is for one disabled person who feels like he or she has nothing to live for to petition a judge to rule in favor of expanding the definition.
"I can see the day when a disparaging quadriplegic like me just throws her hands up and says 'I can't handle this' and puts forth a court challenge so that a judge might expand the definition of what a terminal illness might be — kind of like what we have seen in the Belgium and the Netherlands," Eareckson Tada said. "I can see that becoming unless we provide the support services needed among special needs families."