Evangelist Benny Hinn's Return to India for Prayer Conference Sparks Protests, Allegations of 'Hidden Agenda'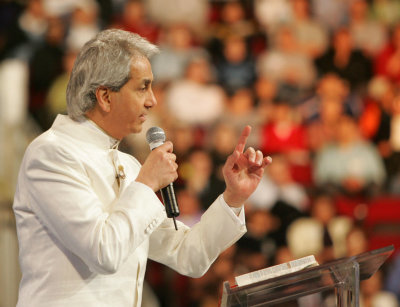 Benny Hinn, controversial evangelist known for his "miracle healing crusades," is one of the main speakers at a Christian Prayer Conference being held this month in Bangalore, India. As with his last visit in 2005, Hinn's engagement has set off protests among locals concerned that the charismatic preacher will be flying into the country with "a hidden agenda."
An estimated 2,000 Hindus gathered in Bangalore, in the State of Karnataka, on Friday, Jan. 3 to demand that government officials bar Hinn from attending the Christian Prayer Conference. The event, scheduled for Jan. 15-17, is being hosted by the local Bethel Assembly of God Church.
"Hinn is coming to Karnataka with a hidden agenda of converting Hindus to Christianity as he did when he visited Bangalore in 2005. Several organizations are secretly working for the success of the event," representatives of protesting groups were quoted as saying.
Bethel Assembly of God Church organizers insist that the Christian Prayer Conference will not be a "healing crusade," but that ministry participants will provide prayer for the sick, according to the Bangalore Mirror. The publication notes that the entry fee for the prayer meeting is $13 (850 Indian rupees), less than seven percent of the average monthly income in India.
When Hinn visited Bangalore in 2005 for a "Festival of Blessings" event, several court cases were reportedly filed against the evangelist with plaintiffs claiming his purpose for being in the country was to convert locals to Christianity. The U.S. evangelist's presence was so disturbing to some that protesters reportedly set fires throughout the city, and 10,000 law enforcement officials were deployed at the Jakkur airfield where the crusade was attended by more than 7 million people.
India, with a population of 1.2 billion people, is home to mostly Hindus (80.5 percent), Muslims (13.4 percent) and Christians (2.3 percent).
On his website, Hinn notes that he will be a guest speaker on all three days of the Christian Prayer Conference and promises that the "life-changing event will feature an in-depth teaching from the Word of God, anointed worship and a powerful move of the Holy Spirit!"
Joining Hinn at the prayer conference is Pastor Paul Dhinakaran, an evangelical preacher whose father (Duraisamy Geoffery Samuel Dhinakaran) has been called "the Billy Graham of India" by Lakewood Church Pastor Joel Osteen, will be joining Hinn at the prayer conference. Nigerian televangelist Pastor Chris Oyakhilome, who has more than 1.3 Twitter followers, will also be in attendance, alongside Bethel Assembly of God Church Senior Pastor M.A. Varughese.
Hinn, 61, holds evangelistic and "healing crusades" throughout the year in the United States and around the world. His ministry has been scrutinized over the years, most notably for his false prophecies and claims about "miracle healings" among the thousands who turn out to his Christian meetings. Also, he was among a handful of mega-preachers who were asked to submit financial documents to a Senate finance committee in 2007. Hinn was commended by Sen. Chuck Grassley (R-Iowa), who led the inquiry, for engaging in "open and honest dialogue with committee staff."
Below is a video report from Benny Hinn's ministry on the evangelist's three-day crusade in Bangalore: