Ex-Congresswoman Corinne Brown Fights Conviction Because 'Holy Spirit' Told Dismissed Juror She Was Not Guilty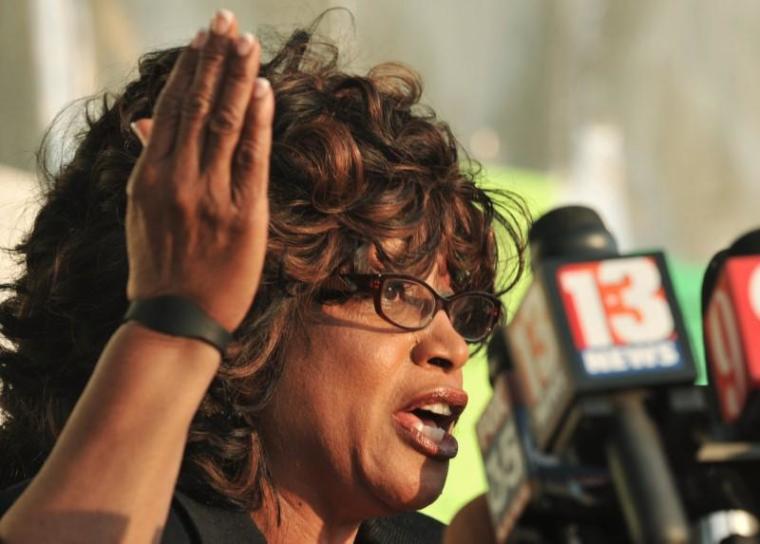 Former Florida congresswoman Corrine Brown, who was sentenced last month to five years in prison for her role in a $800,000 charity scam, is now asking a federal appeals court to keep her from spending time behind bars because the judge who presided over her case improperly dismissed a juror who said the "Holy Spirit" told him she was not guilty.
In May 2016, Brown, who served 24 years in Congress, was convicted of participating in a conspiracy involving a fraudulent education charity, hiding material facts required on financial disclosure forms and filing false tax returns, Reuters reports. She is expected to report to prison on Jan. 29.
William Mallory Kent, lawyer for the 71-year-old ex-congresswoman, filed a document Friday at the 11th U.S. Circuit Court of Appeals which argues that U.S. District Judge Timothy Corrigan improperly dismissed the Holy Spirit-led juror. He hopes the argument will keep Brown out of prison while her appeal is underway the Tampa Bay Times said.
"Neither the government (prosecutors) nor the district court (judge) cited a single case which has found that a juror's personal prayer life before or during deliberations could be the basis of a finding of good cause to dismiss a juror," Kent wrote.
"The district court itself acknowledged that it was certainly permissible for the juror to pray to seek guidance or inspiration to try to come to a proper decision — and that is exactly what this juror had done. The juror did nothing improper and the juror's internal mental belief that the Holy Spirit had offered him guidance in understanding the evidence and truthfulness of the witnesses — witnesses, all of whom, by the way, had taken an oath 'so help me God' to tell the truth — was not in any way a disqualifying mental process much less a disqualifying external influence," he added.
Kent said the issue of the praying juror could lead to the reversal of Brown's conviction.
Corrigan argued last month that the juror's dismissal was appropriate and refused to allow Brown to remain free during her appeal. 
"In essence, the court (judge) dismissed a juror who it found was unable to follow the law," Corrigan wrote on Dec. 20, the Tampa Bay Times reports. "The court applied the governing legal standard to the facts, finding beyond a reasonable doubt that there was no substantial possibility that the juror was able to base his decision only on the evidence and the law as the court had instructed."
The court rule in December that Brown's One Door for Education charity, originally designed to help children, was "operated as a criminal enterprise" by the former congresswoman, her longtime chief of staff, Ronnie Simmons, and the charity's founder, Carla Wiley, the Tampa Bay Times said.
Corrigan showed how the charity raised hundreds of thousands of dollars which were then used for such things like sky box seats at an NFL game and a luxury box at a Beyoncé concert.
Despite the case against Brown, U.S. Rep. Sheila Jackson Lee, D-Texas, painted the former congresswoman as a compassionate follower of Christ in a report in The Florida Times-Union.
Bishop Rudolph McKissick Sr., retired pastor of Jacksonville's Bethel Baptist Church, which Brown attends, said: "I know Sister Corrine ... as a capable person who carried out her labor, her work, in a manner that made all of us proud. I have never thought of her as being outside of a Christian woman. I believe because of her tenacity, she's become one of the great persons of our time."