See Facebook's Explanation for Why It Banned This Image of Jesus on the Cross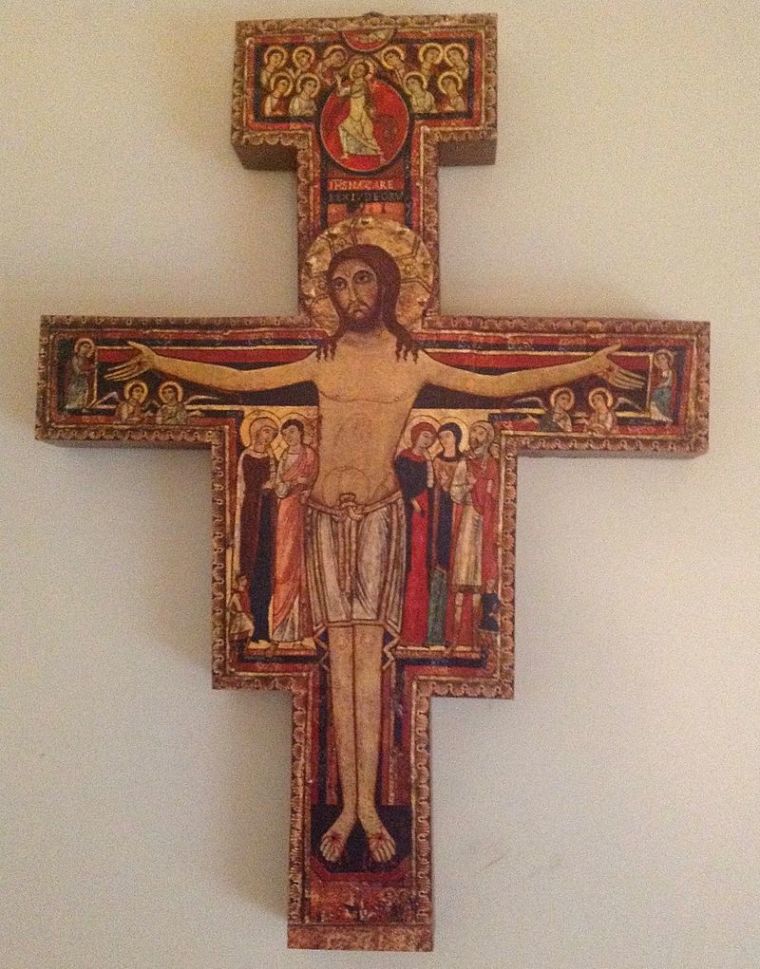 A Catholic college in Ohio has posted screenshots of the response Facebook gave them explaining why it banned an Easter ad featuring Jesus on the cross.
The Franciscan University of Steubenville explained on its website last week that it posted a series of ads to promote its MA Theology and MA Catechetics and Evangelization programs, including one image featuring the San Damiano Cross with a crucified Jesus.
The administrator of the page received a notification from Facebook explaining why the image was banned, reading: "Your image, video thumbnail or video can't contain shocking, sensational, or excessively violent content."
The college said the Crucifixion does indeed fit those descriptions, as man "executed God."
"It was shocking, yes: God deigned to take on flesh and was 'obedient unto death, even death on a cross.' (Philippians 2:8)," it added.
"And it was certainly excessively violent: a man scourged to within an inch of his life, nailed naked to a cross and left to die, all the hate of all the sin in the world poured out its wrath upon His humanity."
Still, the Catholic institution echoed 1 Corinthians 1:23–24 when declaring that the truth needs to be made known.
"But we preach Christ crucified, a stumbling block to Jews, an absurdity to Gentiles. But to those who are called, both Jew and Gentile, Christ the power of God and the wisdom of God," it quoted the Bible.
Political commentators, such as Rod Dreher of the American Conservative, said there are a number of explanations for why Facebook blocked the ad, and none of them are good.
Dreher wrote on Monday on his website that the case is either "an example of anti-Christian bigotry, flat-out," or "an example of religious and cultural illiteracy."
"Since we're dealing with Facebook, which is headquartered in the most religiously unobservant part of the U.S., I will assume in charity that it's the second. This is still cause for alarm. Is it really the case that we have raised a generation of complete morons when it comes to religious and cultural literacy, such that they see the central symbol of the world's biggest religion as nothing more than an expression of violence, and thus not to be tolerated?" he posed.
In an update, he noted that the rejection of the ad could have been made by an algorithm, which is Facebook's usual explanation for such situations.
"If that's true, that is worrying too: decisions like this to ban religious imagery being made by machines," he wrote.
In July 2017 Facebook banned, but later restored, close to two dozen Roman Catholic Facebook pages. Christians spoke out in outrage against the decision to close some pages that had millions of followers, including the "Jesus and Mary" page that's run by Godwin Delali Adadzie of Ghana.
The social media giant blamed a "spam detection tool" for the error at the time.
"All pages have now been restored. This incident was triggered accidentally by a spam detection tool. We sincerely apologize for the issue this has caused," a Facebook spokesperson said at the time.
Facebook, Google and Twitter are among some of the leading tech companies that have been accused by conservatives of carrying out online censorship, though they have denied that is the case.