Father, Married Senior Pastor in Methodist Church Among 22 Men Arrested in Florida Child Sex Sting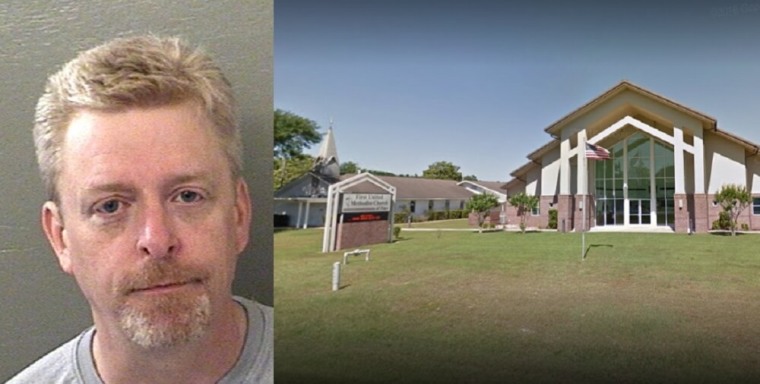 The senior pastor of a Florida Methodist church who is also a married father of two, was among 22 men arrested in a child sex sting on Wednesday, after he allegedly traveled to a designated location with plans to have sex with a 14-year-old boy.
The Pensacola Police Department said in a statement on Wednesday that David Donald Hoppenjan, 52, who had served as senior pastor at the First United Methodist Church of Pace since last year, traveled to two locations in an effort to have sex with who he thought was a 14-year-old boy.
In the undercover child sex sting billed "Operation Undertow" which took place over five days from Sept. 7–11, Pensacola Police targeted adults who traveled to designated locations in Pensacola to have sex with children.
Police say Hoppenjan contacted an undercover investigator posing as a 14-year-old boy online then tried to arrange sex with the minor.
Transcripts highlighted by Fox10 show the investigator telling the pastor: "So I know you know I'm young but I'm 14. Is that cool with you?"
Hoppenjan followed up with several obscene sexual chats, say police, and said "I'll come and do whatever you want."
After making arrangements to meet at a designated area, Hoppenjan showed up and was shocked when he was tackled by police officers and arrested.
The Christian Post reached out to First United Methodist Church of Pace for comment on Friday, but no one answered the phone and all evidence of Hoppenjan's association with the church has been scrubbed from its website.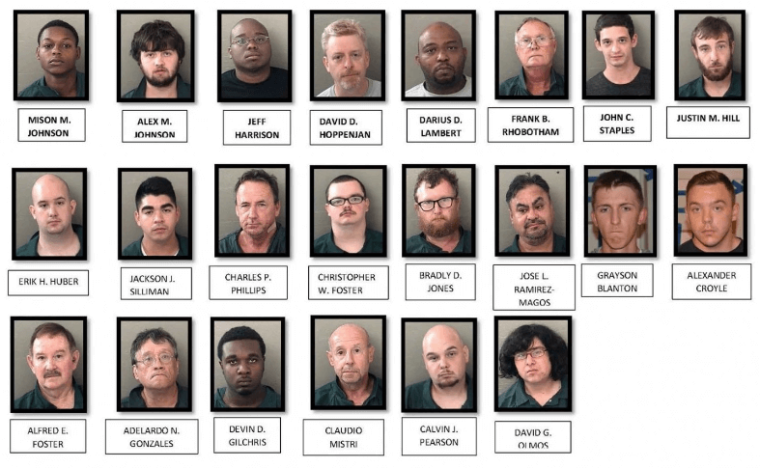 In a cached version of the pastor's bio on the church's website dated Aug. 4, however, Hoppenjan described himself as a "second career pastor."
"I received my call to ministry in my mid-30s. At that time, we moved from Wetumpka, Alabama, to Wilmore, Kentucky, where I graduated from Asbury Theological Seminary in May 2006. I have served as Executive Pastor at Shalimar UMC since January of 2006," he noted.
"Recently, I returned from Panajachel, Guatemala, where I worked with the ministry of Porch de'Salomon (porchdesalomon.org). This trip reinforced my heart for missions and outreach and my desire to support the work of missions from outside our back door to all around the world. While in Shalimar, I was involved in YMCA, Covenant Hospice, Children in Crisis, Habitat for Humanity, as well as local schools as a parent, a volunteer, and a church member helping out in any way possible," he said.
He is the father of two adult sons along with his wife, Jennie.
"Jennie and I enjoy taking time traveling to visit with family in Alabama and Wisconsin, trying out new restaurants and figuring out what it's like no longer having children with demanding schedules," he added.
The Alabama-West Florida Conference of the United Methodist Church confirmed in a statement that Hoppenjan was removed from his position at First United Methodist Church and that they are cooperating with local police.
"As a church, we take any allegation of clergy misconduct very seriously. The United Methodist Church requires clergy to live by the highest ethical and moral standards. Conduct that violates these standards is a very serious matter and is not tolerated. The Alabama-West Florida Conference was saddened to learn of the arrest of Rev. David Hoppenjan, former pastor at Pace First United Methodist Church," church officials said.
"Rev. Hoppenjan is no longer a United Methodist pastor. The conference will fully cooperate with authorities in this matter. The safety of all children in our communities is a priority. Our focus right now is on offering pastoral care and support to the congregation and the community. This is a painful and difficult situation for members of the congregation that he served, and we keep all of those affected in our prayers," they added.
Pensacola Police Chief David Alexander III said: "It is through the collaborating, partnering and building relationships that we protect our children and make the internet a safer place. This effort of arresting and prosecuting these individuals helps to stop future abuse. This was five days of hard work for our officers, dispatchers, support personnel, and personnel from other agencies in addition to the planning of this operation."
All the suspects in the sting are alleged to have contacted undercover agents via computer about arranging to have sex with male or female teenagers.
"This collaborative effort of law enforcement agencies demonstrates the cooperative spirit needed to keep our children safe," Pensacola Mayor Ashton Hayward added. "As a father, I am at ease knowing our law enforcement personnel are successful in dealing with this issue. If these were real children in real conditions, these children would never be the same again, and it affects their entire life."