Federal Appeals Court Strikes Down Virginia's Marriage Amendment; Says Constitutional Rights of Gays Trump State Marriage Laws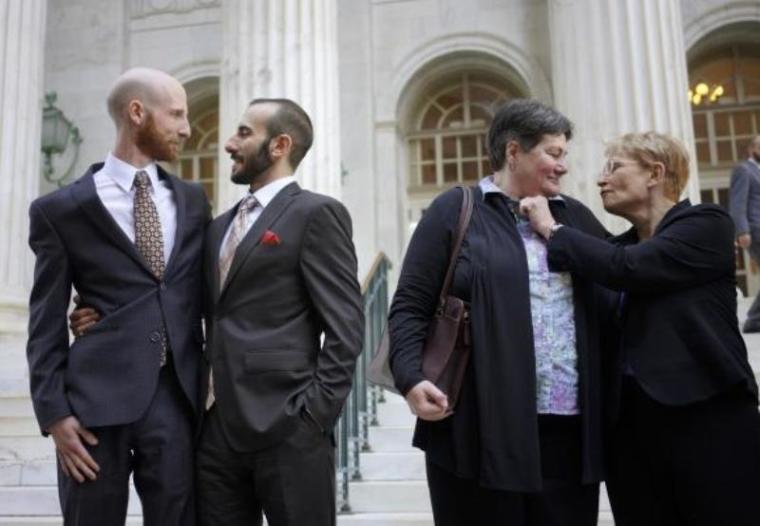 Virginia's amendment defining marriage as the union of one man and one woman was struck down Monday after a three-judge panel of the U.S. Court of Appeals for the Fourth Circuit in Richmond ruled 2-1 that gay couples have a constitutional right to marry that trumps state marriage laws.
A USA Today report said Monday that this is the second state ban on gay marriage to be struck down this summer. The ruling supports a district judge's decision handed down on the matter in February.
"We recognize that same-sex marriage makes some people deeply uncomfortable," noted the majority. "However, inertia and apprehension are not legitimate bases for denying same-sex couples due process and equal protection of the laws."
Virginia, Maryland, West Virginia, North Carolina and South Carolina all fall under the jurisdiction of the Fourth Circuit. The decision can be appealed at the full court or the Supreme Court.
Henry Floyd, who was named to the bench by George W. Bush and promoted to the circuit court by President Barack Obama in 2011 was the swing judge who voted with Judge Roger Gregory, a Clinton appointee from 2000, on the side of same-sex marriage.
The presiding Judge Paul Niemeyer, nominated by Bush, dissented.
"I do strongly disagree with the assertion that same-sex marriage is subject to the same constitutional protections as the traditional right to marry," said Neimeyer. "I would reverse the district court's judgment and defer to Virginia's political choice in defining marriage as only between one man and one woman."
Legal experts told USA Today that the Supreme Court can now hear gay marriage cases from Utah or Oklahoma in the 10th Circuit or wait for the Virginia case to be appealed. The experts believe the high court could consider one of these cases at the start of its 2014 term beginning in October or the term in 2015 that follows.
The Supreme Court set the stage for nationwide challenges against gay marriage bans at the state and federal levels when it ruled 5-4 that the federal government cannot deny federal benefits to legally married same-sex couples without violating the Constitution.
"The choice of whether and whom to marry is an intensely personal decision that alters the course of an individual's life," the court majority said in the Virginia decision. "Denying same-sex couples this choice prohibits them from participating fully in our society, which is precisely the type of segregation that the Fourteenth Amendment cannot countenance."
Virginia's marriage amendment was passed in 2006 with the support of 57 percent of voters.