Federal Judge Blocks Obama's Transgender Health Care Mandate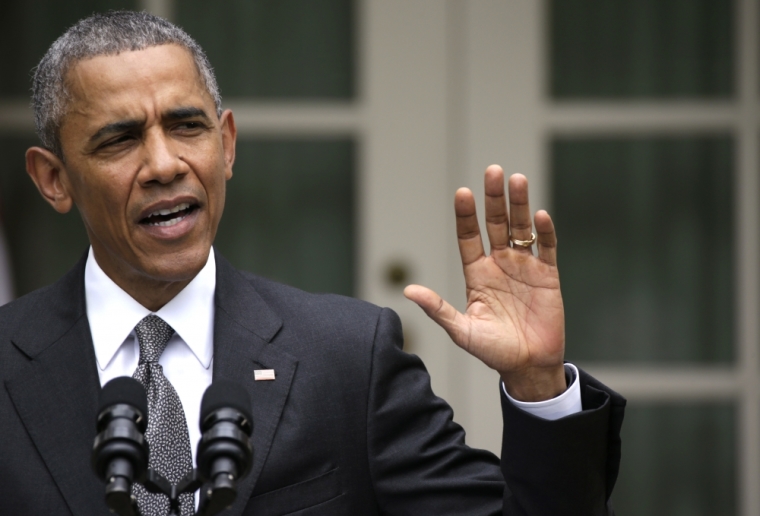 A federal judge in Texas has issued a nationwide injunction against the controversial Obamacare mandate that opponents say requires religious doctors to violate their medical judgement and religious beliefs to perform gender reassignment surgeries and other transgender procedures.
On Saturday, Judge Reed O'Connor in the United States District Court for the Northern District of Texas ruled in favor of five states — Texas, Kansas, Kentucky, Nebraska and Wisconsin — the Christian Medical and Dental Associations, Franciscan Alliance and Specialty Physicians of Illinois by issuing a preliminary injunction against a new Department of Health and Human Services' health care mandate.
The mandate, which was passed in May and went into effect for many on Jan. 1, implements Section 1557 of the Affordable Care Act, which bars discrimination on the basis of sex but extends the definition to include gender-identity.
The plaintiffs, who filed their lawsuit in September, argue that the mandate would force religious doctors and faith-based hospitals to perform transgender health services, including a plethora of sex change surgeries, even if they hold moral opposition to such procedures.
Additionally, opponents of the regulation say that it also lays the groundwork for an "abortion mandate" by extending the definition of sex discrimination protections to mean "termination of pregnancy."
As hospitals and health centers could face the crippling loss of Medicaid and Medicare funding if they do not obey the regulation, O'Connor wrote in a 62-page ruling that the mandate likely violates the Religious Freedom Restoration Act since it does not include any religious exemptions required by Title IX.
"This is a common-sense ruling: The government has no business forcing private doctors to perform procedures on children that the government itself recognizes can be harmful and exempts its own doctors from performing," Lori Windham, senior counsel at Becket Law said in a statement shared with The Christian Post. "Today's ruling ensures that doctors' best medical judgment will not be replaced with political agendas and bureaucratic interference."
O'Connor is the same U.S. District Judge who earlier this year struck down a joint guidance from the Departments of Education and Justice that instructed public schools to allow transgender students to have access to bathrooms and locker rooms consistent with their gender identity.
Although opponents of the HHS mandate stress that it would force doctors and faith-based hospitals to violate their religious convictions, transgender rights activists say those fears are overblown because patients in need of transgender medical services would not go to doctors who lacked expertise in those procedures.
"Moreover, this care is about access to all health care," Mara Kelsing, the executive director of National Center for Transgender Equality said in a statement. "The court has ordered HHS to permit any hospital to turn trans patients away for any type of care — a broken arm, pneumonia, anything. Fortunately, one judge can't change the fact that providers or insurers who discriminate are still breaking the law and can still be sued."
Windham told CP in an email on Monday that fears that religious doctors and health care providers could be forced to provide services that they are opposed to is very real despite arguments from the opposition.
"The government itself estimated that this 300-page rule would apply to virtually every doctor in the U.S," she explained. "The rule gives examples of how doctors who don't specialize in this area will be impacted. For example, it says that doctors who would perform a hysterectomy to treat cancer are required to perform a hysterectomy as part of a gender transition. The government can't make a rule that severely penalizes doctors for using their best medical judgment, then tell doctors just not to worry about it."
O'Connor's ruling was celebrated by religious freedom advocates, such as the Family Research Council's Travis Weber. Weber, the head of FRC's Center for Religious Liberty, told CP on Monday that the mandate "was not lawfully promulgated pursuant to the Administrative Procedure Act."
"Not only did [O'Connor] enter a preliminary injunction, but he issued it with nationwide effect because of the potentially far-reaching religious freedom consequences of the Obama administration's unlawful executive action in this case," Weber stated. "While this is only a preliminary injunction and the case still needs to be fully decided, Judge O'Connor's ruling is heartening nevertheless."
No indication has yet been given as to whether the federal government will appeal O'Connor's ruling to the U.S. Fifth Circuit Court of Appeals.
Despite the ruling, Kelsing is encouraging transgender individuals who are turned away by medical providers to seek "legal redress in the courts."
"The order does not change the fact that federal law bans gender-based discrimination," Kelsing, stated.
Last week, the Catholic Benefits Association, which represents dioceses, Catholic hospitals, and various other Catholic charities and employers, launched its own litigation against the HHS mandate in a federal court in North Dakota. The CBA seeks protections for religious employers and health insurers who will be forced to cover abortions and transgender health services under the mandate.
Many Catholic organizations health plans have already been adjusted to cover abortions and transgender services beginning on Jan. 1.
"When our member, who is a Catholic diocese, received [the gender dysphoria rider from their health insurance company], their statement to me was 'How can we, a Catholic diocese that teaches what we teach regarding biology and sex, possibly give this plan to our members without creating scandal since it is so contrary to what we teach?" CBA lawyer Martin Nussbaum told CP last week.