'Fifty Shades of Grey' Is 'Perverted, Exploits Women's Longings, and Normalizes Domestic Violence,' Say Critics
A Texas megachurch pastor, two Christian authors, and the National Center on Sexual Exploitation have joined the chorus of critics speaking out against the new "Fifty Shades of Grey" movie, claiming that the erotica story does more harm than good to women.
Fifty Shades of Grey, dubbed "mommy porn" by some, is about the "unworldly, innocent" Anastasia Steele's sexual relationship with a "beautiful, brilliant, and intimidating" Christian Grey. Anastasia discovers that Christian's "singular erotic tastes" help her to explore her own "dark desires," according to publisher Vintage Books' description of the 2012 title. The characters' sexual intimacy is marked by bondage, sadism, and other aggressive elements.
The book, originally self-published as an electronic book by author E.L. James, has sold more than 100 million copies worldwide. Promoters of the film adaptation have been pushing the project as a great option for Valentine's Day, since it premieres on Feb. 13. The official "Fifty Shades of Grey" Facebook page has more than 7.8 million followers.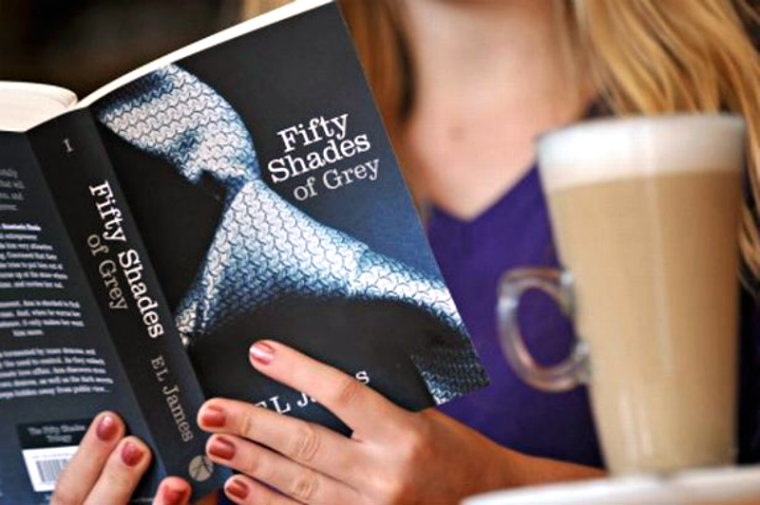 Texas Pastor to 'Baptize' Copies of Fifty Shades of Grey
"The book Fifty Shades of Grey is a perverted attempt to trap readers and leads them to a misunderstanding of what intimacy and connection are all about," Texas megachurch pastor Ed Young says in a public statement released on Wednesday. "It is a pathetic distortion of a more powerful reality about relationships. God is not anti-sex, and he isn't grey when it comes to relationships. I want to wake people up to the reality that God's purpose and plan for their lives is so much greater!"
"Pastor Ed is planning to literally (as well as figuratively) baptize copies of the book Fifty Shades of Grey," communications pastor Andy Boyd confirmed to The Christian Post on Thursday.
The baptism will be a part of Young's sermon that's tied to his new book, Fifty Shades of They, which serves as a corrective to James' similarly-titled book. Congregants at Fellowship Church's 10 locations will witness the literal and figurative Fifty Shades of Grey baptism via satellite, explained Boyd.
Christian 'Sexperts' Launch Free Book Trade-In Campaign
Authors and "sexperts" Dr. Juli Slattery and Dannah K. Gresh have launched an anti-Fifty Shades of Grey campaign as well. The women are offering from Feb. 1-14 free copies of their own corrective title, Pulling Back the Shades: Erotica, Intimacy, and the Longings of a Woman's Heart to women who mail in their copies of Fifty Shades of Grey.
"Pulling Back the Shades addresses God's design for intimacy, and shows why erotica is exploiting women's longings rather than satisfying them," Slattery and Gresh explain on their book's website.
The authors were shocked to discover that Christian women were immersed in the Fifty Shades series, which "honors and glorifies bondage, dominance, sadism and masochism," according to Gresh.
She told CP in a previous interview:
"A lot of women are saying that it has awakened their sex lives and for the first time in a long time, married women are enjoying sex again. The problem is that oftentimes that's a very short-lived revival. We've talked with many of those women who believed that lie that went on to say that over the course of time they became less and less interested in their husband, and more and more interested in the erotica. And they couldn't wait till they could get into the privacy of a bedroom where they could go back to their story.

"There's less research on erotica because it hasn't been as prominent in the cultural conversation as pornography has been in the last few decades, but the research really does tell us that both porn and erotica, when a man or a woman is engaging in them they do become less interested in real sex. It does draw you away from real people, not toward someone. That would be one example of why women are defending their choice to read the book, but we're really seeing that in the long-term that doesn't actually turn out to be a benefit for them."
Anti-Sexual Exploitation Campaing Calls for Boycott of Movie
A "grassroots, women-led campaign" against the sexual exploitation of women has been encouraging membes of the public to skip "Fifty Shades of Grey" when it opens in theaters on Feb. 13, and instead donate $50 to a domestic violence shelter or agency.
"The money you would have spent on movie tickets and a babysitter or movie tickets, popcorn and drinks will go toward serving victims of abusive relationships like the one glamorized in the '50 Shades' series. Hollywood doesn't need your money; abused women do," the group explains on its Facebook page.
Among the group's sponsors are the London Abused Women's Centre, Stop Porn Culture, and the National Center on Sexual Exploitation.
The National Center on Sexual Exploitation also launched a website offering resources and "talking points" on how Fifty Shades of Grey allegedly causes harm.
"The story makes violence sexy. Many individuals are experimenting with these acts and relationships without understanding the dangers and consequences," states one of the talking points on how Fifty Shades of Grey affects the culture.
"The story glamorizes and legitimizes both sexual and domestic violence," states a second talking point. "Now, with the overwhelming popularity of the book, mainstream opinion makers, the media, and celebrities are legitimizing this violence too. The reality is that in real life, women in these situations don't end up like Anastasia — they often end up in a woman's shelter, on the run for years, or dead."
A post on the website of God Over Porn warning readers against watching "Fifty Shades of Grey" reminds them that "pornography is considered to be more addictive than crack cocaine." Carmen Miller, author of the blog post and co-founder of the ministry, says this is so "because cocaine can be excreted from the body. Pornographic and sexual images cannot. Those explicit and lustful images neurochemically and permanently stay with a person, forever."