Fixer Abducted With Sotloff by ISIS Claims US Gov't Did Not Contact Him After He Was Released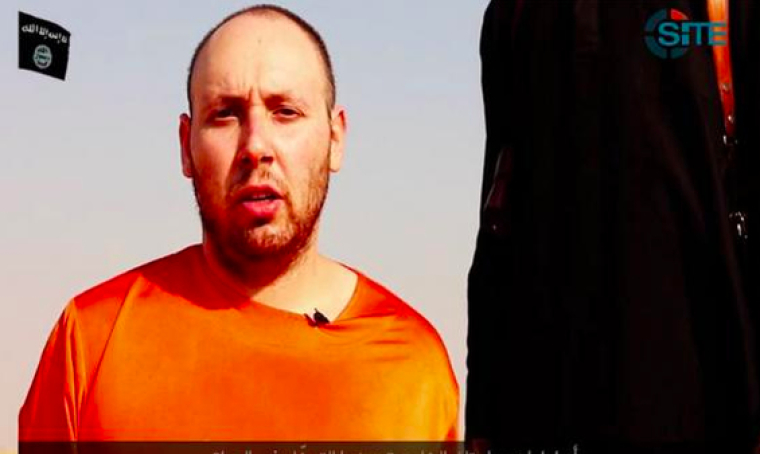 A man who was abducted by Islamic State terrorists along with slain American journalist Steven Sotloff in August of 2013 in Aleppo, Syria, said that after he was freed from ISIS captivity, the U.S. government did nothing to reach out and interview him in efforts to save Sotloff's life.
Yosef Abobaker, a former moderate Islamist rebel who was hired by Sotloff to be a fixer during a three-day trip in Syria, told CNN that although he was freed just 15 days after he and Sotloff were abducted, he did not hear from any representative or official from the U.S. government even though the Sotloff family had specifically told the government of Abobaker's willingness to help.
"No, nobody tried to contact me and I tried to help," Abobaker said. "Nobody come to me and ask me any questions from the [U.S.] government... they didn't contact me or ask me about that or anything about how you were kidnapped or tried to take any information about my kidnapper or Steve. And, they can find me. It's easy."
Sotloff was killed in a videoed beheading at the hands of a radicalized British ISIS militant. The video was posted online Sept. 2, a full year after Abobaker was released by militants.
"I was very angry at first, very, very angry," Abobaker said. "After that, I calmed down and I was very so sorry... I put message on Facebook tell his mother I am so sorry... I did my best to save him... My feeling, so sad, like I lost one brother."
A long time friend of the the Sotloff family, Barak Barfi, told CNN that he had maintained contact with Abobaker while Sotloff was held captive. Barfi also said he told the government of Abobaker's existence.
In Abobaker's recount of the abduction, he said that after he, Sotloff, and two of Abobaker's family members were 20 minutes into their journey toward Aleppo, was when they came across three parked cars containing 15 ISIS gunmen. When the gunmen saw Abobaker's car approach, they stopped them immediately and abducted all of them. Abobaker said he believes the gunmen were tipped off by a guard stationed on the Turkey-Syria border.
Abobaker said that they were all taken to a textile factory in the outskirts of Aleppo. Just after two weeks in captivity, Abobaker and his family members were set free because Abobaker had papers that proved he used to fight for the moderate Islamist rebel faction called the Tawheed Brigade. However, the militants threatened to kill him if he was caught working with a journalist again.
Months after their release, Abobaker said he had heard that Sotloff was moved from the textile factory to an industrial park also outside of Aleppo. Abobaker said he heard Sotloff was then moved to Raqqa, the ISIS stronghold in Syria. Although this information could be useful in recovery efforts, Barfi said in an interview with CBS This Morning that the Sotloff family doesn't think the government was ever truly looking to help them.
"We never believed, really believed that the administration was doing anything to help us," Barfi said. "The family sat with National Security Council officials and, basically, they bullied and hectored them."