'Four Blood Moons' Book by Pastor John Hagee Gets Big-Screen Treatment; Docu-Drama to Feature Expert Commentary From Dinesh D'Souza, Dennis Prager and David Barton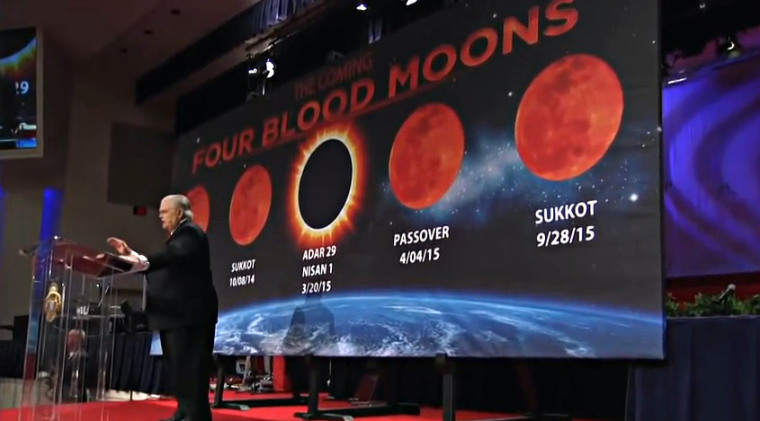 Correction appended
Texas megachurch pastor John Hagee's best-selling book, Four Blood Moons, is getting the "big-screen, live-action" treatment. A docu-drama based on the prophecy book, which suggests that certain lunar eclipses are tied to world events, is expected to be in theaters in March.
"Something is about to change," reads the ominous subtitle of Hagee's book, released in Oct. 8, 2013, a full year before a total lunar eclipse.
Now, the popular prophecy title, purported to perfectly tie together Scripture, science, and history, is scheduled for a one-night theatrical event beginning March 23, three days after a total solar eclipse is expected to occur and days before a total lunar eclipse.
Watch the official trailer for the "Four Blood Moons" movie:
Why the focus on eclipses? According to Hagee, founder of the organization Christians United for Israel, God has been using eclipses to communicate His intent to carry out Earth-shattering events affecting human history.
"The heavens are 'God's billboard.' He's been sending signals to Earth, and we haven't been picking them up," Hagee is quoted as saying in a press release on the new movie. "Two blood moons, in 2014 and 2015, point to dramatic events in the Middle East and, as a result, changes in the whole world."
Hagee, who believes Christians are obligated to support modern-day Israel, is counted among Evangelicals who believe that God gave Israel to the Jewish people. The Cornerstone Church pastor notes in Four Blood Moons that tetrads (four consecutive lunar eclipses) have previously fallen on Passover and Sukkot only three times in the last 500 years. Hagee believes that because these cosmological events fall on Jewish holy days, they were harbingers of significant historical events.
As promoters of the "Four Blood Moons" movie explain, their project explores "a rare lunar phenomenon that over the centuries has accompanied both tragedy and triumph for the Jewish people."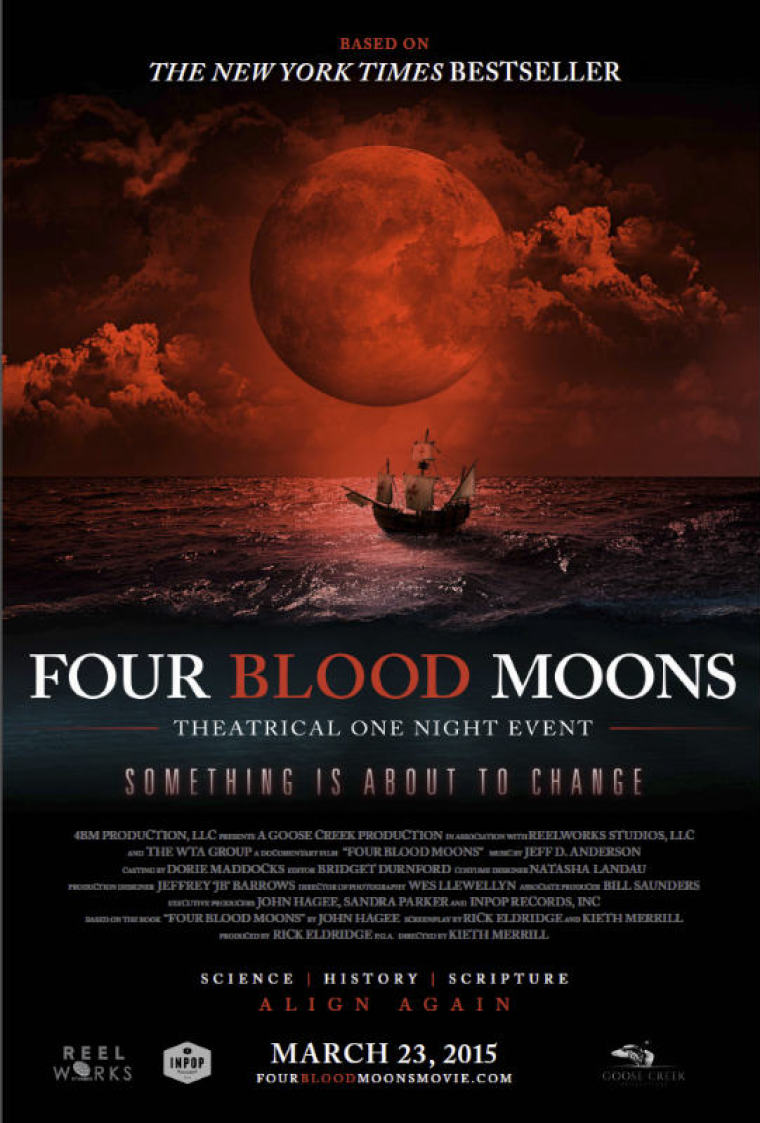 Scriptures tied to the celestial events are said to include passages in the Old Testament prophetic book of Joel (and quoted in the New Testament book of Acts) that presents God saying in verses 30-31: "I will show wonders in the heavens and on the earth, blood and fire and billows of smoke. The sun will be turned to darkness and the moon to blood before the coming of the great and dreadful day of the Lord." Similar passages appear in the books of Luke and Revelation.
The movie press release states:
"Four Blood Moons" combines scripture, science, history and big-screen live action spanning centuries, including previous similar lunar occurrences and the earth-shaking changes around them. It also examines our four blood-moon cycle-and its possible meaning for Israel, the Middle East and the world.

An array of historians, religious scholars and commentators appear in "Four Blood Moons" and offer their insight-filmmaker, speaker and author Dinesh D'Souza; radio host and author Dennis Prager; and noted author and historian David Barton to name just a few.
"Four Blood Moons" was produced by Rick Eldridge of ReelWorks Studios and directed by Academy Award-winner Keith Merrill ("The Great American Cowboy," "Amazon," "The 12 Dogs of Christmas"), and written by both men. The Goose Creek Production is presented by 4BM Productions and The WTA Group.
Filmmakers promise viewers "a compelling and entertaining exploration" of how the biblical texts, celestial signs, and historical events all intersect.
Presumably, movie-goers "will leave the theater convinced that something is about to change that could affect us all."
The official website for "Four Blood Moons" indicates that theater listings for the docu-drama were forthcoming.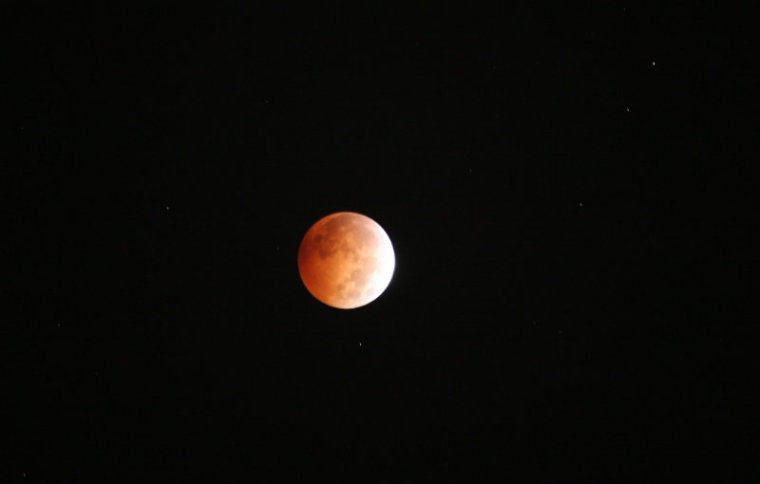 Hagee's book, Four Blood Moons: Something Is About to Change, has undergone 16 printings and sold more than 750,000 copies since its 2013 release, according to a Jan. 8 press release from Worthy Publishing.
What is a blood moon?
As Hagee has explained, "A blood moon occurs at a lunar eclipse when the earth comes between the sun and the moon. As the sun shines through our atmosphere, it throws a shadow on the moon, making the moon look red."
The press release also notes:
Only three times in the past 500 years have four blood moons (or tetrads) occurred back to back and on major Jewish holy days. The fourth tetrad began April 15, 2014, on Passover. In October last year, the second blood moon appeared on the Feast of Tabernacles (also known as Sukkot). Blood moons in 2015 land on the same holy days.

What happened in the past around such occurrences?

1493 — Spain's rulers had expelled all Jews and Columbus had discovered America, an eventual haven for the Jewish people.

1948-49 — The founding of Israel.

1967-68 — Following the Six-Day War, Jerusalem rejoins the state of Israel.
It was not immediately known what, if any, world-changing events occurred in 2014 on April 15 and Oct. 8, 2014, the dates of the first half of the tetrad lunar eclipses, or blood moons. The second half of the tetrad is expected to occur on April 4 and Sept. 8, according to NASA.
As previously reported by CP, several recently published "blood moon" books claim to explain how the total lunar eclipses purportedly tie into biblical prophecy. Hagee's book has remained among the top-selling Christian prophecy titles on the subject on Amazon.
Read this previous CP report for the list of tetrads Hagee references as well as responses from those skeptical of any prophetic ties to the eclipses: 'Blood Moon' Books Vie to Explain 'Prophetic Celestial Signs' Said to Have Ties to Israel.
Hagee is founder and senior pastor of Cornerstone Church in San Antonio, a non-denominational evangelical church with more than 20,000 active members. The megachurch pastor is known for being an ardent supporter of the state of Israel as well as subscribing to dispensationalist theology.
Correction: Thursday, Feb. 5, 2015:
An article on Wednesday, Feb. 4, 2015, about John Hagee's book, Four Blood Moons: Something Is About to Change, reported that the Texas pastor subscribes to dispensationalist theology and linked the position to dual covenant theology. Pastor Hagee "has repeatedly and consistently rejected dual covenant theology and such beliefs have no connection to dispensationalism," according to a statement from the film's publicist. In addition, Four Blood Moons has sold more than 750,000 copies, not 350,000 as the report stated.