Francis Crowned the 'People's Pope' During Historic Visit to New York City (PHOTOS)
Brian Letts, 26, from New Jersey, also sat in the slightly elevated section near the altar. He told The Christian Post he found the pope "really inspirational."
"When I was 5 years old, we saw John Paul II. It really moved us. This pope is really, he has this magnetism to him that really just draws us in," he added.
His brother, Daniel, his senior by just one year, shared that their family is Cuban-American and that he found the pope's recent trip to Cuba be personally meaningful.
"Our mother was born in Cuba, so honestly, the work that he's done to forge the relationship between our two countries coming together again is just so incredibly inspirational," Daniel said.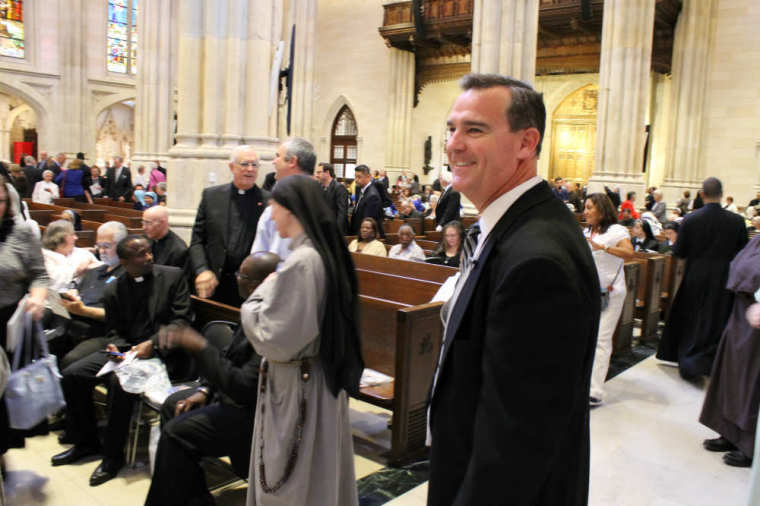 Frank Rizzo, from Redding, Connecticut, volunteered as one of the 30 or so honorary ushers who assisted guests during the service. Rizzo said that volunteering his time as an honorary usher on special occasions, such as Christmas, Easter or when there is a high-profile guest in town, was essentially a family tradition.
He said that not only were some of his brothers honorary ushers, but that his father and grandfather volunteered during their time as well.
"I think it's great. He's somewhat of a breath of fresh air in the Catholic church," Rizzo, 45, told CP.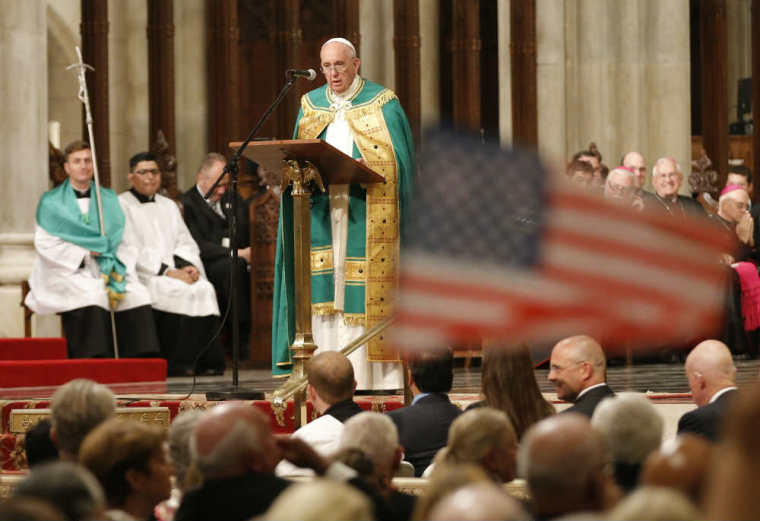 During service at St. Patrick's Cathedral, Pope Francis took the time to express solidarity with Muslims around the world affected by the stampede that killed more than 700 worshippers participating in the Hajj, or pilgrimage on Sept. 24 in Islam's holy city of Mecca. Francis said that "at this moment, I give assurances of my prayers" and added, "I united myself with you all [in] prayer to Almighty God, [the] all merciful."
Francis also expressed in his homily his "love" for and "gratitude" to the women of the church, saying: "In a special way I would like to express my esteem and gratitude to the religious women of the United States. What would the church be without you?
"Women of strength, fighters, with that spirit of courage which puts you in the front lines in the proclamation of the Gospel. To you, religious women, sisters and mothers of this people, I wish to say 'thank you,' a big thank you … and to tell you that I love you very much."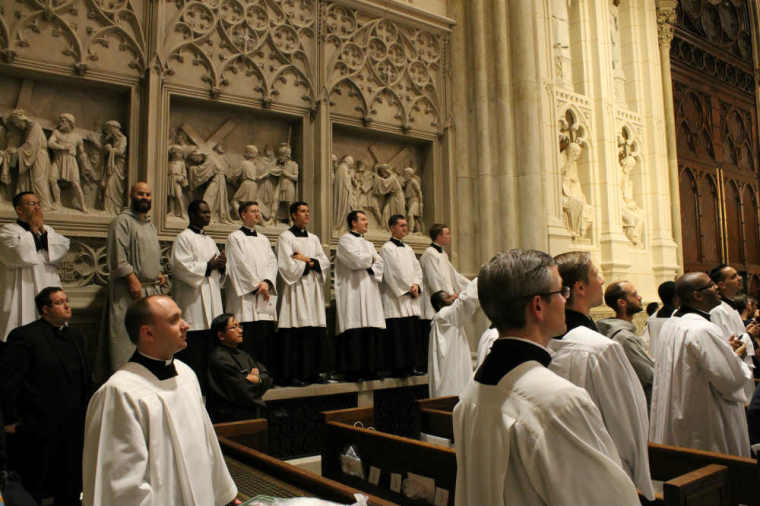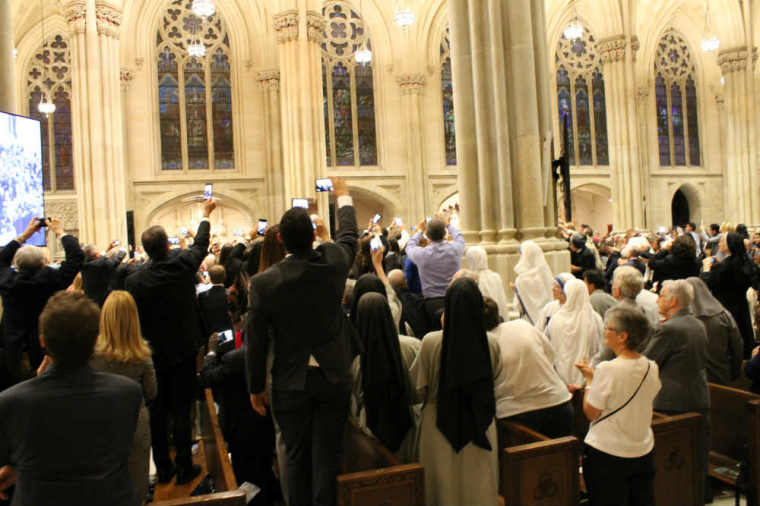 In addition to leading Evening Prayer at St. Patrick's Cathedral, Francis was scheduled to address the United Nations General Assembly, meet with 9/11 families and lead an inter-religious ceremony at Ground Zero, visit Our Lady Queen of Angels School in East Harlem, lead Mass at Madison Square Garden, and drive through and greet people at Central Park.
The U.S. Conference of Catholic Bishops, overseeing the pontiff's stateside visit, reports that Francis is the fourth pope to travel to the U.S. and that his "visit will be the tenth time a pope has made an apostolic journey" to the U.S.
The Sept. 22-27 trip to Washington, D.C., New York City and Philadelphia, where was to attend the 2015 World Meeting of Families, marks Francis' first-ever visit to the U.S. since the 78-year-old Argentinian Jesuit was chosen as pope in 2013. His trip to the U.S. was preceded by a three-day visit to Cuba where he met with President Raul Castro and local families. Learn more about the papal visit at uspapalvisit.org.