Franklin Graham: 2016 'Most Important Election in U.S. History'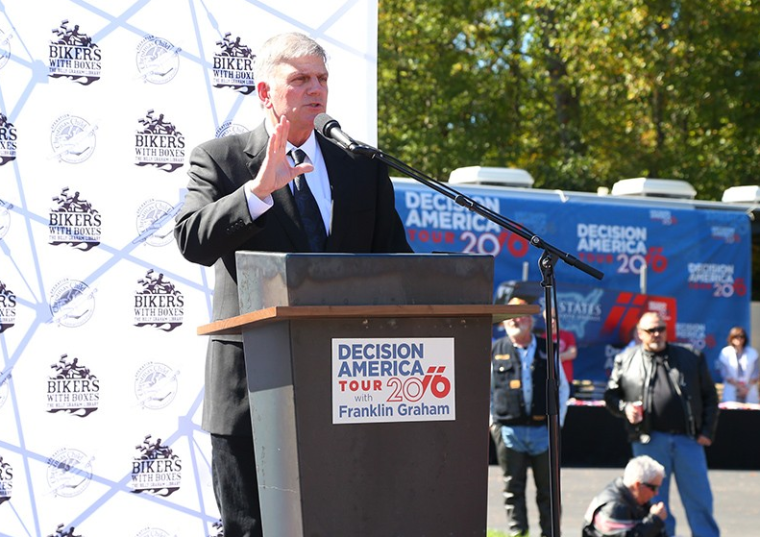 As the 2016 presidential primary elections are fast approaching, leading evangelist Franklin Graham is calling on Christians to vote in accordance with their biblical values as he launches a national prayer tour designed to get Christians more involved in the civil process.
On the day before Tuesday's CNN Republican presidential debate, Graham, who is the president of the Billy Graham Evangelistic Association and Samaritan's Purse, argued in a post on his Facebook page that the 2016 election may be the most crucial election in U.S. history.
"I'm not endorsing any specific candidates in next year's election, but I am strongly endorsing prayer — and I'm strongly urging Christians to get out and vote. We need to elect candidates at all levels that most closely support biblical values and principles," Graham wrote. "This may be the most important election in our nation's history. America is headed in the wrong direction and only God can turn it around. That's why I'm going to all 50 states in 2016, from capital to capital, to hold prayer rallies for our country."
Graham's tour is called the Decision America Tour and he will hold prayer rallies in all 50 state capitals.
The tour will begin on Jan. 5 with a prayer rally in Des Moines, Iowa. Graham will hold another prayer rally in Tallahassee, Florida, on Jan. 12, followed by a prayer rally in Baton Rouge, Louisiana, on Jan. 13. Graham will host his final January prayer rally in Concord, New Hampshire, on Jan. 19.
"Our country is in trouble," Graham stressed in a video posted on his Facebook. "Many people look to capitals like this, whether it is Washington or it is state level. They are looking for answers to the problems that they have in life. But I can tell you right now, without God, there is no hope."
"We are asking people to pray, to vote for biblical principles, engaging in your community by living and sharing your faith," Graham added. "We are not supporting any candidates, we are not supporting any party, I just want us to lift up the name of Jesus Christ."
Although Graham has not scheduled all the dates yet for his tour, he is already scheduled to visit South Carolina, Georgia, Hawaii, Colorado, New Mexico, Arizona, Utah, Nevada and California by March 31.
"I want people to come to capitol steps like this and we are going to pray," Graham said in the video. "We are going to pray for our nation and encourage Christians to stand up and let their voice be heard."
Graham, who is a frequent political commentator, came under fire recently for backing Republican presidential candidate Donald Trump's call to ban Muslims from entering the U.S.
"I think we should put a halt on immigration, because our borders are broken, until we have a proper system to vet people," Graham told CNN. "I think all immigration, but especially those coming from the Middle East right now."
Contact: <ahref="mailto:samuel.smith@christianpost.com">samuel.smith@christianpost.com,
@IamSamSmith
(Twitter)