Franklin Graham: 2016 Presidential Election 'Most Critical in Our Lifetime'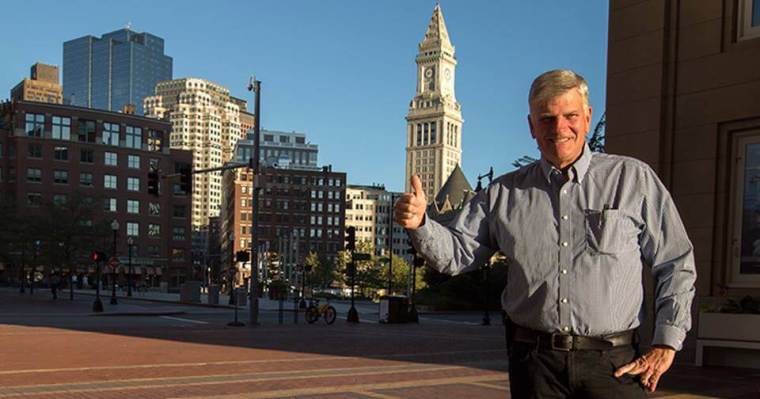 Evangelical leader the Rev. Franklin Graham says while he can't tell Christians who to vote for in the upcoming presidential election in November, he will continue to emphasize that the 2016 election is "the most critical in our lifetime," and encourage people to get informed about the issues.
"I'm not telling people who to vote for, but I am telling Christians to vote. I believe the election coming up in November is the most critical in our lifetime — so much hangs in the balance," Graham wrote in a Facebook message on Monday.
"Do everything you can to make sure your family members and friends are registered to vote as well. Read up on the candidates and pray about who you should vote for," he added.
Graham then linked to The Billy Graham Evangelistic Association's analysis on where the Republican and Democratic party platforms stand on important issues that concern Christians, summarizing each party's views on topics such as abortion, marriage, religious freedom, national defense, and others.
"The question to ask is which one most closely aligns with biblical values," he wrote.
Graham, who is the president of the BGEA, has in the past said that he has "zero faith" in either the Democratic or Republican Parties, but asserted that Americans should still make a decision and vote in November.
"You're just going to have to ask yourself which of the two [presumptive nominees] do you think we as Christians will at least have a voice with?" the evangelist said back in June in Olympia, Washington, as part of his "Decision America" tour, which is traveling to every state capital before the election.
"You have to make that choice," he said at the time. "Now, you might have to hold your nose."
While Graham has said he won't be telling Christians who to vote for in November, he has emphasized that believers need to "boldly live out their faith and pray for our nation and its leaders."
"I want to strongly urge Christians to run for public office at every level — local, state, and federal. We will not be endorsing any political candidates, but I will be proclaiming the truth of God's Gospel in every state," he said at another stop in Des Moines, Iowa.
As for the BGEA's Decision magazine and its 2016 special election edition for September, Mark DeMoss, BGEA spokesman, told The Christian Post that the organization has released similar political editions in past election years as well.
"The magazine is published to present 'hard-hitting stories about the world around us from an evangelical perspective,'" DeMoss told CP.
"Certainly, national elections are major stories about the world around us and the magazine desires to present information to help readers make informed decisions from an evangelical perspective," he added.