Franklin Graham: 'Islam Is a Threat to Our Very Life; Hell Awaits Jihadists, Not 70 Virgins'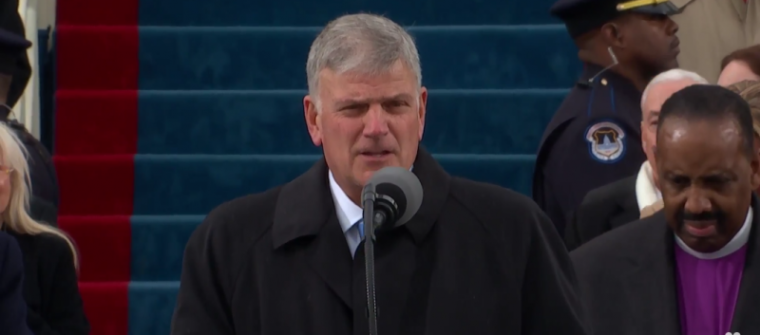 The Rev. Franklin Graham warned jihadists that the flames of hell, rather than 70 virgins, await them in the afterlife, and also described Islam as a "threat to our very life," following Monday's bombing in Manchester, England, which killed 22 people.
"Islam targets the weak. The Islamic State has claimed responsibility for the horrific carnage of Monday night's bombing in Manchester, England, targeting children, teens, and their parents who were attending a concert. They're proud of this despicable and cowardly act," Graham wrote in a Facebook message on Monday.
BBC News noted that the U.K. has raised its terror threat level to "critical" following the suicide attack at the end of U.S. singer Ariana Grande's concert, which Islamic radicals have taken responsibility for.
Home Secretary Amber Rudd has also warned that the bomber, Salman Abedi, was "likely" to have been working with others in the planning of the bombing at Manchester Arena.
Rudd said that attack was a "devastating occasion."
"It was more sophisticated than some of the attacks we've seen before, and it seems likely,  possible, that he wasn't doing this on his own," she added.
Graham, who has been criticized in the past for his harsh rhetoric on the religion of Islam, did not pull punches in his commentary on the attack.
"Islam is a threat to our very way of life. There will be more stabbings, more shootings, more bombings, and more killing. Our U.S. politicians need to wake up and see the dangers," he declared.
"We need to find ways to make our border secure so that we can know who is coming into this country and make sure they support the freedoms and liberties we hold dear." 
In a follow up post, he agreed with U.S. President Donald Trump that violent jihadists are "evil losers."
"The truth is, they're losers in this world and in the next. The President said, 'This wicked ideology must be obliterated.' Jihadists following this are taught the lie that if you kill an infidel (a Christian or a Jew) and die in doing so, you will go to paradise where 70 virgins await you," the leader of the Billy Graham Evangelistic Association and Samaritan's Purse humanitarian organizations said.
Graham continued: "I've got news for them — Hell awaits, with real flames and real fire. Hell is a real place — and so is Heaven, but there is only one road to Heaven. Jesus said, 'I am the way, the truth, and the life. No one comes to the Father except through Me' (John 14:6). It is my prayer that Muslims around the world will come to know the truth and put their faith in Jesus Christ and Him alone."
In blaming Islam for Islamic State's atrocities, Graham often clashed with former President Barack Obama, who continuously pushed back against associating the entire religion with the actions of terrorists.
"Islam has declared war on the world, and it's high time we acknowledge it and respond decisively," Graham said back in 2015.
Speaking of IS, he stressed, "Their goal is world domination. They want to control us — they want to destroy us. I don't know about you, but I don't want to live under Islam."