Franklin Graham Tells Liberty University Students to 'Give It All' for Christ Despite Cost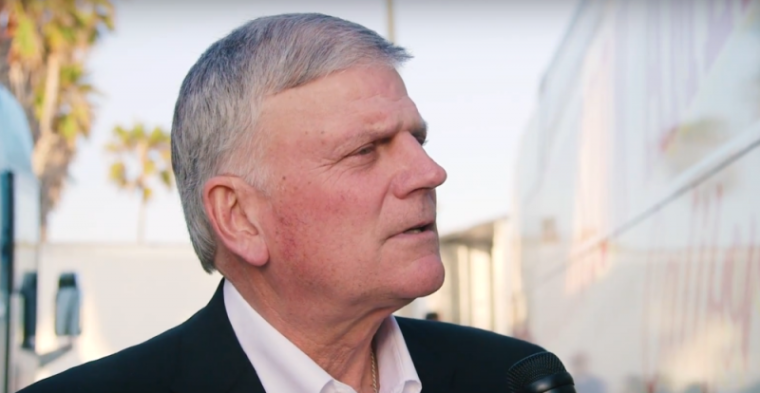 Franklin Graham, the son of legendary evangelist Billy Graham and president of the Billy Graham Evangelistic Association, told students gathered at Liberty University's Convocation to be willing to "give it all" for their faith — but there will be a "cost and price."
"You have to be willing to turn your back and give it all," Graham, who's also the head of Samaritan's Purse, said. "You have one life to live. Live it. Live it for Him, but there's a cost and price. And He requires you to make Him first in your life."
"We need an army of men and women who are willing to go and to follow the Lord Jesus Christ to the ends of the Earth," he continued. "Remember you have to love Him more than anything else in this world. No excuses."
While the cost of following Christ is high, it also brings about many blessings, the evangelist added.
"When you obey God's voice the blessing He pours out on you is incredible," Graham said. "But it starts with obedience. You got to give it all, no excuses. Just obey. That's what God wants."
Graham's message was part of Liberty's Global Focus Week, a semiannual event aimed at raising global awareness among Liberty University students, faculty, and staff.
The pastor was introduced by Liberty President Jerry Falwell, who highlighted the global impact of Samaritan's Purse.
"We love the Graham family," Falwell said. "What Franklin has done with Samaritan's Purse is nothing short of miraculous. I'm so honored that Liberty continues to partner with Samaritan's Purse, most recently with sending a team of students to help with flood cleanup in North Carolina."
A Samaritan's Purse mobile Emergency Relief Hospital was set up on campus for students to tour and talk with doctors and nurses from the organization who provided emergency medical care for those injured during the battle between Iraqi forces and the Islamic State terrorist group last year.
On Facebook, the 66-year-old Graham, whose three sons attended Liberty University, reflected on the day's events.
"What an incredible crowd of students this morning at Liberty University! I shared a message from the Word of God and told them God requires that you put Him first in your life, No. 1 above everything else," he said.
"Then it was great to tour the beautiful campus with our longtime friends the Falwells. Jerry Falwell Jr., president of Liberty, Jonathan Falwell, pastor of Thomas Road Baptist Church, and a steady stream of students toured the Samaritan's Purse emergency field hospital we have set up on campus, talking to our doctors and nurses who have served on the front lines. It was a great day — we are so grateful to them for hosting us."
Earlier, Graham's son Will, who's vice president of the Billy Graham Evangelistic Association, said his time at the private college in Lynchburg, Virginia, was "very instrumental" in shaping who he is today.
"When I got there, I knew a lot about the people because I was so rooted in church, and I had a mom and dad who read me the Bible," he said. "But when I came to Liberty, I actually fell in love with the Bible. I just developed this love for the Bible and I soaked it up."
"Liberty was very instrumental in shaping how I do ministry today," he added.