Gary Haugen at Passion 2013: You Can Be the Generation That Ends Slavery in the World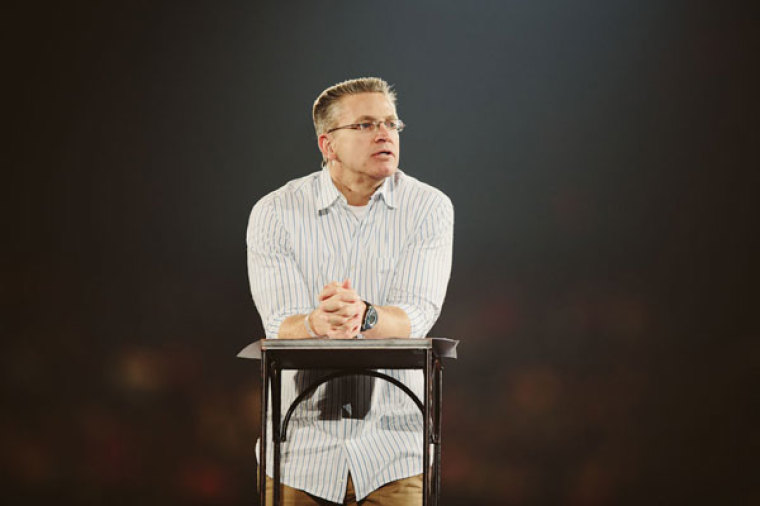 ATLANTA – Gary Haugen, president and CEO of International Justice Mission (IJM), told the 60,000+ Passion 2013 participants that 27 million people in slavery today is a massive problem of injustice in our world and that they must make this cause a priority, in what was both a plea for awareness and a challenge to take action Wednesday afternoon.
"As your brother in Christ I simply want to tell you that slavery is real, it's massive, it's brutal, and it's also in our own backyard," he said. "But you can be the generation that ends slavery in the world."
IJM is an international human rights agency that rescues victims of violence, sexual exploitation, slavery and oppression worldwide, and in recent years the Passion movement has partnered extensively with their global initiatives raising significant finances in the fight to free those enslaved today.
"You are for me the manifestation that God can do immeasurably more than all we can ask or imagine," said Haugen, commending the students for their efforts in this cause thus far.
With compelling burden to free today's 27 million slaves, Haugen recounted his own experiences in the justice movement from his first encounter with humanitarian atrocities in Rwanda in 1994 to the many recent dark profiles of child prostitution in brothels and forced labor in brickyards more recently. Describing the brutal Rwandan genocide when much of the world stood silent and turned a blind eye to the horrific and deadly violence, Haugen said, "The world was asking, 'Where was God?' I was asking, 'Where were God's people?'"
Haugen has had a long and dynamic career of fighting human rights abuses around the world and uses his investigative, legal and social work expertise to rescue victims of slavery and hold their perpetrators accountable, but has often been frustrated by the perceived apathy of the church on this issue. "For more than two decades now I have been praying for a better day, a better generation; a generation whose hearts break for the things that break the heart of Christ," said Haugen. "I believe today that you may be that better day, that generation that manifests God's compassion and His heart for justice in the world."
"Let us start with the biggest no brainer of injustice in the world and that is slavery," he said, reflecting on his own journey in the fight for human rights. "At first the numbers didn't mean much to me, but soon those stories began to transform me," he explained, as each statistic translates into personal stories of abuse, deception and human trafficking. Haugen said that the sheer magnitude of this global crisis is a call for personal involvement and strategic investment of resources to end slavery in this generation.
"There is an awesome God of justice who is ready to move in power if you move in obedience," Haugen said, placing the responsibility to end human slavery on the Christian community. "Slavery is a problem worthy of His people making it a priority." He emphasized the Biblical mandate for taking on the cause of freedom, quoting from John 13:35: "By this all men will know that you are my disciples, if you have love for one another."
Haugen repeatedly assured the audience that God will equip them for the task at hand. "Jesus wants to give you five things: extravagant compassion, moral clarity, sacrificial courage, persevering hope, and refreshing joy," Haugen said, admitting that "doing the work of justice requires us to do hard things." He gave vivid examples of courage from the Civil Rights struggle in the segregated southern United States, highlighting the sacrifices and successes of the Freedom Riders in 1961. Speaking of the long but rewarding struggle for freedom, he quoted Dr. Martin Luther King, Jr. who famously said, 'The arc of the moral universe is long, but it bends toward justice.'"
In addition to Haugen's talk Wednesday afternoon, Passion founder Louie Giglio shared how IJM's work fits into Passion's larger freedom cause for this year. "We are launching a new short-term movement called 'End It Movement,'" he said. "Our goal is to raise $3 million during Passion 2013, and we are the only people crazy enough to come to poor college students and ask for money." The broader goal, Giglio said, is "to raise awareness and awakening in America over the arc of these next few months." "You guys have defied the odds and stunned the world, and your voice is being heard," he told the students. "The organizations we are partnering with [to end slavery] already have a vision and a plan in place, all they need is for someone to blow wind in their sails."
By Wednesday evening, students had already given $413,000 toward the $3 million goal, with one in every six conference participants having made a donation so far. "We turned a corner today," Giglio told the students on Wednesday night. "We said – you said – that it is not okay with us that there are more people in slavery today than at any other time in human history. I don't think anybody is going to go to battle for numbers, but I know God's people will go to battle for people. And He brings restoration and healing to people's lives when we go in Jesus' Name."