Georgia High School Will Remove Bible Verses From Football Monument Fearing Atheists' Lawsuit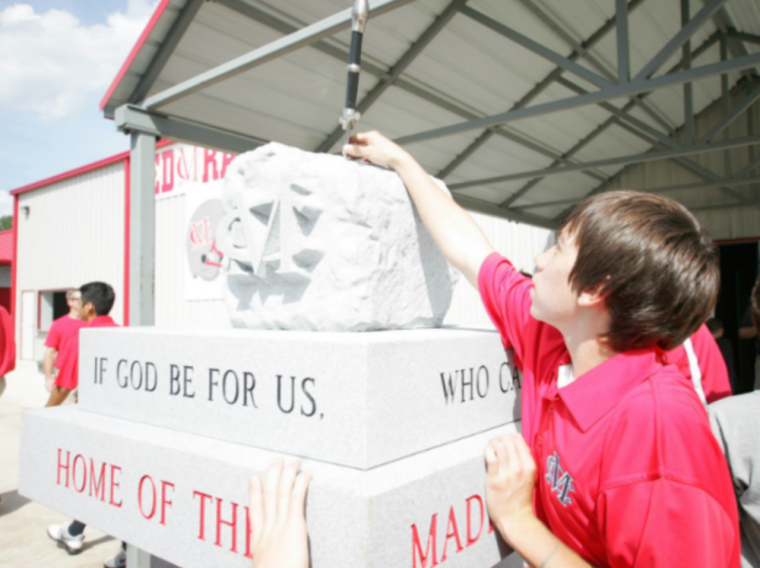 The Madison County School Board in Georgia unanimously voted Tuesday to remove two Bible verses from a monument donated to its high school football team, fearing a lawsuit from a Washington, D.C.-based secular organization.
The board made its decision after hearing from Cory Kirby, the school district's attorney, who explained that the monument's Bible verses would likely not pass a legal challenge.
"Kirby told board members, in part, that the monument presented some legal problems in connection with the 1971 U.S. Supreme Court decision in Lemon v. Kurtzman. The case produced the so-called 'Lemon test,'" reported Jim Thompson of the Athens Banner-Herald.
"Kirby went on to tell the board that the issues raised by the Madison County High School monument were too similar to other court cases on the establishment clause to believe that the county's situation might set a new legal precedent …"
Erected in August, the monument includes two Bible verses and was touched by football team members for good luck on their way to the field.
Late last month the secular group American Humanist Association of Washington, D.C. sent a letter of complaint to Madison County Superintendent Allen McCannon and Madison High School Principal George Bullock, the letter argued that the statue violates the establishment clause.
"It is our understanding that sometime during this school year, the school district erected a large permanent sculpture entitled the 'Red Raider' monument, on school property, which includes prominent religious, and indeed, Christian biblical references," read the letter.
"Since it has been erected, the Madison High School football team has started a tradition of touching the sculpture before home games."
Madison County also received a letter of complaint from the Freedom From Religion Foundation of Madison, Wisconsin.
The board's vote was lauded by David Niose, legal director of the AHA's legal arm, the Appignani Humanist Legal Center. "No public school should be promoting the majority religion," said Niose in a statement released Wednesday.
"We are pleased that the school board has decided to respect the constitutional separation of church and state and the rights of religious and nonreligious minorities," he asserted in the letter.
According to local media, no time table has yet been established on when the two Bible verses will be removed from the monument.