'God Made a Farmer' Super Bowl Ad for Ram Trucks a Top Favorite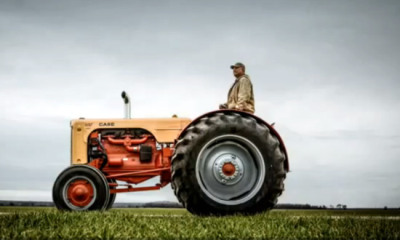 An ad created by Chrysler that uses conservative Christian and celebrated broadcaster Paul Harvey's 1978 "God Made a Farmer" tribute has emerged as a favorite among Super Bowl viewers.
"And on the 8th day God looked down on His planned paradise and said, 'I need a caretaker!' So, God made a farmer," begins Harvey's remarks that play over Chrysler's dramatic Super Bowl commercial. "God said I need somebody to get up before dawn and milk cows and work all day in the fields, milk cows again, eat supper and then go to town and stay past midnight at a meeting of the school board. So, God made a farmer."
The "Farmer" ad played during the fourth quarter of Super Bowl XLVII in which the Baltimore Ravens defeated the San Francisco 49ers 34-31. The commercial drew praise Sunday night and has become one of the most-talked about ads among viewers, including many Christians who took to Twitter to share their reactions.
"Legit commercial, Dodge. Well done. Classy. Unique. Refreshing," wrote spoken word poet Jefferson Bethke.
"Ram Trucks Super Bowl commercial 'Farmer'...best commercial – and nobody was half-dressed," commented LifeWay Research president and missologist Ed Stetzer.
"What Dodge/RAM Executive greenlit that Paul Harvey 'God Made a Farmer' ad? I want to know. He deserves America's undying gratitude," wrote Dietrich Bonhoeffer biographer Eric Metaxas.
While Chrysler's use of dramatic montages of farmers at work juxtaposed with Harvey's powerful and well-timed remarks were appreciated, others also felt Chrysler succeeded in simply drawing interest to its Dodge Trucks with the two-minute commercial.
"This is one of the best commercials I've ever seen. Not only does it pay homage to the men and women [whose] labor was the basis of the American heritage, but it serves it's purpose to draw in the consumer. It makes you want to buy a Dodge; it makes you want to be a farmer. It makes you want to be an American farmer," commented another viewer of the Super Bowl ad on YouTube.
Jason Cummings, Chair for the Department of Leadership and Military Science in the U.K., shares in a post on Christian pastor Ron Edmonson's blog that he found that Dodge's "Farmer" commercial affirmed "virtuous characteristics" that "resonate with our souls," and listed among them disciplined work ethic, compassion and character.
"Americans respect farmers, and the farmer was extolled for his virtuous characteristics," Cummings writes.
 Watch Chrysler's Dodge Ram Super Bowl Commercial:
Paul Harvey's 'Farmer' Speech During Ram Trucks Superbowl Commercial
Chrysler's "Farmer" ad is based on and very similar to a 2011 video by Farm.com made in support of farmers "both past and present who have endured to provide our safe, affordable and abundant food," the organization has shared. It also noted that Harvey delivered his "God Made a Farmer" tribute in 1978 at the annual National Future Farmers of America Convention.
Harvey, a popular and respected radio broadcaster for ABC Radio Networks, was also a conservative Christian who worshipped at a Seventh-day Adventist Church in Phoenix, Ariz., and was reportedly drawn to the desert, while his wife was fond of the city. According to the Adventist News Network, the iconic broadcaster was often seen wearing a cowboy hat and boots to church services. Harvey, who passed away in 2009, reportedly was also a good friend of the Rev. Billy Graham.
While Chrysler Group LLC has won applause for its ad, the automaker operates under Italy's Fiat S.p.A. and some of its Ram Trucks are assembled in Mexico, which some viewers found troubling in light of the "Farmers" commercial's all American imagery. However, Farms.com has made it known that Chrysler has its full support, as the "Farmer" Super Bowl ad actually benefits America's farmers.
"Farms.com is pleased to support Ram Trucks and the Super Bowl commercial acknowledges the hard work and importance of farmers and agriculture. Ram Trucks is supporting Future Farmers of America when this video is viewed," the organization has stated on its website.
In addition, Chrysler's Ram brand has declared 2013 "the year of the farmer" and is encouraging consumers to help it raise $1 million for the FFA as well as for food and education programs.
Watch the original "Farmers Tribute: So God Made A Farmer" from Farms.com: