GOP Evangelical Outreach Director Quits, Citing 'Tone Deaf Attitude'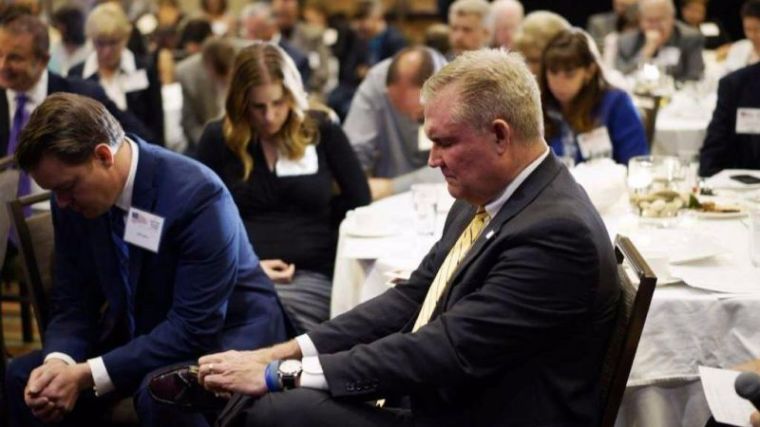 Chad Connelly, the Republican Party's first-ever national director of evangelical outreach, has announced his resignation, complaining that the GOP has a "tone deaf attitude" toward the evangelical voting sector.
"The treatment I received from the new political department has been disrespectful, antagonistic and unacceptable," Connelly, RNC's director of the Faith Engagement Initiative since 2013, wrote in an email he sent to close friends, according to The Associated Press.
"GOP Faith in general and me in particular, just don't have the priority I anticipated," Connelly, who was an ally of former White House chief of staff Reince Priebus, wrote. He added that he is surprised by "the treatment I received but mostly at the tone deaf attitude toward this voting segment" that the head of the Republican National Committee's political department demonstrated.
"Pastors and faith leaders and people sitting in pews are THE key element in winning elections," he explained. "An increase in church engagement of only a few percentage points is often the difference in victory and defeat. We have learned and re-learned those lessons and unfortunately, it appears that your political department would want us to learn it again."
The RNC denied the allegation.
"Chad failed to meet simple metrics, expectations, and responsibilities crucial to his duties at the RNC," Juston Johnson, political director of the RNC, was quoted as saying. "Because of the importance of faith engagement to the RNC, it was time to move in a new direction in the department in order to expand our efforts."
Many have expressed their disappointment over Connelly's resignation.
Paul Chappell, senior pastor of Lancaster Baptist Church in California, tweeted, "The immeasurable help of @ChadConnelly to Involve Christian voters is unknown to @GOP who didn't witness his work with thousands of pastors."
Jason Williams, former vice chairman of the Gaston County Board of Commissioners, called Connelly's resignation a "real loss for the RNC."
"You can't disregard the primary group that gave the @GOP the WH and majority in Congress," he tweeted.
Tim Butler, pastor of People's Baptist Church in North Carolina, also commented on social media, noting, "It is both unknown and apparently unwanted by @GOPChairwoman @GOP. 81% of Evangelicals turned out to vote! A record! Sad day for @GOP!
In May, Connelly ran for Congress in a special election in the 5th Congressional District of South Carolina after President Donald Trump appointed Mick Mulvaney as director of the Office of Management and Budget. Connelly stood fourth in the primary.
In an interview with The Washington Times in March, Connelly, former chairman of the South Carolina Republican Party, talked about his role in the party.
"I was mad in 2008-2009 when (Sen. John) McCain ignored us (the evangelical vote). I was upset in 2012 and 2013 when (Mitt) Romney ignored us. So when I took the job with the RNC, I had a theory. I thought that if we would activate the churches and connect with them, then we could do something that hadn't been done before. In my original report, I said that if we get 80% of the Evangelical vote, then the Democrats can't win. We got 81%. It set a new record for Evangelical turnout. So, it's not a theory to me now—I know this is the way."