GOP Politician Who Urged Children to Only Marry Other White Christians Responds to Firestorm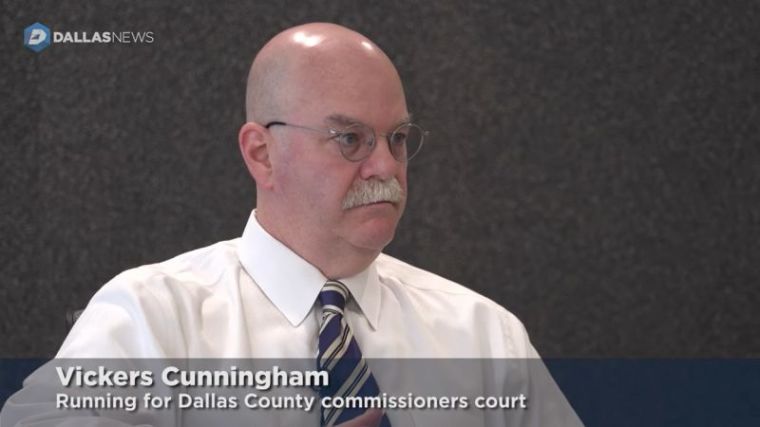 A Republican candidate for county commission in Dallas has said that his views regarding who his children can marry have "evolved," after it was found out that he established a trust giving them incentives for marrying only white, Christian people.
Vickers "Vic" Cunningham admitted in an interview with The Dallas Morning News on Friday that he created a living trust in 2010 rewarding his children if they married other white Christians.
"I strongly support traditional family values," Cunningham said of the thinking behind the trust. "If you marry a person of the opposite sex that's Caucasian, that's Christian, they will get a distribution."
The politician clarified on his website that his views on the issue have since evolved, even though he cannot change the rules of the trust.
Cunningham wrote that the revelations in the DMN article, made after his estranged brother, Bill, accused him of being a racist, have caused "much pain for my family and me."
"I have spent a lifetime in service to my community and church, building a reputation of integrity, and these events truly hurt my heart. I take full responsibility for the terms of the trust my children would have to meet upon marriage to receive an advance from their trust," he states on his campaign website.
"This trust was set-up during a time of concerned feelings about my brother Bill's gay lifestyle. My views on interracial marriage have evolved since I set-up the irrevocable trust in 2010, and today I would absolutely remove those conditions if I legally could," he added.
The county commission candidate accused his brother of financial misgivings that he argued "ripped our family apart," and denied all accusations that he is a racist.
"I have never, and will never discriminate against anyone based upon race, religion, color, creed, or sexual orientation," he vowed.
Bill Cunningham maintained that his older brother's positions have not changed, however, and offered examples of what he said amounts to racism he has displayed toward others.
"His views and his actions are disqualifying for anyone to hold public office in 2018," said Bill Cunningham. "It frightens me to death to think of people in power who could hurt people."
What is more, despite Vic Cunningham's clarification, DMN's editorial board said that it is withdrawing its previous recommendation in support of his candidacy.
"While Cunningham denies using the N-word, the reporting by The News' Naomi Martin leaves us unwilling to recommend him to potentially lead and serve Dallas County," the newspaper explained.
Notable Christian theologians, such as reformed pastor John Piper, have argued that Jesus Christ would celebrate interracial marriages, rejecting the idea that they go against the faith.
"Far more important than the legalization of interracial marriage in one nation is the fact that God's revealed will for the world is not undermined but advanced when a man and a woman from different ethnicities marry in Christ," Piper said in June 2017, marking 50 years of legalized interracial marriage in America.
"That is a startling and controversial claim in the face of diverse opposition to interracial marriage in our own day," he added.
When it comes to marrying people of different faiths, other pastors, such as Tim Challies of Grace Fellowship Church in Toronto, Ontario, have warned that Christians should not marry unbelievers, however.
"The Bible makes it very, very clear that a Christian can only marry another Christian. You may not marry somebody who is an unbeliever. You should not marry somebody for whom you're not certain whether they're a believer or not," Challies said in February, as part of a discussion on Christian dating.