Gospel Singer Marvin Sapp Becomes Bishop of Central Province of Global United Fellowship (Interview)
Gospel Singer Marvin Sapp Becomes Bishop of Central Province of Global United Fellowship (Interview)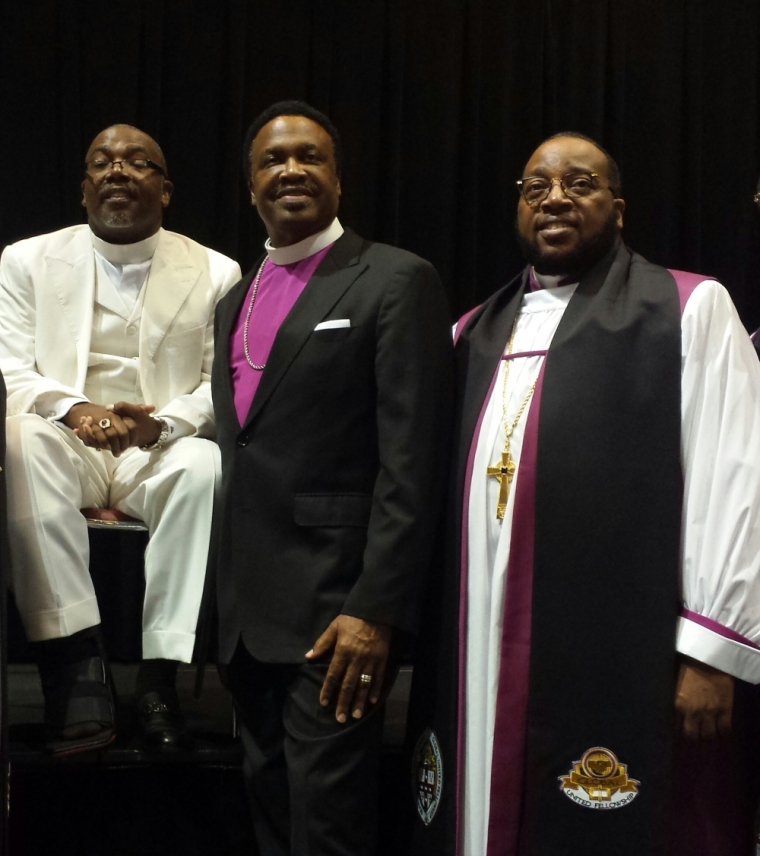 Gospel singer Marvin Sapp, who was consecrated Friday to become bishop over the Central Province of Global United Fellowship during a ceremony in Jacksonville, Florida, says part of his mission is to carry on the vision established by Bishop Neil C. Ellis, who started the cross-denominational fellowship of spiritual leaders in 2013.
"My first order of business is making sure the established vision of Bishop Neil C. Ellis is getting into the hearts and minds of all of those who are connected to the GUF family. That's just creating and making sure that we, as individuals, maintain that love relationship — that fellowship relationship and koinonia that the Bible talks about — which is key and most important," Sapp told The Christian Post during an interview on Friday.
"It's just about fellowship, really, and remaining connected, one with another. And if I do that, I believe that a part of my assignment will be accomplished."
Sapp, the 49-year-old senior pastor of Grand Rapids Lighthouse Full Life Center, who will now oversee 15 churches in the Michigan, Illinois, Ohio and Missouri areas, also spoke about his short-term goals as bishop over the Central Province of GUF.
"It means a lot to me because number one, I've been functioning in the office of bishop designate for over a year doing work, interacting and meeting with pastors," said Sapp, who was accompanied by a delegation of his congregants along with 13 members of his family to the ceremony, which was attended by spiritual leaders such as bishop Ellis and Juanita Bynum.
He continued: "[I've been] really trying to love on them and trying to establish the fellowship that our presiding Bishop, Neil C. Ellis, challenged us to do. At the same token, having the opportunity to be elevated amongst the church is a great thing as well. I'm just excited all the way around about a brand new season that I have the opportunity to walk in and looking forward to great things."
The goal of the GUF, which consists of more than 400 churches throughout the world, is to "strategically plan, implement and execute transformative and generational impact, while expanding the kingdom of God to all the nations of the world," according to a statement shared with CP. The GUF's five pronged mandate is to "unite churches; equip leaders; enhance marriages; resurrect the discipline of prayer and build covenant relationships within the Body of Christ."
Some of the churches that Sapp will be overseeing in his home state of Michigan include: Royal Priesthood Ministries and Central Bible Ministries International in Grand Rapids; Russell Street Baptist Church, Mt. Zion New Covenant Baptist Church, New Mt. Moriah International Church and Greater Ebenezer Missionary Baptist Church located in Detroit; and Union Second Baptist Church located in Macomb.
Even though Sapp is now a bishop, he's also a heralded gospel music singer who was recently honored as a "Living Legend" at McDonald's 365Black Awards at the Essence Music Festival earlier this month.
His fourth studio album, You Shall Live sits atop the Gospel Album Billboard Charts and he's not forgetting to promote it while taking on his new role as bishop.
"Outside of being a bishop, make sure you get my brand new CD You Shall Live," Sapp told CP with a laugh. "I promise you it will be a great great blessing!"