Greg Laurie Leads 'Jesus Revolution Style' Baptism at California Beach; Over 550 Baptized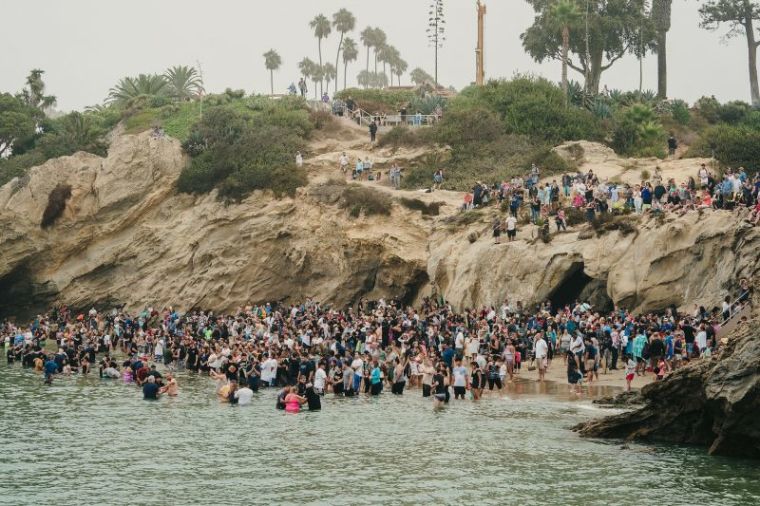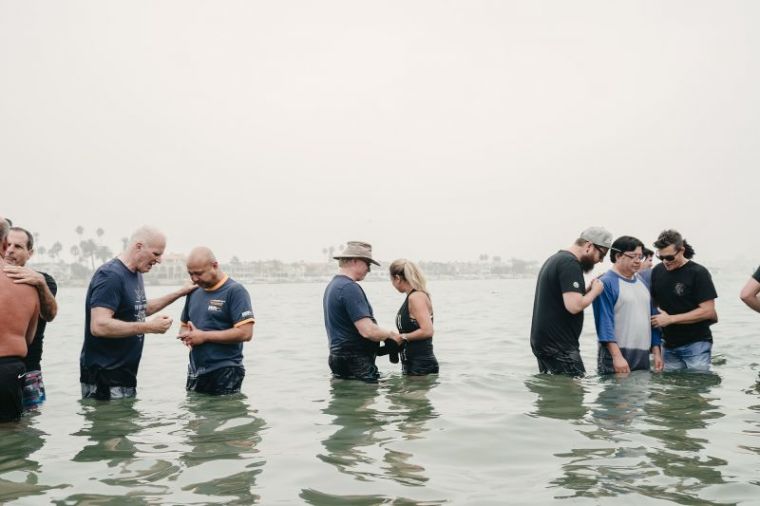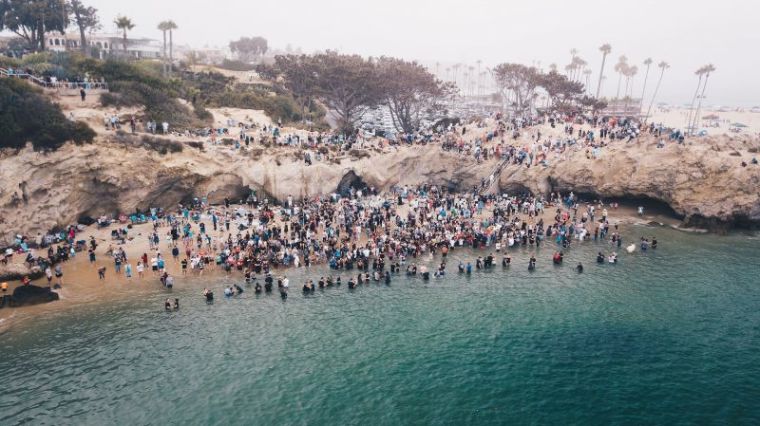 View Photos
Over 550 people were baptized on a California beach over the weekend during a mass baptism led by evangelist and megachurch Pastor Greg Laurie.
Laurie and pastors from his Harvest Christian Fellowship in Riverside were joined by pastors from about nine other Southern California churches in baptizing new believers at Pirates Cove in Newport Beach on Saturday morning.
"Back over 40 years ago during the Jesus Movement, we used to do baptisms down at Pirates Cove beach. In fact that is where I was baptized and my wife, Cathe, was baptized there as well," Laurie told The Christian Post on Monday. "It is a significant place, historically, for the Church because that was sort of the epicenter of the Jesus Revolution, as reported on by Time magazine and others. It was a phenomenon."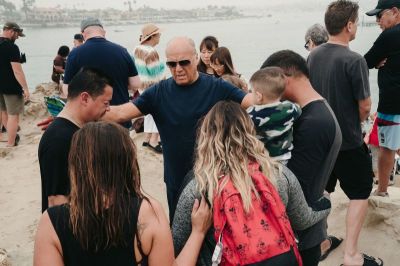 The baptism was held from about 10 a.m. until noon. Among the pastors who participated in the baptism is Brian Brodersen of Calvary Chapel of Costa Mesa.
The mass baptism comes weeks after about 10,000 people made decisions for Christ at Laurie's 29th annual, three-night Southern California Harvest Crusade held at Angel Stadium.
The public baptism also comes just days after Laurie released a new book co-authored by New York Times best-selling author Ellen Vaughn, titled Jesus Revolution: How God Transformed an Unlikely Generation and How He Can Do It Again Today.
The new book focuses on how Laurie came to faith during the 1970s, how he met his wife, and explores how the Jesus Movement of the 1960s and 1970s exploded with two central characters — preachers Chuck Smith and Lonnie Frisbee. Frisbee is also the preacher who baptized Laurie at Pirates Cove circa 1971.
"Something that occurred to me as we were baptizing all those people is that if you want to see a revival, do revival-like things," Laurie explained. "This is what we used to do [in my generation]. We did big, giant public baptisms at the beach down there."
"It is sort of like if you are having trouble in your marriage, I might tell you to go back and do the romantic things you did in the beginning of your marriage. I would even say, 'Don't wait for the feeling of romance. Just be romantic and the feelings will catch up,'" Laurie added. "I think in the Church, we overly mystify the word revival, and I think if you want to see a revival, do revival-like things. One of those things was large beach baptisms, another was openly proclaiming the Gospel, as we recently did at Angel Stadium."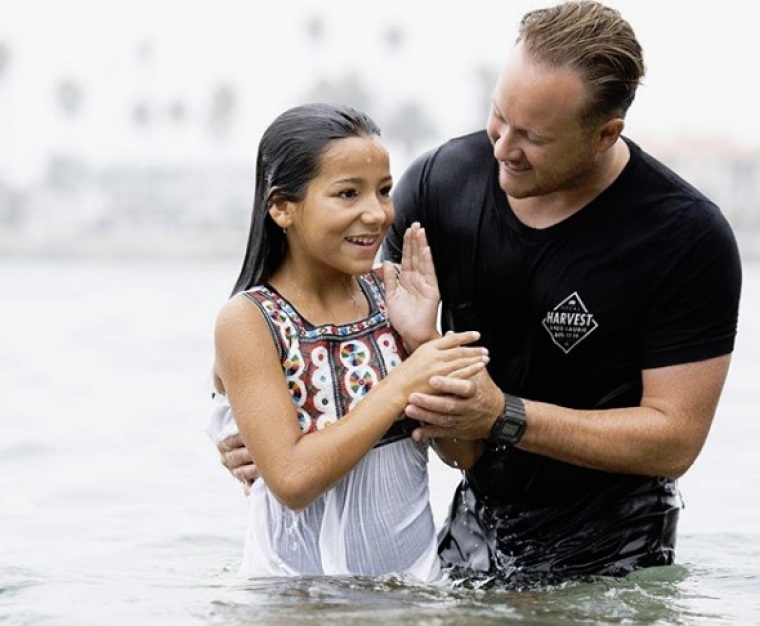 One of those who got baptized on Saturday was a 17-year-old teen named Isaiah. Laurie explained that Isaiah came up to him and told him that he was in the process or reading Laurie's new book for a second time.
"For him, he is experiencing this all for the first time and that is why I wrote the book. I actually wrote it for someone his age, not someone my age necessarily," Laurie added. "I wanted to tell the story of what happened in my generation in hopes that it would happen in a future generation, specifically this young generation today."
Saturday was not the first time that Harvest has hosted a baptism at Pirates Cove. The church held a baptism there last year and has held others there sporadically in the past. But Laurie told CP that he is trying to make the Pirates Cove mass baptism more of a regular event.
Since August of next year will mark the 30th anniversary of the SoCal Harvest, Laurie indicated that Harvest will try to plan another Pirates Cove mass baptism for the week after the SoCal Harvest to try and get the thousands who make decisions for Christ during the three-night event to make the ultimate decision to be baptized in the name of Christ. Laurie said he is hopeful to have 1,000 or more come to be baptized.
"I think America really needs another spiritual awakening." Laurie stressed. "We need another Jesus Revolution."