Greg Laurie, Samuel Rodriguez Say Oregon Shooting Is 'Persecution of Christians,' Not Just About Guns
Veteran Chris Mintz Fought with Gunman on His Son's Birthday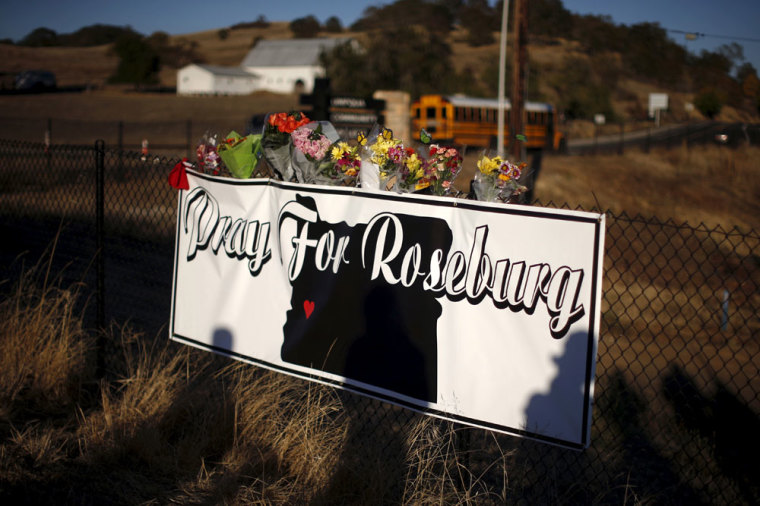 Pastor Greg Laurie and the Rev. Samuel Rodriguez responded to the shooting rampage targeting Christians at Umpqua Community College, which killed 10 and wounded seven others in Oregon on Thursday, saying it's "persecution of Christians in America" and not just about guns or mental illness.
"What we are seeing is persecution against Christians in the United States of America," Laurie, senior pastor at California's Harvest Church, wrote in an exclusive column to The Christian Post. "We read almost daily stories of our brothers and sisters being martyred for their faith in Christ in the Middle East by groups like ISIS, but now it has come to our shores."
After such shootings, the questions always asked is, "Why?" Laurie added. "Mental health and gun control solutions are usually brought up, but the one thing you rarely hear said is, 'It happened because people are evil.'"
Just as surely as there is a God in Heaven, there is a devil, "who I believe is behind this persecution against followers of Jesus," the megachurch pastor said.
Chris Harper Mercer, the reclusive 26-year-old who has been identified as the gunman, targeted Christians. He asked people one by one what their religion was. "Are you a Christian?" he asked them, and if you're a Christian, stand up, according to the New York Post. And they stood up and he said, "Good, because you're a Christian, you are going to see God in just about one second." And then he shot and killed them, a relative of a wounded student told CNN.
Rev. Samuel Rodriguez, president of National Hispanic Christian Leadership Conference, said in a statement that the incident "speaks to a world spiraling into anarchy, embracing chaos, empowered by hatred and expressed through violence."
The National Association of Evangelicals President Leith Anderson said, "From almost every nation in the world — including our own — we hear reports of those who are targeted, threatened and injured because they are followers of Jesus."
He said the NAE, which includes more than 45,000 churches from nearly 40 different denominations, honors "the memory of those who died and choose(s) not to be desensitized by any life lost — no matter how frequent mass shootings may become."
"More than ever before, we must stand committed to protecting our God-given and constitutionally protected right of religious liberty," added Rodriguez, who represents the world's largest Hispanic Christian organization. "The discussion should not be limited to guns, laws, rights, mental illness and prevention. At the end of the day, our conversation must compel us all to address the issue of sin, resulting in hatred, intolerance, animosity, bigotry, apathy, complacency and murder."
The gunman, who was killed in a firefight with police, left a note in which he wrote that he would be "welcomed in hell and embraced by the devil."
"I can assure you that he will get far worse than he wished for in the afterlife," Pastor Laurie said. "There will be no welcome and no embrace. Just darkness and separation from God."
Each of the courageous believers, on the other hand, "were welcomed into Heaven by the Lord," Laurie said, adding, "Considering that these brave souls would not deny their faith, even at threat of death how much more should we be bold in our faith and speak up for Jesus?"
"We must create a firewall and repudiate all vestiges of anti-Christian rhetoric and actions," Rodriguez said. "For such depictions and expressions carry the potential to serve as fodder for those driven by hate to act with violence against the followers of Jesus. Today's complacency is tomorrow's captivity or even worse – death."
Meanwhile, a 30-year-old student and Army vet, Chris Mintz, emerged as a hero in the shooting. He was shot several times while charging straight at the gunman to save others, according to The Daily Beast.
It was the sixth birthday of Mintz's son, Tyrik, that day.
Mintz moved to Oregon after leaving the Army, and learned martial arts. He enrolled at the community college to become a fitness trainer.
As Douglas County Sheriff John Hanlin said, there were two brave cops and the others who also showed uncommon courage.
Another student, a woman who is a nurse, administered CPR and then held Mintz's hand and prayed with him while he repeatedly said that it was his son's birthday.
Mintz is recovering in a hospital and is understood to be out of danger.