Florida High School Shooter Named as 19-Y-O Nikolaus Cruz, 17 Killed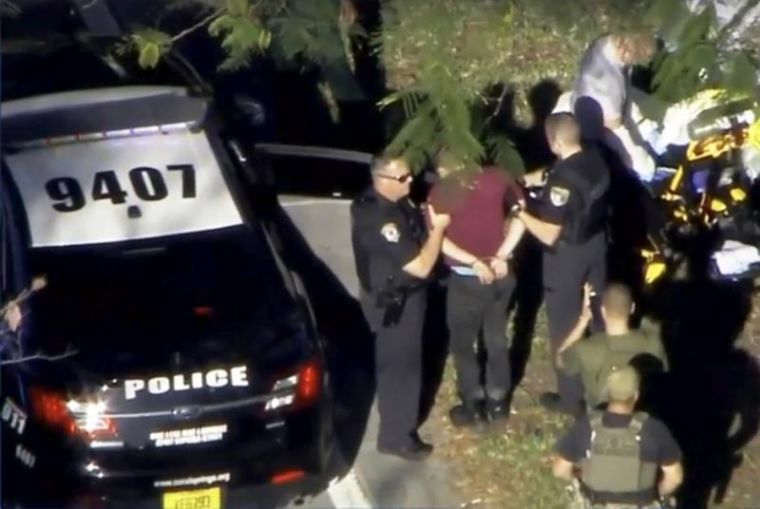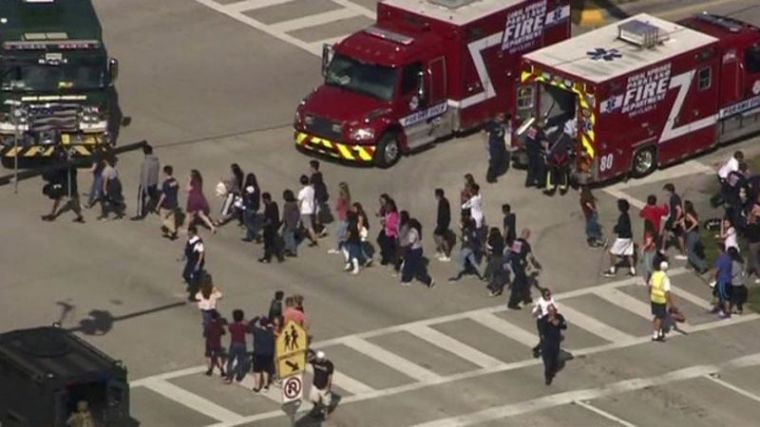 View Photos
PARKLAND, Fla. — A 19-year-old gunman returned to a Florida high school where he had once been expelled for disciplinary reasons and opened fire with an assault-style rifle on Wednesday, killing 17 people and injuring more than a dozen others before he was arrested, authorities said.
The violence erupted shortly before dismissal at Marjory Stoneman Douglas High School in Parkland, a placid, middle-class community about 45 miles (72 km) north of Miami. Television footage showed images, increasingly familiar in America, of bewildered students streaming out of the building with hands raised in the air, as dozens of police and emergency services personnel swarmed the area.
Florida's two U.S. senators, briefed by federal law enforcement officials, said the assailant wore a gas mask as he stalked into the school carrying a rifle, ammunition cartridges and smoke grenades, then pulled a fire alarm, prompting students and staff to pour from their classrooms into hallways.
"There the carnage began," Senator Bill Nelson told CNN. Senator Marco Rubio gave a similar account on Twitter.
A chilling cell phone video clip broadcast by CBS News showed a brief scene of what the network said was the shooting in progress from inside a classroom, where several students were seen huddled or lying on the floor surrounded by mostly empty desks. A rapid series of loud gunshots are heard amid hysterical screaming and someone yelling, "Oh my God."
The gunman was arrested later outside, some distance from the school in an adjacent community. CNN, citing law enforcement sources, said the gunman tried to blend in with students who were fleeing the school but was spotted and taken into custody.
He was identified as Nikolas Cruz, who previously attended the high school and was expelled for unspecified disciplinary reasons, Broward County Sheriff Scott Israel said at a news briefing hours later. Officials spelled his first name differently earlier in the day before correcting themselves.
As a high school freshman, Cruz was part of the U.S. military-sponsored Junior Reserve Officers' Training Corp program at the school, according to Jillian Davis, 19, a recent graduate and former fellow JROTC member at Stoneman Douglas High.
SUSPECT RECOUNTED AS TROUBLED YOUTH
In an interview with Reuters, she recalled his "strange talking sometimes about knives and guns," adding, "no one ever took him seriously."
Chad Williams, 18, a senior at Stoneman Douglas, described Cruz as "kind of an outcast" who was known for unruly behavior at school, including a penchant for pulling false fire alarms, and was "crazy about guns."
The gunman surrendered to police without a struggle, Israel said. He was armed with an AR-15-style rifle and had multiple magazines of ammunition.
"It's catastrophic," Israel said. "There really are no words." Broward County Schools Superintendent Robert Runcie called it "a horrific situation,"
Twelve of the dead were killed inside the school, two others just outside, one more on the street and two other victims died of their injuries at a hospital, Israel said. He said the victims comprised a mixture of students and adults.
Authorities at two nearby hospitals said they were treating 13 survivors for bullet wounds and other injuries, five of whom were listed in critical condition.
The Valentine's Day bloodshed in the Miami suburb of gated communities with palm- and shrub-lined streets was the latest outbreak of gun violence that has become a regular occurrence at schools and college campuses across the United States over the past several years.
It was the 18th shooting in a U.S. school so far this year, according to gun control group Everytown for Gun Safety. That tally includes suicides and incidents when no one was injured, as well as the January shooting in which a 15-year-old gunman killed two fellow students at a Benton, Kentucky, high school.
Staff and students told local media that a fire alarm went off around the time the shooting started, sparking chaos as some 3,300 students at the school first headed into hallways before teachers herded them back into classrooms, to seek shelter in closets.
One survivor, Kyle Yeoward, 16, a junior, told Reuters he and about 15 fellow students and a teacher hid in a closet for nearly two hours before police arrived. Yeoward said most of the shooting occurred in the building for the school's freshman class.
Anguished parents checked on their children.
"It is just absolutely horrifying. I can't believe this is happening," Lissette Rozenblat, whose daughter goes to the school, told CNN. Her daughter called her to say she was safe but the student also told her mother she heard the cries of a person who was shot.
Televised images showed dozens of students, their arms in the air, weaving their way between law enforcement officers with heavy weapons and helmets, and large numbers of emergency vehicles including police cars, ambulances and fire trucks.
The school had recently held a meeting to discuss what to do in such an attack, Ryan Gott, a 15-year-old freshman told CNN.
"My prayers and condolences to the families of the victims of the terrible Florida shooting," U.S. President Donald Trump said on Twitter. "No child, teacher or anyone else should ever feel unsafe in an American school."
Additional reporting by Steve Gorman, Dan Whitcomb and Alex Dobuzinskis in Los Angeles; Sharon Bernstein in Sacramento, California; Letitia Stein in Detroit and Jon Herskovitz in Austin, Texas; Writing by Scott Malone; Editing by Tom Brown and Lisa Shumaker