Hillary Clinton Doubles Down on Abortion Comments, Says Babies Have No Rights on Due Date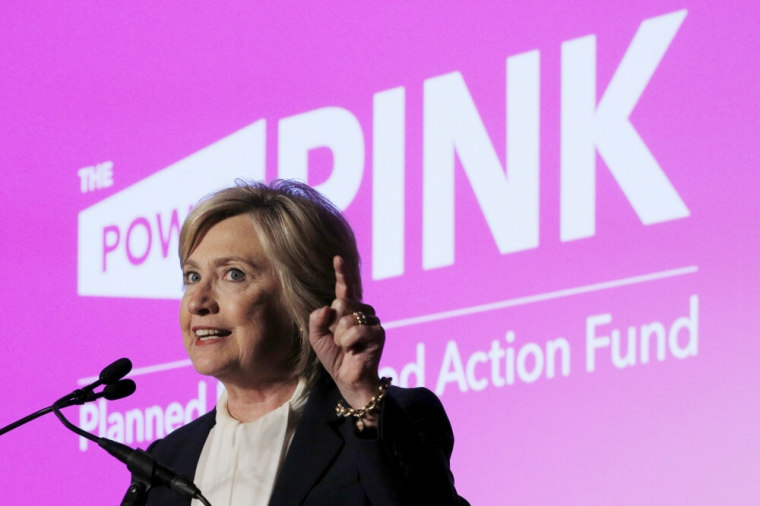 Democratic presidential frontrunner Hillary Clinton doubled down on controversial comments she made earlier this week on the "unborn child" having no constitutional rights when she declared that even on their due dates it's still up to their mothers whether they live or die.
In an appearance Tuesday on ABC's "The View," co-host Paula Faris asked Clinton: "At what point does someone have constitutional rights, and are you saying that a child, on its due date, just hours before delivery, still has no constitutional rights?"
"Under our law that is the case, Paula," Clinton said.
"I support Roe v. Wade because I think it is an important (applause) — an important statement about the importance of a woman making this most difficult decision with consultation by whom she chooses ...," she added. "And under the law and under certainly that decision, that is the way we structure it."
Clinton first came under fire from both pro-choice and pro-life activists earlier this week when she told NBC "Meet the Press" moderator Chuck Todd that an unborn child has no constitutional rights.
"When or if does an unborn child have constitutional rights?" Todd asked Clinton.
"Well, under our laws currently, that is not something that exists," Clinton replied. "The unborn person doesn't have constitutional rights. Now, that doesn't mean that we don't do everything we possibly can in the vast majority of instances to, you know, help a mother who is carrying a child and wants to make sure that child will be healthy, to have appropriate medical support."
"It doesn't mean that you don't do everything possible to try to fulfill your obligations. But it does not include sacrificing the woman's right to make decisions," Clinton argued.
In Tuesday's interview on "The View," conservative co-host Candace Cameron Bure asked: "Do you believe you can be pro-life and a feminist?"
Clinton replied: "Yes I do, absolutely."
"They are not mutually exclusive?" Bure asked.
"No. No. Absolutely," said Clinton. "Look, I've been and I'm sure Whoopi and Joy have been in this conversation for what, 40-plus years? And I respect the opinions and beliefs of every woman. The reason why being pro-choice is the right way to go is because it is a choice and hopefully a choice that is rooted in the thoughtfulness and the care that women bring to this decision. So of course you can be a feminist and be pro-life."
Women's rights have been a major issue for Clinton on the campaign trail and the right of women to have abortions has been one of her major talking points.
She is a staunch defender of abortion giant, Planned Parenthood and Roe v. Wade.
Despite upsetting abortionists when she referred to the unborn as a "person," the Media Research Center said the "big three" news networks (ABC, NBC, and CBS) have chosen to ignore the gaffe.
In contrast, "when Donald Trump called for 'punishment' for women who undergo abortions on March 30, the same three networks spent more than 20 minutes on the story just in the following 24 hours," said MRC.