7 Interesting Facts About Rand Paul's Christian Faith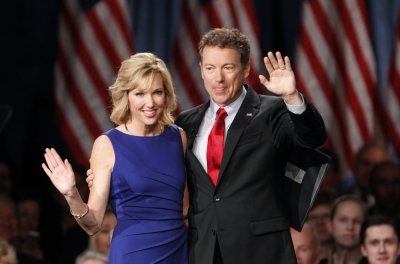 U.S. Senator Rand Paul officially announced his candidacy for the Republican nomination for the presidency on April 7, 2015. Representing Kentucky in the Senate, Paul previously practiced medicine full time as an ophthalmologist. Paul received his medical degree from Duke University School of Medicine. He has been married to Kelley Ashley Paul for 24 years and the couple have three sons.
Here are seven interesting facts about Paul's Christian faith and how it impacts his life and political thought:
1. Rand Paul was one of the first U.S. Senators to bring greater media attention to the global slaughter of Christians calling it "a worldwide war on Christianity."
At the 2013 Values Voter Summit in Washington D.C., Rand Paul not only spoke about the worldwide persecution of Christianity, but mentioned domestic persecution of Christians as well. "From Boston to Zanzibar, there is a worldwide war on Christianity," declared Paul.
Paul also alluded to the repaganizing of Christian areas of the Middle East:
"Across the globe, Christians are under attack, almost as if we lived in the Middle Ages or if we lived under early Pagan Roman rule," declared Paul. "It's almost as if that is happening again throughout the Middle East."
2. Paul attends a Presbyterian church.
While he was raised and baptized in an Episcopal church, Paul now attends a Presbtyerian church in Bowling Green, Ky, where his wife has in the past served as a deacon in the church.
3. In 2014 Paul participated in a medical missions trip to Guatemala.
Paul is no stranger to using his medical skills for those in need. In Kentucky, he consistently performed pro bono surgeries for years, earning him the Twilight Wish Foundation Outstanding Service and Commitment to Seniors award. He also launched the Southern Kentucky Lions Eye Clinic, an organization that provides eye exams and surgery to needy families and individuals. In an interview Paul didn't specifically say his faith motivated his medical missions but noted,"It's just something I kind of miss in my life, and I want to be able to give back."
Meet the Press covered his medical mission trip to Guatemala with the Moran Eye Center in Utah. The region Paul served in only has two eye surgeons for every 800,000 people.
4. In a 2014 video interview with the American Liberty Association, Rand Paul declared himself a born again Christian.
In fact, Paul claims he was born again several times, "It was a moment in time, but it had to be repeated a couple of times. It didn't always stick," declared Paul. He declared he was initially born again at 15. He quoted Fyodor Dostoyevsky words as being parallel to his own life, who said: "I did not come to my hosanna through childlike faith but through a fiery furnance of doubt."
Paul admitted that being a physician is hard for his faith at times, "because we see a lot of terrible things and it's hard to see the hand of God sometimes in horrible suffering."
5. In 2014, Paul called for a spiritual revivial in America.
In a video of an address to pastors Paul declared: "We need a revival in the country. We need another Great Awakening with tent revivals of thousands of people saying reform or see what's going to happen if we don't reform."
Paul also noted in the same address that, "The First Amendment says keep government out of religion. It doesn't say keep religion out of government." He sees little reason for citizens to put their faith in Washington calling it "the most disconnected city on the planet."
6. Paul has declared some Republicans and Evangelical Christians as being "too eager for war." 
Paul has defended just war theory, which was advanced by St. Augustine within Christendom, as a theological basis for conflict. Just war theory generally makes the threshold for war higher than is sometimes practiced by U.S. policy makers and leaders. Paul, who is not a pacifist, did cite the words of Jesus as influencing his reluctance to rush to war.
7. In a 2012 Value Voters Summit speech, Paul blamed the "coarsening of culture" for the reason that abortion has resulted in the "death of 50 million unborn children in the last 40 years."
On his presidential campaign website, Paul says, "I believe we may be able to save millions of lives, and do no harm, by allowing states to pass their own anti-abortion laws." Paul says that he believes "life begins at conception," and cites the 14th Amendment as the reason that "it is the government's duty to protect life as defined in our Constitution."