House Majority Whip Steve Scalise Among Multiple Shot; Democrats, Republicans Gather in Prayer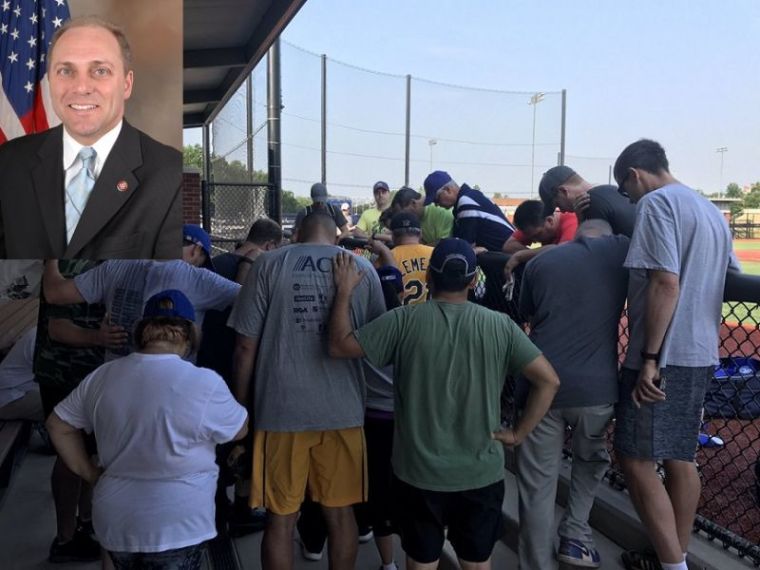 Republican House Majority Whip Steve Scalise, 51, was among multiple persons shot in an incident at a Congressional baseball practice in Alexandria, Virginia, Wednesday morning, which sparked a bipartisan prayer session shortly after the scene was under control.
Rep. Mo Brooks, R-Ala., who was at the practice when the shooting happened, told CNN that Scalise appeared to have been shot in the hip. Two Capitol Hill police agents appeared to have also been shot in a total of five injured.
"The gun was a semiautomatic," Brooks said in describing the incident. "It continued to fire at different people. You can imagine, all the people on the field scatter."
Brooks explained that Scalise was "dragging his body" to escape after he was shot. He also assisted two shooting victims, applying a tourniquet to an unidentified staffer.
"My adrenaline is raging," he explained to CNN. "It's not easy to take when you see people around you being shot and you don't have a weapon yourself."
President Donald Trump, who is celebrating his 71st birthday today, said in a statement on Twitter that Scalise was "badly injured" but is expected to recover.
"Rep. Steve Scalise of Louisiana, a true friend and patriot, was badly injured but will fully recover. Our thoughts and prayers are with him," he tweeted.
An official statement from the White House said Trump and Vice President Pence were monitoring the developments closely.
"We are deeply saddened by this tragedy," he said. "Our thoughts and prayers are with the members of Congress, their staffs, Capitol Police, first responders, and all others affected."
Republican Sen. Rand Paul of Kentucky told MSNBC's "Morning Joe" that he heard as many as 50 shots being fired as aides and others scrambled away from the danger.
The shooter, said Brooks, was behind the third base dugout and didn't say anything. He said the shooter also appeared to be a white male but cautioned that "I saw him for a second or two."
Authorities have reportedly taken the suspect in custody and Scalise is said to be in stable condition.
Democratic Rep. Ruben J. Kihuen, of Nevada noted in a message on Twitter that the shooting brought Democrat and GOP House and Senate members together in prayer.
"@HouseDemocrats praying for our @HouseGOP @SenateGOP baseball colleagues after hearing about the horrific shooting," he tweeted with a photo Wednesday morning.
Congressional and law enforcement sources, told CNN that the shooting appears to be a "deliberate attack."
Scalise describes himself as a Catholic. His website says he is a strong conservative leader who upholds the Constitution and advocates for the principles of fiscal discipline, lower taxes and conservative values. He and his wife Jennifer have two children, Madison and Harrison
He is the first member of Congress to be shot since former Arizona Rep. Gabby Giffords was shot in January 2011. Giffords was shot in the head by Jared Lee Loughner at a "Congress On Your Corner" event at a Tucson, Arizona grocery store.