Hurricane Florence Tragedy: 2 Babies Among 17 Dead, 1M Lose Power, Storm 'Never Been More Dangerous'
Hurricane Florence Tragedy: 2 Babies Among 17 Dead, 1M Lose Power, Storm 'Never Been More Dangerous'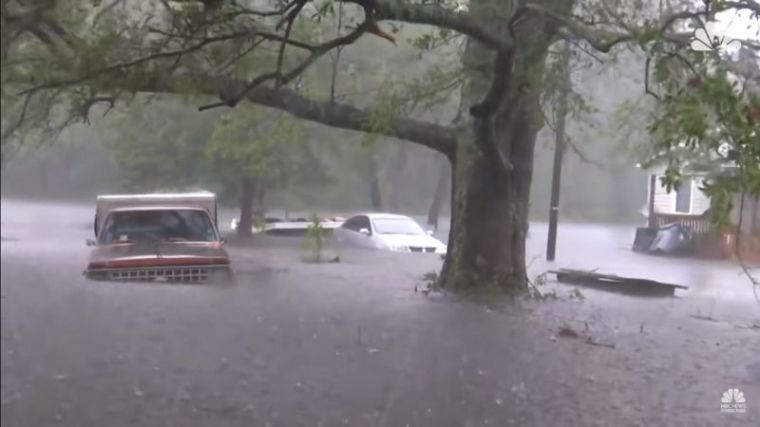 Two babies are among the 17 people who have been killed so far by hurricane-turned-storm Florence on the U.S. East Coast, with flooding getting worse.
North Carolina Governor Roy Cooper said at a news conference that the storm has "never been more dangerous than it is right now."
"Wherever you live in North Carolina, be alert for sudden flooding," he added, as entire cities and communities across the state were flooded over the weekend.
"It's horrible," said Mitch Colvin, the mayor of Fayetteville, N.C., where the floods are expected to cut the city in half in the next few days.
"Things are deteriorating," he added, according to The New York Times.
At least 17 people are reported to have been killed so far, Sky News reported, including two infants that were killed by falling trees in North Carolina.
In one instance in Wilmington, a mother and her eight-moth-old child were killed when a tree collapsed on their brick house. Another three-month-old boy was killed in Gaston County when a large pine tree fell across a mobile home, though his father and mother escaped unharmed.
Tens of thousands of people have been evacuated from their homes, with more more than 30 inches of rain falling across the Carolinas since Friday.
The winds have weakened to 35 mph, but officials said that torrential rain and flooding remain the biggest threats now.
"The risk to life is rising with the angry waters," Cooper warned.
As many as one million people were said to be without power on Saturday, the Department of Energy revealed, though insisted that service began being restored in some parts on Sunday.
"We still continue to see heavy rainfalls in both states," said Jeff Byard, associate administrator for response and recovery at the Federal Emergency Management Agency.
"We want citizens to follow state and local warnings. There is a tremendous amount of flooding."
Churches across the Carolinas prayed and offered help with what they can on Sunday.
Jim Pennington, the senior pastor of Temple Church in flood-sunken New Bern, N.C., told NYT that he spent his Friday in a kayak, pulling out 30 people from the waters.
"It's easy to say, 'I love God,' but put on your boots, get your hands dirty," Pennington said.
Major Christian relief organizations, such as Samaritan's Purse, has been asking for vulunteers to come down and assist homeowners who have been affected by the storm.
"Samaritan's Purse Disaster Relief equipment is packed and ready. Our staff have been in contact with our partners in the projected storm impact areas. We now want to stand ready with our volunteer team to be the hands and feet of Jesus. Once the damage assessments are completed and deployment locations are identified, our staff will contact you to discuss scheduling your volunteer trip. Please join us in praying for all those in the path of Hurricane Florence," the group said in an update.
Another Christian group that is assisting in the disaster relief efforts is Convoy of Hope. The non-profit, which transported supplies to Wilmington and Durham, North Carolina, over the weekend, said that it sent several 18-wheeler trucks to help with the efforts.
Baptists on Mission, World Vision, and the North Carolina Conference of the United Methodist Church are just some of the other charities assisting victims in the wake of Florence.