Hurricane Matthew Tracker: Projected Path Latest Map as US East Coast Braces for Extremely Dangerous Winds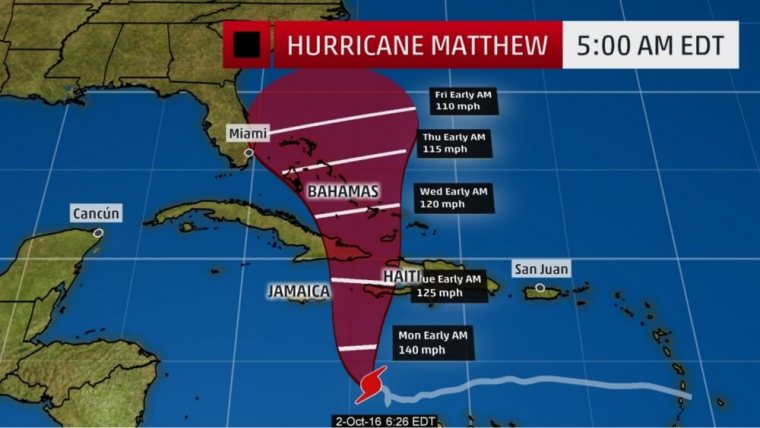 Hurricane Matthew is moving north-northwestward as an extremely dangerous Category 4 hurricane having winds of 155 miles per hour with Jamaica, Haiti and Cuba in the path, but also posing a potential threat to Florida.
Matthew, which strengthened to a rare Category 5 late Friday evening before being downgraded to Category 4, was located around 345 miles south-southwest of Port-au-Prince, Haiti, as of early Sunday, according to Weather Channel.
The hurricane is expected to reach the eastern part of Jamaica Monday, according to the U.S. National Hurricane Center in Miami.
A hurricane warning has been issued for Jamaica and coastal areas of Haiti, and preparations in these areas need to be completed "as soon as possible," Weather Channel said, adding that a hurricane watch has been issued for Haiti's northern coast and for the eastern half of Cuba. For Haiti and Jamaica, exactly what direction the hurricane takes will have an enormous impact on the exact rainfall and winds that each location will receive.
Its potential U.S. impact remains unclear but impacts are possible in Florida during the middle of the week, the Weather Channel said.
"We all must remain vigilant and be prepared for any impacts this storm may have on our state," Florida Gov. Rick Scott said in a statement. "While the National Hurricane Center's current forecast predicts Matthew traveling east of Florida, we all know that the track of these storms can quickly change which is why it is imperative that all Floridians and visitors continue to monitor Hurricane Matthew and make sure to have a plan in place in the event of severe weather."
Initially, Matthew will emerge out of the Caribbean as it tracks northward between an area of high pressure over the Atlantic and a dip in the jet stream over the eastern U.S. and Gulf of Mexico, AccuWeather Meteorologist Mike Doll said. Where exactly this atmosphere highway sets up between these two features will determine how close Matthew comes to Florida.
"If that system is slower to reach the eastern U.S., the chance that Matthew hits the Carolinas is greater," Doll said. "If the system is faster, it could then pick up Matthew and kick it out to sea."
While Matthew will likely hit Jamaica and Haiti Monday, its impact could be felt even Sunday.