Husband Told Troubled Wife Christy Sheats He Wanted Divorce on Day She Murdered Daughters, Police Say
Daughters to Be Laid to Rest on Saturday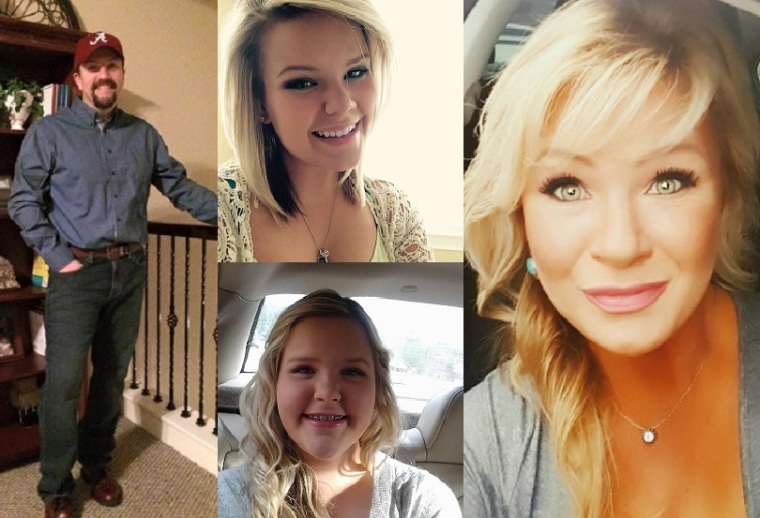 The murderous meltdown of troubled Christian mom Christy Sheats, who shot her two daughters to death and was later killed by police outside her Texas home last Friday, might have been triggered by her husband, Jason Sheats, telling her he wanted a divorce.
Jason Sheats felt his marriage to Christy Sheats had been spiraling downward since 2012, and on that Friday, his birthday, he told his wife he wanted a divorce, Fort Bend County Sheriff Troy Nehls said, according to People magazine.
Nehls said Jason told investigators that he and his wife had been texting Friday when he was out. When he returned home that day he told her in their backyard that he wanted a divorce.
"This would be the last birthday that you are going to ruin," Jason told Christy, according to Nehls.
Jason told police that when Christy called their daughters Madison, 17, and Taylor, 22, in their living room for a family meeting he thought she would be discussing the decision to divorce.
"She immediately pulled the weapon out and pointed it at Mr. Sheats and wanted to blame him: 'You made me do this, you're making me do this,'" Nehls said.
Nehls explained in a press conference that Christy Sheats, who her husband reports had a history of depression and suicide attempts, pointed a gun at them, shooting multiple times. He said, however, that she didn't fire at her husband.
"We asked Mr. Sheats for a motive in his own words," Nehls said, according to NBC News. "He stated that he felt Christy wanted him to suffer."
Christy Sheats had "ample time and opportunity to shoot and kill Mr. Sheats in the home, but she chose not to," Nehls added. "Mr. Sheats stated that Christy knew how much he loved Taylor and Madison and how much they loved him. By killing his children, Mr. Sheats will have to live the rest of his life with this horrible memory."
Nehls said the Sheats' marriage began a "downward spiral" in 2012, when Christy Sheats' grandfather, who raised her, died.
"The person I loved the longest, and loved so, so very much, went to be with the Lord 3 weeks ago today. I pray, one day, God will heal my broken heart. I miss and LOVE you so very much, Pa-paw. I cry everyday because you're gone. I would do anything to hear your voice, or get one of your amazing hugs just one more time. I MISS YOU!" Christy wrote on Facebook in June of that year.
In the days before the shooting things took a turn for the worse. Christy Sheats, said Nehls, got into an argument with her oldest daughter, Taylor, who authorities say was due to be married just days after she died.
"Christy wanted to ground her and prevent her from seeing her boyfriend, or fiancé, because she argued with her," Nehls said. "Mr. Sheats did not agree ... and told her it was inappropriate to ground their 22-year-old daughter and prevent her from seeing her fiancé."
Jason Sheats also revealed that his wife had been admitted to a private mental health facility on three separate occasions for attempted suicide, Nehls said. He said his wife was suffering from depression, was taking "numerous" medications and was seeing a therapist.
He also told police that his wife, who was unemployed at the time of the shooting, drank heavily. He further noted that even though they had been married for more than 20 years, they had separated on several occasions.
Police, who released chilling 911 recordings of the Taylor and Madison begging for their lives last Friday, said Jason told them his wife had been denied a license-to-carry permit in Texas because of her mental health issues and they are looking into that claim.
Both Madison and Taylor will be laid to rest after a funeral at the Shelton Funeral Home in Decatur, Alabama, on Saturday, July 2. Visitation will be from noon to 2 p.m., when the service is expected to begin.
A representative who asked not to be identified told The Christian Post Thursday said he had no knowledge of the personal lives of the girls or their father, but said, "I can tell you that the family has requested privacy for them."
The representative also refused to confirm a report by People magazine that Christy Sheats would not be buried next to her daughters.
Christy Sheats, who described herself as a Baptist on social media, said her daughters were a gift from God before she murdered them on Friday.
"Every good and perfect gift is from above. James 1:17. Today I am thankful for my two perfect gifts! They are very best friends — they make me so very proud to be their mother," she wrote on her Facebook page in November 2014.