Duck Dynasty's Si Robertson on Life, Marriage Proposals, and His Unwavering Belief in The Creator
Silas Merritt Robertson, who's best known as "Uncle Si" on A&E's most watched reality television show "Duck Dynasty" spoke with The Christian Post about his new book, Si-Cology 1: Tales and Wisdom from Duck Dynasty's Favorite Uncle that will be available on Sept. 3.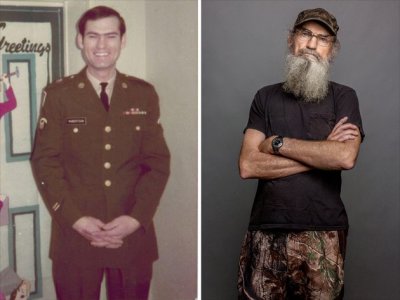 Even though Si appears to be someone who could never run out of anecdotal stories – regardless of how exaggerated they might be – he told CP that he didn't want to write a book about his life, because he felt that with having served in the military for 25 years, he hadn't created enough memories with his family to share with his fans.
"I was in the military, so I told my wife that I was never there for the kids when they were growing up. And she said, 'oh yeah you were. Let me go get a photo album.' And she was showing me dressed as a bunny rabbit for Easter and Santa Claus during Christmas time. Personally, I didn't feel that I was there enough," Si commented.
But with pressure mounting against him, Si finally relented and agreed to write a book about his life.
"They just kept bothering me, so I said, OK."
In his book, Si shares a spattering of stories about his childhood – skipping school to go fishing with his older brothers – and how he managed to earn A's at Louisiana Tech after he skipped most of his classes during an entire semester.
READ MORE: SEE DUCK DYNASTY CAST WITHOUT BEARDS - CLICK HERE FOR PHOTOS
Si's mastery of storytelling runs throughout his descriptions of the Vietnam War and how he met his wife, Christine. The always-jovial Uncle Si also speaks candidly about the difficulties he and Christine have faced, and how God has blessed and sustained them throughout their 43 years of marriage. He also shares their unexpected blessing of having two children, Trasa and Scott, and eight grandchildren.
Although he's spoken for, the marriage proposals keep rolling in for Si. All the single ladies who envision themselves walking down the aisle with the elder duck hunter are shattered when Si breaks the disappointing news that he can't marry them because his wife will get mad.
"I was at an event in Arkansas, and a woman walked up and was standing there, and I was waiting for her to hand me something to sign – a T-shirt, a hat or whatever. And she said, 'well, I'm ready.' And I looked up and I said, ready for what? 'Ready to marry you. I drove 450 miles here just to marry you.' I told her we've got a slight problem here, lady. And she said, 'what's that?' I'm already married and my wife probably wouldn't like me marrying you. 'You mean I drove 450 miles for nothing?' I said, no. Isn't that a T-shirt you've got hanging over your shoulder. 'Yeah.' Well, I'll sign it for you darlin' that's the best I can do for you," he said.
Marriage Advice From Uncle Si
According to Si, marriage is a union between two imperfect people who are destined to make mistakes. But at the end of the day, their love for each other and faith in Jesus Christ will bring them through every hardship and enrich the most joyous times of their lives.
"People have got to understand that you've got to learn to laugh at yourself when you make a mistake," Si advised. "Don't get mad and fly off the handle, OK. We're all human, and we make mistakes."
"What I tell young couples that are getting married is: you're going to have quarrels, and on some things, you're just going to have to agree to disagree. And when you go to bed at night, kiss each other and tell each other that you love each other. Don't go to bed mad. Life is too short. Keep it simple."
Uncle Si's Favorite Scripture
"When I sign people's stuff I put down John 3:16 and 17. Most people can tell you what 16 says, OK. "For God so loved the world that He gave His only begotten son." But they don't know nothin' about 17. It says Jesus didn't come to condemn us. If anybody had a right to condemn someone, it would be the son of God. If he didn't do it, then hey, we definitely are not qualified to do it."
When he meets atheists or those who are agnostic, Si said he illustrates his belief in God by reflecting on nature and the world He's created.
"A person asked me one time, 'what's the evidence that God is there?' And I said, I'll go out here and pick up a pin oak acorn from under a tree. You put it in the ground and water it, and 40 years later when you come back, there might be an oak tree as big around as a pick-up truck. Inside that little acorn is the resurrection power. That has to come from somewhere. It didn't just exist."
Alan, the eldest son of Phil and Miss Kay who's featured on season four of "Duck Dynasty," told CP that everyone who watches the reality show knows that Christianity is at the core of their family and is the reason why they have a strong bond.
"I think that without faith we wouldn't be that way," Alan affirmed. "We would've splintered apart a long time ago, and we wouldn't be together. So, obviously it's kept us together. One of the things that I like about the show is that it's subtle, and it kind-of reminds me of when Jesus used to teach in parables. Jesus would lay out just a practical teaching, but you really had to dive a little deeper to know more about it. And I think it's that way with our family's faith."
Alan noted that what people are exposed to by watching the TV show is the love that the Robertsons have for each other even when they have disagreements or different perspectives.
READ MORE: SEE DUCK DYNASTY CAST WITHOUT BEARDS - CLICK HERE FOR PHOTOS
"When you see the show, you can tell we enjoy being around each other, and there's a prayer at the end, but you've kind of got to go a little deeper to find out what we really believe. And when you read Si's book, or you read dad's book, or you go hear one of us speak, then you know the real deal," Alan explained.
Elaborating on his Christian faith and the challenges it's brought him and Christine through, Si commented that he doesn't know to whom or what people turn to if they don't believe in God.