Interview: Max Lucado on Bringing Christmas Miracle to the Big Screen in 'The Christmas Candle'
As the Christmas season approaches and a host of holiday-themed movies line up for release, "The Christmas Candle," based on the novel by Max Lucado, brings the Christmas miracle to the big screen through the story of an enchanting English village harboring a centuries-old legend, and a progressive pastor struggling with the nature of faith.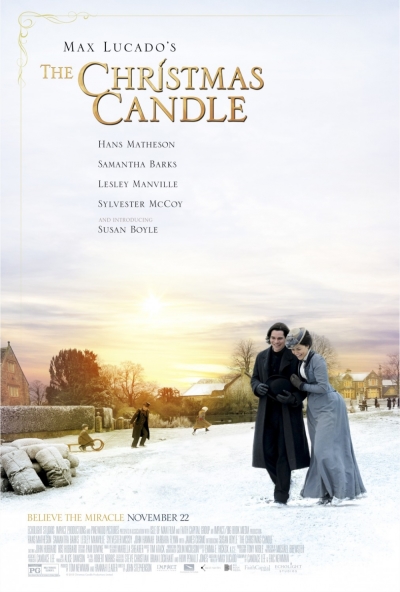 The movie, based on the 2006 novel of the same name, features a stellar cast with Hans Matheson (Clash of the Titans, Sherlock Holmes), Samantha Barks (Les Miserables), Sylvester McCoy (The Hobbit), James Cosmo (Braveheart, The Chronicles of Narnia), as well as the on-screen debut of Susan Boyle.
The story takes place in a fictional village deep in the heart of the English countryside in 1890, which for centuries has witnessed a Christmas miracle with an angel who visits a candlemaker family every 25 years and touches a candle, which grants a single miracle on Christmas Eve.
When a young minister arrives to serve at the local church, however, he challenges the validity of the old legend and attempts to modernize the community, both in terms of introducing new technology, like electric bulbs, and offering a new way of thinking about miracles in the form of doing good deeds and acts of kindness.
After an unexpected turn of events that year with the angel's visit and the Christmas candle, however, both the pastor and the residents of the village confront their own doubts and a re-evaluation of their faith.
Lucado, a pastor and bestselling author who has written 30 trade books dealing with Christian questions on life, the Bible and God, shared in an interview on Monday with The Christian Post his idea behind the novel, and his hope for what audiences will be able to take away from the movie adaptation.
CP: When were you first contacted about a possible movie based on The Christmas Candle?
Lucado: Actually the idea of it becoming a movie surfaced before it even went to press. I shared the idea with Tom Newman (producer) at a conference, and he caught a vision for the story becoming a movie even before it went to press. And so he deserves all the credit for it becoming a movie.
CP: Did you have any input on the final screenplay, and how satisfied were you in general with the movie?
Lucado: The screenplay writers, Eric Newman and Candace Lee, allowed me to look at every stage of its development, so I had final sign-off approval, and yes, I thought that everything they added was exceptional. They had some wonderful ideas. The book itself is a bit brief for a movie, so they needed to expand it, and I thought what they did stayed very much in sync with the book.
CP: The book features the small 19th century English village of Gladstone, with a very strong, cozy sense of community. Do you feel that type of setting has been missing from the movie screens as of late?
Lucado: It's funny isn't it, with the "Downton Abbey" fascination, and "Jane Eyre," "Pride and Prejudice" – there's a few that revisit that era. And I've always just thought it's such a gorgeous time. A hundred and fifty years later we tend to romanticize that they had particular challenges we can't really appreciate. Still, that was such a beautiful era in history. And I think that's a reason why people love those type of movies, because they take us back to a simpler time, or what we perceive to be a simpler time, and the countryside is so picturesque that it makes for a beautiful setting.
CP: What is the one thing you hope audiences will take away from this movie?
Lucado: The Christmas message itself is that God chooses common people to do the most uncommon things. I think that's the essence of the Christmas message as evident in Bethlehem. "The Christmas Candle" is a more recent version of the Christmas miracle – that God still visits common places and people and still does uncommon things. And I think that's the message of the Gospel. That no matter how common you are, and no matter how simple you are, God has a plan and ability to come into our world and do something unusual. The village story is a setting in which the Christmas story works itself out.
CP: Seeing the entire process put together, with the screenplay and assembling the cast and the movie now about to be released, does it have you thinking about writing more fictional novels in the future?
Lucado: Yes it does. And in fact, I have written another one. I just finished it a few days ago. I'm working on more fiction these days. I love writing fiction. I'll always write these non-fiction Bible-study books. I'm a pastor, and as long as I'm preaching, it makes sense to turn the sermons into books. But I think increasingly I'd like to do fiction, I don't know how often I can, but it is a part-time job.
CP: Can you share with us your favorite Christmas movies or books?
Lucado: I'm just like everyone else – I love "It's a Wonderful Life," which is a great story. I like "A Christmas Story." What I like about "The Christmas Candle" is that we have incorporated the story of the birth of Christ into the movie, which many Christmas classics don't do. "Frosty the Snowman," "It's a Wonderful Life" – they're great movies, but this one will hopefully stand out because it incorporates the Bethlehem narrative.
"The Christmas Candle" opens across U.S. theaters on November 22, and in the U.K. on December 13. The movie trailer can be viewed below: