Iraqi Christian Family Stabbed to Death by Armed Men in Targeted Attack
Iraqi Christian Family Stabbed to Death by Armed Men in Targeted Attack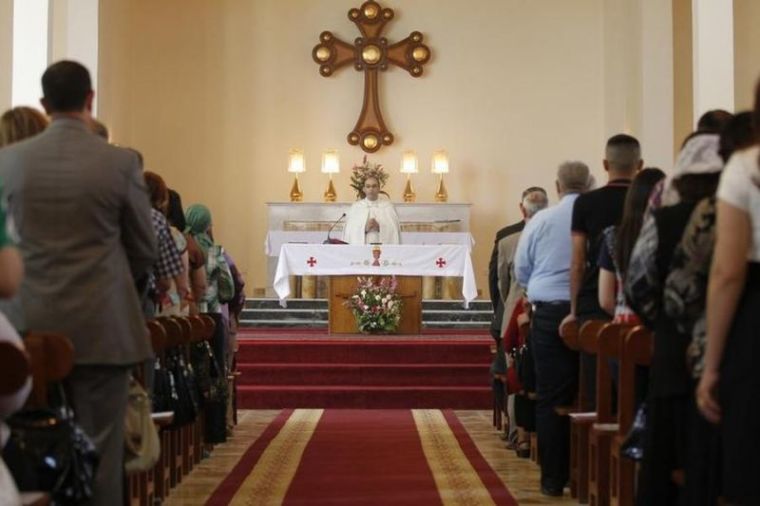 An Iraqi Christian family of three was stabbed to death in their Baghdad home last week by a group of armed men in what is a continuing trend of persecution against the town's Christian community.
International Christian Concern announced in a press release Tuesday that the bodies of Dr. Hisham Shafiq al-Maskuni, his wife, Dr. Shaza Malik, and his mother, Khairiya Dawood, were discovered in their home last Friday.
ICC, a leading U.S.-based persecution watchdog group, notes that an initial investigation found that all three family members died from stab wounds. In addition, the assailants stole valuables from their home.
"I cannot believe that he passed away in such a terrible way," an unnamed doctor and colleague of Shafiq's told ICC. "I once heard Hisham say how people in his neighborhood are giving him hard times because they are trying to take his house and buy it. [I think] probably the killer was trying to threaten him and when Hisham recognized who he is, the killer decided to kill him and the rest of the family."
According to World Watch Monitor, the victims' bodies were discovered by neighbors the next morning. Shafiq was a 61-year-old radiologist, while his wife was a gynaecologist. They both reportedly worked at the same nuns' hospital in Baghdad.
A source told Kurdistan24 that at least four men with knives stormed the home in the predominantly Shia eastern Baghdad neighborhood of Mashtal. It is believed that Shafiq was the target of the attack and that his wife and mother were killed when they intervened.
Saad Maan, a spokesperson for Iraq's Interior Ministry, announced on Saturday that the authorities have arrested the assailants responsible for the killing, according to state-run media outlet.
ICC Regional Manager Claire Evans said in a statement that the killing of the Baghdad family sends the message to other Christians in Iraq's capital city that they are not even safe in their own homes.
"Extremists view Christians as defenseless, and thus are easy targets for a wide variety of crimes," Evans said. "As a result, the persecution which Iraqi Christians have faced over the last decade has been monumentally heartbreaking. Our prayers are with the surviving family members during this difficult time."
This is the second attack on Christians in this neighborhood of Baghdad in the last three weeks, ICC reports.
In recent months, several other Christians have been killed in Baghdad as well.
"This means that there is no place for Christians," Fr. Biyos Qasha of Baghdad's Maryos Church said in an interview with Rudaw. "We are seen as a lamb to be killed at any time."
On Monday, the United Nations called on the Iraqi government to step up and protect the country's beleaguered religious minorities from such crimes. The attacks in Baghdad come in the wake of the havoc and destruction caused by the Islamic State in the Nineveh Plains of Iraq for a span of three years before the region was fully liberated last year.
"Iraq draws its strength from its cultural and religious diversity, and its rich history. This treasure should be protected and nurtured by the government and the people of Iraq," Special Representative of the United Nations Secretary-General for Iraq, Ján Kubiš, said in a statement. "I call on government, religious, political and civic leaders to stress this point once and again — in the new Iraq, where the unity of the people defeated the most evil of organizations Daesh, there is no place for intolerance and discrimination, for targeting and suppressing minorities."
Kubiš specifically called for protection of Christians, Yazidis, Shabak, and other religious minorities.
"Iraq needs all its components, all its ethnic and religious groups, to rebuild in the post-Daesh period and prosper in the future as a stable and united country," he said.
Over the last 15 years, the Christian population in Iraq has fallen from 1.5 million before the U.S. invasion of Iraq to under 250,000 today.
Iraq ranks as the eighth-worst country in the world when it comes to Christian persecution, according to Open Doors USA's 2018 World Watch List.
As the Christian population in Baghdad (like Iraq) is dwindling, churches have been forced to close. Last year, as many as eight Baghdad churches were forced to close because so many Christians have fled from the area.
"This crime has only one message," Rayan al-Kldani, head of the Christian militia group of Babylon, told Rudaw of last week's massacre of the Baghdad family. "Frightening our people and forcing them to leave the country."