ISIS Claims Jordanian Pilot Was 'Heavily Sedated,' Didn't Feel Pain When They Burned Him Alive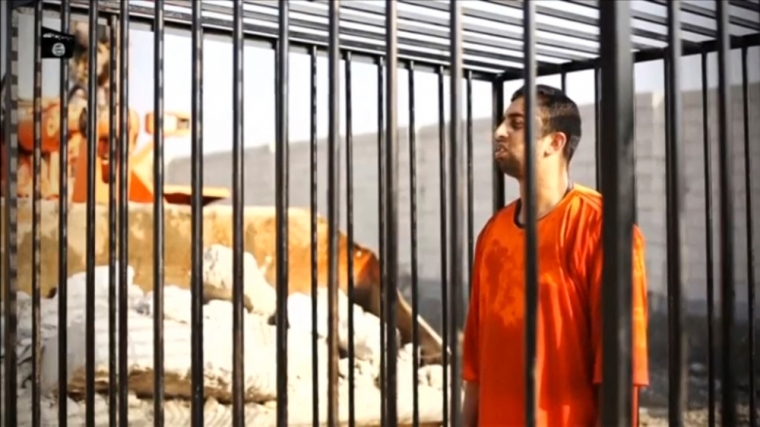 Terror group ISIS claims to have heavily sedated Jordanian fighter pilot Moaz al-Kasasbeh before they burned him alive inside a cage. The militants have said they drugged al-Kasasbeh in an attempt to minimize his pain when they recorded the video of his death, which was released last week.
The Daily Mail said that the militants made the claims on Saudi Arabian site burnews.com, with one Jihadi asserting that Kasasbeh "was so heavily sedated he had no idea what was about to happen to him."
The horrific video titled "Healing the Believers' Chests" was released last week and has been featured several places around the Internet, including on Fox News' website. In it, militants set fire to the cage where 26-year-old Kasasbeh was being kept, with flames quickly engulfing the Jordanian pilot.
The Saudi Arabian report asserts that no screams are heard in the audio because of Kasasbeh's sedated state. Unspecified "observers" added that the pilot's "sensory centres" were supposedly burned quickly, thus adding to ISIS' claims that he didn't feel prolonged pain in the inferno.
"It is important to note that [Kasasbeh] seemed unconscious and unaware of what awaits him and not, as some have said, that he is not afraid," the observers are quoted as saying.
The fighter pilot's death has sparked outrage across the world, with U.S. President Barack Obama calling the video "just one more indication of the viciousness and barbarity of this organization." He added about ISIS: "Whatever ideology they're operating off of, it's bankrupt."
Jordan has also hit back hard against ISIS. The Middle East country executed two ISIS-linked prisoners in retaliation, and carried out 56 airstrikes in three days against terror targets.
King Abdullah II has vowed that ISIS can expect "relentless war" for its actions, and said that his country would do everything possible to defeat the jihadists.
"We are waging this war to protect our faith, our values and human principles and our war for their sake will be relentless and will hit them in their own ground," the Jordanian leader said last week.
Christian churches in Jordan meanwhile offered their prayers and condolences to Kasasbeh's Muslim family, and called for unity.
Father Rifat Bader of the Catholic Center for Studies and Media in Amman said that "as the churches denounce this heinous crime against humanity, they ask all citizens to reinforce their national unity under the Hashemite leadership, led by King Abdullah II."
He added that Christians are holding prayer vigils for religious harmony "so that religions will constitute a factor conducive for peace, harmony and unity among people, rather than a factor leading to division, killing, oppression and dispute."