ISIS Kidnaps 90 Assyrian Christians From Villages in Syria, Reports Human Rights Group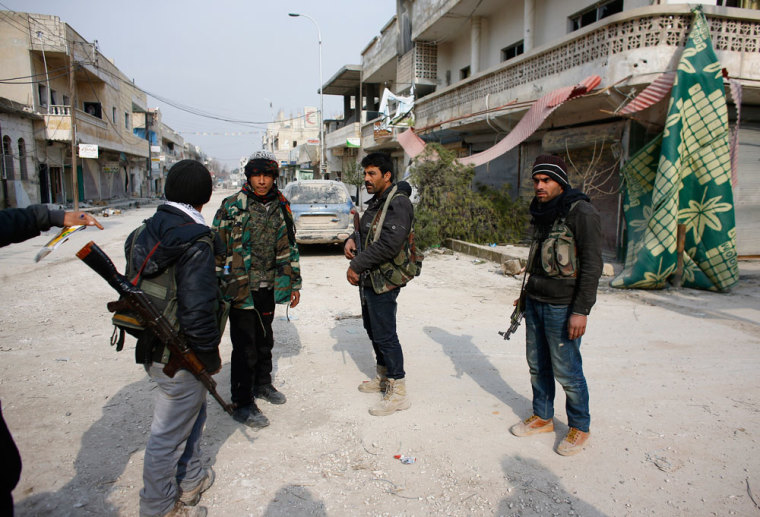 Members of ISIS have abducted 90 Assyrian Christians from villages in northeast Syria, activists from the Syrian Observatory for Human Rights said.
The raids took place in the early morning near the town of Tal Tamr, where a Christian minority lives. Tal Tamr is also located near Hasaka, a city held by the Kurds. ISIS has managed to take two villages from the Kurds on Tuesday, the Syrian Observatory reports, and is the latest in a series of battles between the Kurds and ISIS, which is trying to establish a caliphate, or an Islamic emirate, in the Levant region. The United States has been helping Kurdish forces by conducting air strikes against ISIS, with a recent strike killing 14 ISIS members on Tuesday.
There is no information on where the abducted Assyrian Christian men, women and children may have been taken or what their fate may be.
ISIS has destroyed Christian churches in Syria and demanded that Christians pay taxes in order to survive and remain in the country. Just weeks ago ISIS beheaded 21 Egyptian Christians in Libya, setting off international condemnation and strengthening the union among the 60 groups working to destroy ISIS . The U.S.-led coalition includes the countries of Australia, Bahrain, Belgium, Canada, Denmark, Egypt, France, Germany, Italy, Iraqi Kurdistan, Jordan, Netherlands, Qatar, Saudi Arabia, Turkey, the United Arab Emirates and United Kingdom, and several others.
"Everybody in this coalition contributes what they can, and we're grateful for all of that," Pentagon spokesman Rear Adm. John Kirby told CNN.
"We are upping the ante," Jordanian Foreign Minister Nasser Judeh added. "We're going after them wherever they are, with everything that we have. But it's not the beginning, and it's certainly not the end."
Jordan became more involved in fighting ISIS after a Jordanian pilot captured by ISIS was burned alive in a cage.