ISIS' List of 14 Laws Found Inside Church Turned Into Jihadi Base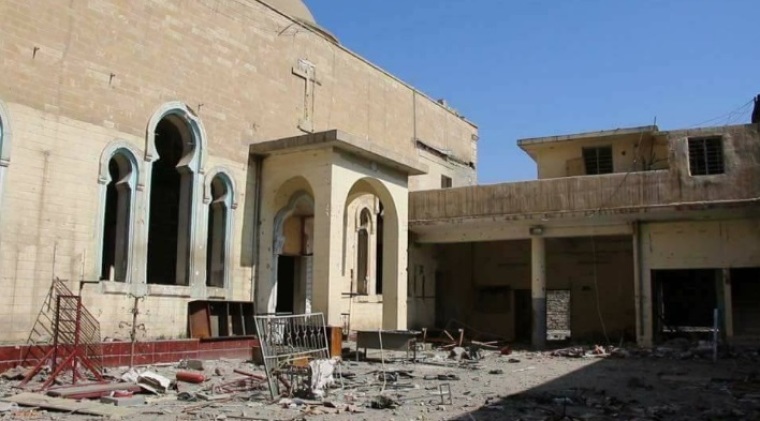 A Christian church in Mosul overtaken by the Islamic State terrorist organization was desecrated and turned into a base for the militant group's police force, an Iraqi military official has said.
As the Iraqi-led coalition forces continue their months-long effort to push IS (also known as ISIS, ISIL or Deash) out of its stronghold in Mosul, Lt. Col. Abdulamir al-Mohammedawi of Iraq's elite Rapid Response Division told AFP that Iraqi forces regained control of the Um al-Mauna (Our Mother of Perpetual Help) Chaldean Catholic Church in the Al-Dawasa district and the surrounding neighborhood last week.
According to al-Mohammedawi, the place of worship had been used by the jihadi death cult and self proclaimed "caliphate" as "an important office for the authorities tasked with making sure (Mosul) residents had a beard, wore short robes and followed their extremist convictions."
The militants had defaced the exterior of the building with IS propaganda.
"No entry, by order of the ISIS Hesba Division (the religious police)" is written on the outside wall.
Inside the building, IS militants made sure that not one Christian statue remained unscathed. AFP reports that IS militants even damaged a stone cross that hung above the door of the church. Additionally, IS militants had written their IS pseudonyms into the wall of the church.
Also found inside the church were religious posters and documents that outlined IS' rules and laws and the punishments for not following their rules.
One such document, according to AFP, was a "town document," which lists 14 rules for Mosul residents to obey.
"The trade and consumption of alcohol, drugs and cigarettes is banned," one of the rules states.
The document also states that women should wear conservative dress and only go out into public "when necessary."
Another document discovered is a pamphlet that lays out the consequences for crimes like consuming alcohol, committing adultery, being a homosexual and stealing. In many instances, IS militants have stoned women accused of having sex outside of marriage, cut off the hands of thieves, thrown homosexuals off of rooftops and killed people caught smoking and drinking. IS militants have also been known to use a torture device on women caught showing too much of their face or body.
One of the posters found in a side room of the church teaches the militants and members of the police force how to use a Kalashnikov rifle.
According to AFP, the church building is still in decent condition, compared to many of the other buildings throughout the Al-Dawasa district.
It had been reported after IS took over Mosul and much of the Nineveh Plains in 2015 that IS was turning churches into "torture chambers," where captured Christians were reportedly held captive.
"Islamic State militants in Iraq are using Christian churches as torture chambers where they force Christians to either convert to Islam or die," Christian Freedom International President Jim Jacobson was quoted as saying by the UK Express. "Islamic State militants are also stripping the former places of Christian worship of ancient relics which in turn are smuggled to Western collectors to help fund their terrorist activities."
According to the Catholic military order Knights of Templar, IS had turned one church in the Iraqi village of Karemlash into a military base. Not only had statues in that church been destroyed, but a priest's tomb was opened and the altar was peppered with bullet holes.
IS militants have also been known to destroy ancient churches, monasteries, tombs and structures without regard for their historical importance as they embarked on a quest to wipe out evidence of Christianity from the region.