ISIS Militants Line Up, Execute 50 Men, Women From US-Allied Tribe in Iraq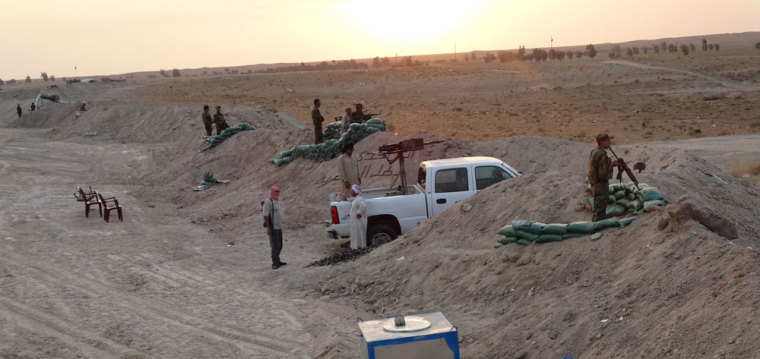 Gunmen from the Islamic State terror group lined up and shot dead at least 50 men and women from the U.S.-allied Albu Nimr tribe in the middle of the night. Such killings are being witnessed on a daily basis, an official says.
The killing took place in the village of Ras al-Maa, north of the provincial capital of Ramadi, Friday night/Saturday morning, according to The Associated Press.
The terror group, also known as ISIS or ISIL, accused the tribesmen and women of retaliating for being displaced from their homes when the group took control over the Anbar town of Hit in October, Anbar councilman Faleh al-Issawi was quoted as saying.
"These killings are taking place almost on a daily basis now in the areas under the control of the Islamic State group and they will continue unless this terrorist group is stopped," al-Issawi added.
The men and women from the Sunni tribe, which is considered among the last holdouts against ISIS in Iraq's western desert, were taken from their homes in the middle of the night, according to CNN.
The tribe has a strong force ready to attack Hit, but they are awaiting the final approval from the government and trying to coordinate with the Americans, Sheikh Nabil Al-Ga'oud, a tribal leader, was quoted as saying.
About 200 bodies of members of Albu Nimr, who were apparently captured after ISIS took control of the area, were found in a mass grave just outside Hit earlier this week.
"We are deeply concerned by reports of mass executions of Sunni tribesmen in Anbar province by ISIL and strongly condemn the brutal actions that ISIL continues to perpetrate against the Iraqi people," U.S. State Department spokeswoman Jen Psaki said earlier.
More than 1,273 Iraqis were killed in violence last month, according to the United Nations mission in Baghdad.
ISIS, an al-Qaeda offshoot, now controls large swathes of territories in Iraq and Syria, and wants to form an Islamic emirate in the Levant region through "jihad."
A U.S.-led coalition has been carrying out airstrikes on ISIS positions in Syria and Iraq for the last four months, but the terror group remains undeterred.
In Syria, ISIS has taken over hundreds of villages around the Kobani region, and over 150,000 people from the region have fled to Turkey. In Iraq, hundreds of members of the Christian and Yazidi minorities have been killed, and tens of thousands of them have fled their homes.
About 30 former Guantanamo Bay detainees, some of whom were released in the few years, may have joined ISIS, intelligence and Defense officials fear, according to Fox News.
U.S. journalists James Foley and Steven Sotloff and British aid workers David Haines and Alan Henning, who have been beheaded by ISIS militants, were subjected to severe physical torture, including waterboarding, and a majority of them converted to Islam under duress, according to reports.