ISIS Prisoner Forced to Dig His Own Grave Before He's Shot Execution Style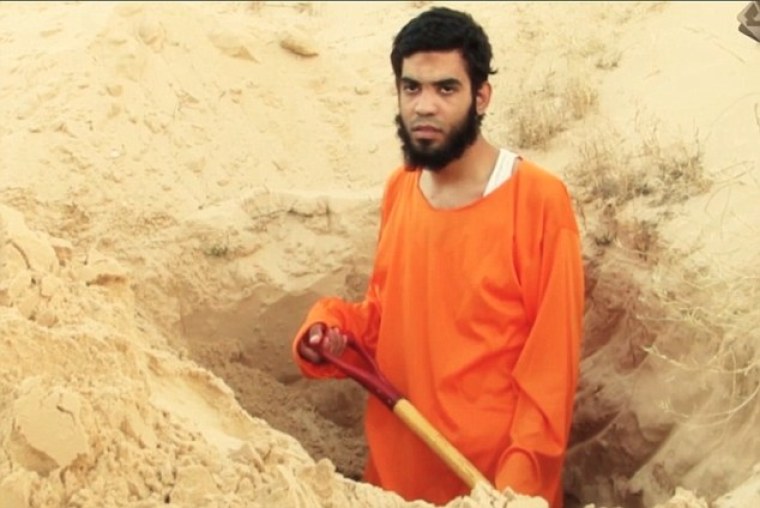 An unnamed Egyptian man was purportedly forced to dig his own grave and was executed in Egypt's Sinai region because ISIS militants believed he was working for Israeli intelligence.
A heavily edited ISIS propaganda video of the alleged incident surfaced Wednesday on YouTube.
At the beginning of the video, the man is seen chatting in Arabic on a cellphone after he's captured by ISIS militants. Then dressed in an orange jumpsuit, he can be seen digging his own grave and mumbling to himself before being shot execution style in the back of the head with a pistol by a masked ISIS militant.
One Egyptian news agency is reporting that the video might be fraudulent, and that the man seen being executed could still be alive. His parents' claim the man was waiting to join the Egyptian military but then disappeared.
Having victims dig their own graves is a common practice for ISIS, and the heavily edited videos are reportedly an important recruitment tool for the terror group.
ISIS has expanded cells into Egypt's Sinai Peninsula, which allows them access into the Gaza Strip, and greater influence in the Palestinian-Israeli conflict. Some al-Qaida cells in Egypt have also joined forces with ISIS.
The Daily Mail reports that it's believed 2,000 ISIS militants are operating terrorist cells in the Sinai, and they have already claimed responsibility for a string of car bomb attacks this year. Similarly, groups affiliated with ISIS fired rockets in the direction of an airport used by U.N. peacekeeping forces on Tuesday.
Egypt has intensified their crack down on Islamic militants in the wake of Mohamed Morsi being forced from power during nationwide protests followed by a military-led coup in 2013.
ISIS released a similar video in May, where a man clad in an orange jumpsuit was forced to dig his own grave and was beheaded on suspicion of being a spy for the Syrian government.
In March, the Islamic State released a video of a boy executing an East Jerusalem Arab man who had supposedly joined ISIS, but then was accused of being an agent of Mossad, the Israeli intelligence agency. His family claims he was recruited by ISIS over the Internet to join them in their fight and he had no connections to Israeli intelligence.
In March, the U.N. Security Council estimated that some 22,000 foreign fighters from as many as 100 countries have traveled to Iraq and Syria to join up with ISIS.
The FBI sent out a release in October of 2014 asking for Americans to help identify individuals who have traveled overseas to engage in combat on behalf or with ISIS forces. "We need the public's assistance in identifying U.S. persons going to fight overseas with terrorist groups or who are returning home from fighting overseas," said Michael Steinbach, assistant director of the FBI's Counterterrorism Division.
The Independent has reported on ISIS' execution of fighters who've tried to rebel against them, especially those suspected of violating strict teachings of Shariah law. The publication also reported that in 2014 ISIS beheaded up to 200 of its own men, most of whom were foreign fighters, for trying to escape and return home.