ISIS Militants Torture Young Girls Who Try to Escape Brutal Rapes, Says Boy Who Fled Terror Camp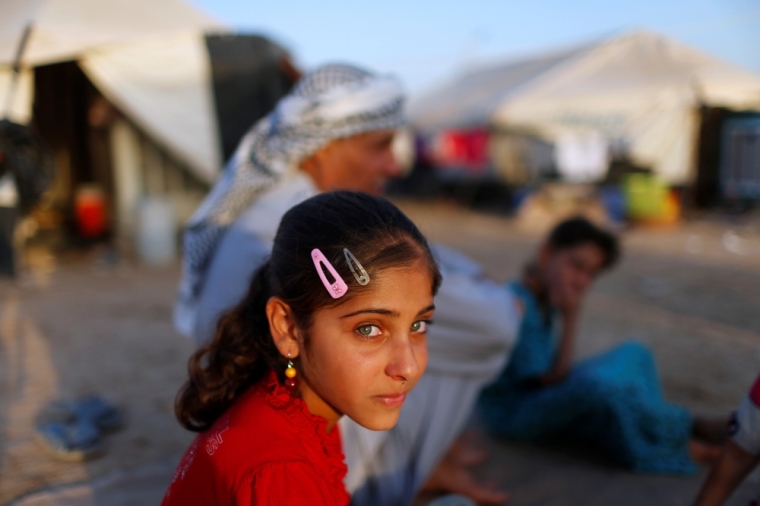 The thousands of women and girls being used by the Islamic State terror group as sex slaves attempt to make themselves look less beautiful by covering their faces in dirt, an escaped Yazidi boy has said, but they still get beaten and raped by the terrorists.
"The girls were covering their faces with dirt, trying to make themselves less beautiful. But if they were caught doing that they were beaten. They were all beaten and taken away. ISIS beat us too," 15-year-old Ahmed Amin Koro told Fox News after escaping an IS training camp and fleeing to northern Iraq.
He said both male and female prisoners are treated terribly inside IS camps. Children are woken before sunrise each morning and forced to recite Islamic prayers; they are fed only with scraps, and washed with contaminated water.
While young boys are being trained to fight for the jihadists to help them maintain control of territory they have captured throughout Iraq and Syria, girls and women are often sold as brides to IS fighters.
Koro said he also witnessed one mother desperately begging the terrorists to spare her young daughter, but to no avail.
"The mom cried that her little girl was too young and she didn't know anything about marriage or sex, but they didn't care and took her anyway," the Yazidi boy said.
Koro recalled his ordeal of being moved around IS training camps ever since the terror group started taking cities in Iraq in 2014. He revealed that the camps involved day and night training in the use of guns, hand-to-hand combat, and fighting in close quarters. Boys are also forced to memorize verses in the Quran, while the IS instructors hand out severe punishments, including carrying out numerous murders.
The boy and his brother eventually managed to escape in the confusion following an IS assault on the city of Tal Afar, though they had to cross some 50 miles of harsh desert before finding refuge at a Kurdish-controlled village.
Yazidis, along with Christians and other religious minorities, have been heavily persecuted by IS throughout the captured territory, with men being killed, boys being forced to train as IS soldiers, and girls and women being sold as sex slaves.
The U.S., U.N., and other Western agencies have warned that IS is committing genocide against minorities.
The punishments for refusing IS' commands have been horrific, as news reports revealed that 19 Yazidi girls were burned alive in the city of Mosul last week for refusing to have sex with the militants.
"The 19 girls were burned to death, while hundreds of people were watching. Nobody could do anything to save them from the brutal punishment," one eye-witness told ARA News.
The girls were apparently burned inside an iron cage with hundreds of spectators watching, the reports added.