ISIS Targets Children in Ramadan Attack Killing 31 in Ice Cream Shop Bombing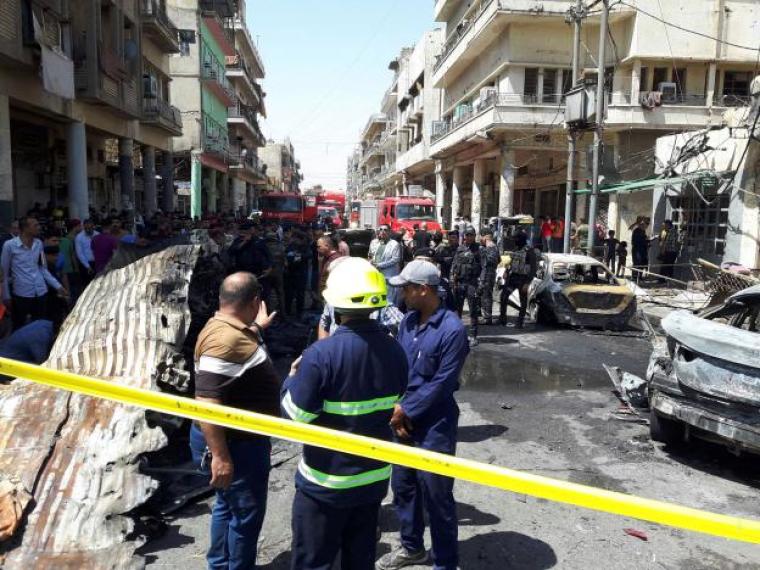 The Islamic State terror group has targeted families and children again in its latest bombing attack, this time slaughtering 31 people outside a popular ice cream shop in Baghdad, Iraq.
Fox News reported on Tuesday that it is not yet known how many of the fatalities are children.
A closed-circuit camera video apparently showed the massive explosion at the shop where families with children were purchasing ice cream.
"Then, a huge fireball engulfs a building, forcing the cars to scramble to get away. Videos of the attack posted on social media show wounded and bloodied people crying for help on the sidewalk outside the ice cream parlor," the article noted.
Journalist Hareth Al-Harethi, who was was 20 meters away from the ice cream shop when the bomb exploded, told CNN: "It was a very, very ugly scene."
"The street was covered in toys, baby bottles, small shoes and men's hats," he added.
Another 14 people were reportedly killed in a separate car bombing near the state-run Public Pension Office in Baghdad's Shawaka area, police said, while another 37 were injured.
The second attack reportedly targeted a group of pensioners who were waiting to go through security before entering a shop near the building.
"Every time this happens, everyone is gloomy," said 23-year-old Ibrahim Al Zararee. "You can see in people's face that they're waiting to see what will happen next?"
IS has suffered several military defeats in Iraq, and is in danger of losing its hold over the key city of Mosul. A London-based Middle East expert told Al Jazeera, a news outlet run by the Qatari government, that the Islamic radicals are trying to prove that they still can terrorize Baghdad.
"[ISIS] wants Iraqis to fear going out and this is to show they are still present and able to strike the heart of the Iraqi capital, even as they are being defeated on the battlefield," Hayder al-Khoei argued.
Brett McGurk, the U.S. envoy to the coalition against IS, wrote in a Twitter message on Monday, "ISIS terrorists tonight in Baghdad target children and families enjoying time together at an ice cream shop. We stand w/Iraq against this evil."
Iraqi Interior Minister Qasim Mohammad al-Araji vowed to track down IS militants "wherever they may be," following the bombings.
"They targeted a group of civilians; families, women and children in these nights of Ramadan and this is clear evidence that this organization is a terrorist one trying to kill civilians by any means," he said.
IS' attacks on children have made headline news around the world in the past couple off weeks. The radicals killed 29 Coptic Christians, among them families with children, in an attack on a bus headed toward a monastery in Egypt.
Chaplains helping survivors shared information that the radicals apparently forced the victims off a bus, and asked them to renounce their faith in Jesus Christ. After the Christians refused, they were slaughtered.
In a separate suicide bombing earlier in May at an Ariana Grande concert in Manchester, U.K., several children were again reported to be among the 22 people killed at the time.
IS supporters warned of further assaults on the West and hailed the bombing at the concern, where many of Grande's fans were children and teenagers.