ISIS Warns of New Attacks on Egypt's Christians, Tells Muslims to Stay Away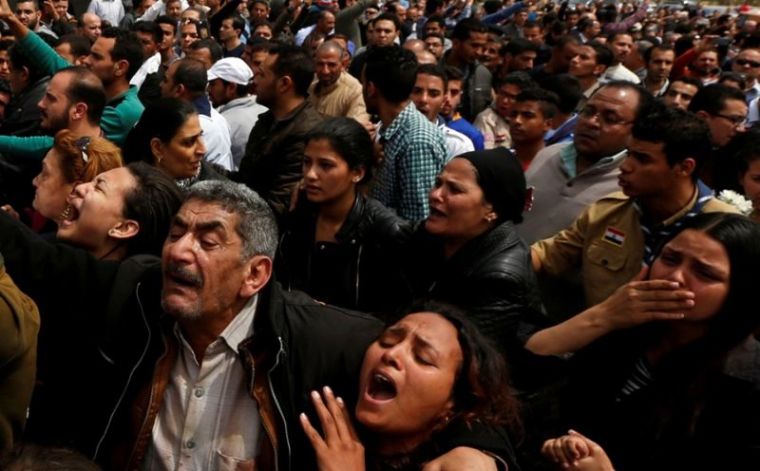 Terror group Islamic State's local leader in Egypt has issued a warning to Muslims, asking them to stay away from Christian gatherings and suggesting that it would launch new attacks on "legitimate targets."
"We are warning you to stay away from Christian gatherings, as well as the gatherings of the army and the police, and the areas that have political government facilities," the anonymous leader said in an interview with Al Naba, a weekly newspaper published on Telegram by Islamic State, according to Reuters.
The warning comes weeks after the Palm Sunday bombings at churches in Alexandria and Tanta, which killed 45 Christians, and days after the visit of Pope Francis to the country.
Islamic State, known as IS, ISIS, ISIL or Daesh, claimed responsibility for the Palm Sunday attacks.
IS also signaled while claiming responsibility that more attacks were coming: "The Crusaders and their tails from the apostates must be aware that the bill between us and them is very large and they will be paying it like a river of blood from their sons, if God willing."
Sinai Province, the name of the local affiliate of IS in Egypt, is seeking to impose a hardline interpretation of Islam in the country, according to the newswire. The group is said to have established its own military force in North Sinai, cracking down on things it sees as vices, such as smoking, men shaving their beards, or women exposing their faces.
Also in April, IS killed one police officer and wounded four others in a foiled attack at St. Catherine's monastery in Sinai, Egypt, one of the oldest Christian monasteries in the world. "Had they succeeded it would have been discussed in the next 5,000 years of Church history," Johnnie Moore, founder and CEO of The KAIROS Company and human rights advocate, told The Christian Post in a statement after the incident.
President Abdel Fattah al-Sisi has promised to protect Egypt's Christian population, which accounts for 10 percent of the population, and has stepped up security measures. However, IS retains its influence over the country, both in its workings with hardline groups, and its continued attacks.
Mokhtar Awad, a research fellow in the program on extremism at George Washington University, earlier told the newswire that IS wants to tear "at the fabric of society."
"A confluence of factors has seen this escalation happen now," Awad said. "They hope that this is the first step to basically unravel the country."