Israel Extends Gaza Truce for 24 Hours; Hamas Fires Rockets at Israel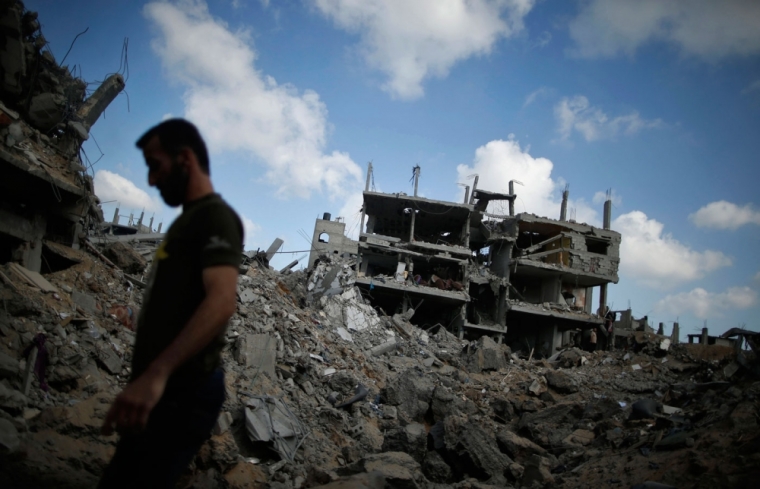 Israel decided late Saturday to extend a 12-hour humanitarian truce for another 24 hours in the Gaza Strip under pressure from U.S. Secretary of State John Kerry and foreign ministers from other nations. But Hamas militants said they will accept the truce only if Israeli troops leave the territory, and fired a barrage of rockets at Israel.
During the period of the 24-hour truce, which goes on through Sunday midnight, the Israeli army would continue to neutralize Gaza tunnels as well as respond to attacks by Palestinian militants, according to Israeli news website Haaretz.com. Israel says the tunnels reach into its territory and could be used to attack its citizens.
Ezzedine al-Qassam, the armed wing of Hamas, acknowledged that it fired two rockets at Tel Aviv in central Israel, and five at Nachal Oz in the south, according to France 24. However, there were no reports of casualties.
"No humanitarian ceasefire is valid without Israeli tanks withdrawing from the Gaza Strip and without residents being able to return to their homes and ambulances carrying bodies being able to freely move around in Gaza," Sky News quoted Hamas spokesman Fawzi Barhum as saying.
The previous 12-hour humanitarian ceasefire on Saturday allowed Palestinian authorities to pull at least 132 bodies from the rubble in Gaza as well as stock up on supplies.
An Israeli official was quoted as saying that the country's cabinet will reconvene Sunday to consider a continuation of the operation "until calm is restored to Israeli citizens for an extended period."
More than 1,000 Palestinians have now died since Israel launched a military operation 19 days ago. An Israeli soldier was also killed last Sunday by a shell fired from Gaza. At least 43 Israeli troops have died in the fighting, including three civilians, according to the Israeli army.
Several foreign ministers were in Paris Saturday, as the 12-hour humanitarian truce went into effect in Gaza Strip on a U.N. request, to help forge an agreement between Israel and Palestinian militants to end the fighting, Reuters reported.
The meeting was attended by Turkey, Qatar, Germany, Italy, Britain and the European Union without any representation from Israel, Hamas or the Palestinian Authority.
Just before the truce began Saturday, Israeli tank shelling killed 18 members of the same Palestinian family in the southern Gaza Strip, according to Gaza health ministry spokesman Ashraf Al Qidra.
Kerry was in Egypt Friday for negotiations with regional power brokers as well as the UN secretary general, Ban Ki-Moon, for a seven-day truce between Israel and Palestine. The efforts failed. Kerry, however, said Israel had not rejected the offer.
"There was no formal proposal submitted to Israel," Kerry was quoted as saying Friday. "Let's make that absolutely crystal clear. Prime Minister [Binyamin] Netanyahu called me a few minutes before this to tell me that that [rejection] was an error, and he's putting out a statement to that effect ... It's fair to say that Israel had some opposition to some concepts, but that doesn't mean a proposal by any means."
Israel says it is targeting terror tunnels and other targets that they say pose a direct threat to its people. It has also blamed Hamas for the civilian casualties, saying that the militants are using people as human shields.
Hamas has rejected cease-fire proposals with Israel pushed by Kerry, saying a truce cannot be accepted unless the Israeli-Egyptian blockade on Gaza is lifted. But the Wall Street Journal noted that any lifting of the blockade will likely be resisted by Israel, which is concerned about the trade of weapons bound for Hamas.
Several Evangelical church leaders in Jerusalem have called for Christians around the world to join together in prayer for the people trapped in the violent conflict.