Israeli Ground Forces Invade Gaza, Netanyahu Prepares 'Significant Expansion' of Operations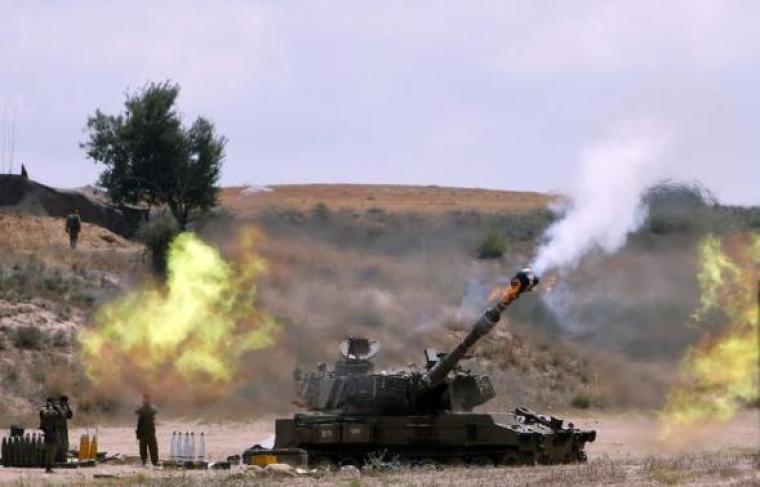 Israeli ground forces have moved in on the Gaza strip with a mission to take down terrorist tunnels and other targets, with Israeli Prime Minister Benjamin Netanyahu announcing on Friday that the military is preparing for a "significant expansion" of its ground operation against militant group Hamas.
Speaking at an emergency cabinet meeting in Tel Aviv, Netanyahu said that "since there is no way to deal with the tunnels only from the air, our soldiers are doing it now from the ground."
Netanyahu added that there is no guarantee of success, but said that everything will done to achieve maximum results.
"We decided to launch the action after we tried all the other ways, and with an understanding that without this operation the price we will have to pay later would be much higher," he added, according to The Jerusalem Post.
Reuters noted that the land offensive includes artillery, tanks and gunboats. Palestinian health officials said that 27 Palestinians, including an infant and two children, have been killed in the wake of the ground invasion.
The ground operation follows failed diplomatic efforts, with Hamas rejecting an Egyptian-brokered truce earlier this week that Israel had agreed to.
"We did not receive this declared paper from the Egyptians ... which means it's an initiative for the media. It's not a political initiative," said Hamas spokesman Osama Hamdan on Tuesday, calling the proposal a "joke."
"It's not really an initiative. It's not really an idea, what they are trying to do is to corner the Palestinians and to help the Israelis more."
The Israeli PM argued that Hamas bears responsibility for harm to the civilians in Gaza, however, accusing militants of using them as "human shields."
Israel and Hamas have been exchanging rocket fire over Gaza for the past couple of weeks, with the death toll climbing over 200 on the Palestinian side. Tens of thousands of people are also said to have fled the Gaza strip and reached United Nations shelters, after Israel warned citizens of the incoming offensive.
"We do not wish to harm civilians in Gaza, but these civilians must know that remaining in close proximity to Hamas terrorists and infrastructures is extremely unsafe," Israeli Defense Forces spokesman Lt-Col Peter Lerner has said.
While Israeli officials have made it their mission to strike down Hamas terror targets, they have not yet said how long the operations will last and if Israeli troops will remain in Gaza.
Hamas has warned that its forces will not be backing down from the ongoing conflict.
"Netanyahu is killing our children and will pay the price. The ground invasion doesn't frighten us and the occupation army will sink in Gaza's mud," spokesman Sami Abu Zuhri said in a statement.
Hamas has also demanded that Israel and Egypt lift border restrictions on Gaza that have led to economic struggles and unemployment.
Israel Public Security Minister Yitzhak Aharonovitch warned that the operation "will not end fast," and said:
"The IDF will strike Hamas and Islamic Jihad. We waited a long time [before launching the ground operation], the minute when Hamas was not willing to accept a cease-fire we had legitimacy to act."
As for the option of re-taking Gaza, he added: "We might get to that stage, but now the operation is going as planned."
U.N. Secretary-General Ban Ki-moon has said that he regrets Israel's ground invasion.
"I regret that despite my repeated urgings, and those of many regional and world leaders together, an already dangerous conflict has now escalated even further," he said in a statement at the United Nations Headquarters.
"In the past 24 hours, there have been a number of incidents involving the deaths of civilians, including the appalling killing of four boys on a beach in Gaza City," the U.N. Secretary-General added.