James Dobson: Attacks on Mike Pence for Following Billy Graham Rule 'Stupidest I Have Heard'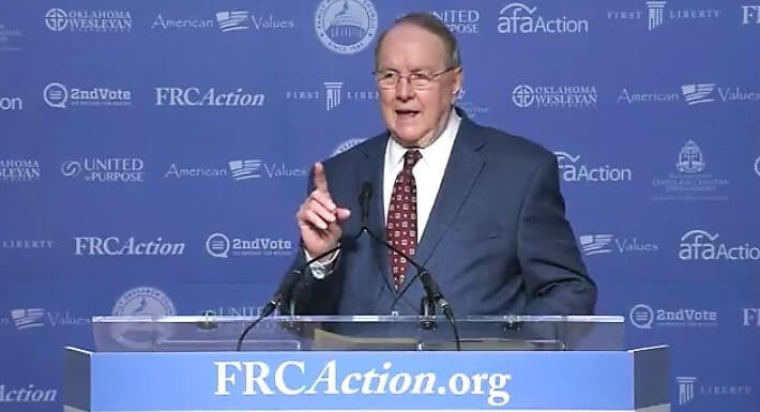 American evangelical Christian author James Dobson has branded the media and the left's attacks on Vice President Mike Pence for not eating alone with other women as some of the "stupidest" he has ever heard.
"I have seen some crazy things, but this has got to be one of the stupidest that I have heard," Dobson said on the Family Talk radio program Monday. "I have known Mike Pence for 25 years. He is a godly man, a good family man, husband and father. He lives by the highest standards of ethics."
Late last month, Pence was slammed across U.S. media after his past comment that he does not dine alone with any woman other than his wife was cited in a recent Washington Post story. He also said that he does not attend social events where alcohol is present without Karen.
Pence was ridiculed for following the so-called "Billy Graham" rule — named after evangelist Billy Graham who set parameters for himself as he traveled around the world to spread the Gospel. Other pastors, including Pastor Rick Warren, have also followed the rule of not being alone with a woman other than their wives in order to stay true to their families.
Dobson spoke about that rule on his radio show and said that he wishes more men practiced it.
Some have argued that such a rule keeps women from power. But Dobson suggested that these arguments are coming from the media, not from women.
"Ask a woman how she feels about it. Ask a woman who loves her husband and is trying to live a godly life as a wife and a mother. Ask a woman who has children, if she wants her husband to honor her in this way," he said.
"It's those silly little reporters that are looking for something to criticize. I bet you ... they're leftist in their perspective. This is not coming from women, it's coming from these reporters who are looking for something negative to say," he insisted.
Some journalists, such as The Guardian's Jessica Valenti, who has written books on feminism, had strong criticism for the vice president.
"Never mind what it means for the (very few) women who work in the White House, who apparently can't count on business dinners or mentorship over a meal. The underlying message of a rule like Pence's is the same one that's taught to teens in abstinence-only education classes: men can't control themselves when alone with women," she argued.
"It's an insulting view of men, a limiting role for women – we're there to either entice or domesticate – and an archaic take on gender roles more generally."
Dobson, founder of Focus on the Family, said that he disagrees with those who would find the Billy Graham rule to be sexist.
"Are [job] promotions more valuable than a lifetime of a committed, loving marriage?" he responded, when asked about women who would be worried of missing out on a promotion by not meeting privately or having lunch with a male boss.
"How silly is that? It just takes my breath away," he commented, adding that the Billy Graham rule does not hurt women.
One woman who called into the Dobson radio program said she wished she had followed the Billy Graham rule.
"I am a woman that did the opposite. I had 'the lunch' and I'm divorced today and I wish i would've held onto Billy Graham's policies," Susan from Tennessee said tearfully.
"It was just someone that kept coming by my desk and visiting and I kept resisting … and eventually I just gave in. 'Oh, it's just lunch. It's no big deal,'" Susan recalled. "But it did end up in an adulterous affair. My marriage ended in a divorce."
Dobson warned that extra-marital affairs often start out with casual relationships.
"Relationships always move and it's usually toward more and more intimate circumstances and before you know it you've hurt your spouse, you've hurt yourself and you've also hurt your children," he said.