James Mattis Warns of 'Catastrophic' War as North Korea Tests 'Large, Heavy Nuclear Warhead'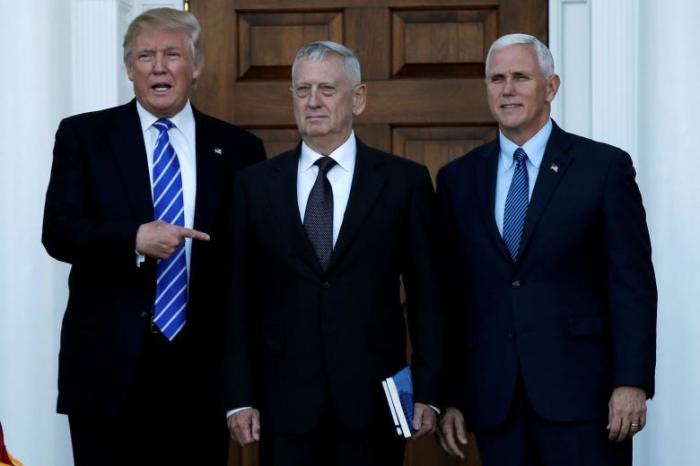 U.S. Secretary of Defense James Mattis warned that a potential war with North Korea would be "catastrophic" and the worst in most people's lifetimes, as Kim Jong Un's regime claimed the ability to launch a "large, heavy nuclear warhead."
"A conflict in North Korea, John, would be probably the worst kind of fighting in most people's lifetimes," Mattis told CBS News' "Face the Nation" host John Dickerson in an interview on Sunday.
Mattis noted that North Korea has hundreds of artillery cannons and rocket launchers that could be a major threat to nearby countries, including South Korea, Japan, China and Russia, though Kim has threatened America as well.
"But the bottom line is it would be a catastrophic war if this turns into a combat if we're not able to resolve this situation through diplomatic means," the secretary of Defense continued.
"They have been very clear in their rhetoric we don't have to wait until they have an intercontinental ballistic missile with a nuclear weapon on it to say that now it's manifested completely."
Mattis' comments come as North Korea carried out its ninth missile test this year, with the latest short-range ballistic missile tracked for six minutes until it the landed in the Sea of Japan.
Kim has claimed that his regime has the ability to launch a missile large enough to carry "a "large, heavy nuclear warhead," CBS noted.
The escalating rhetoric and North Korea's continued missile tests despite international sanctions have prompted concerns among some church leaders, such as Pastor Greg Laurie of Harvest Christian Fellowship in Riverside, California.
Laurie warned that one possible End Times scenario could be that both America and North Korea destroy each other in a mass-scale nuclear war, since both countries are missing from the events prophesied in Revelation, the final book of the Bible.
Others, such as Dr. Samuel Lamerson, professor of New Testament and president of Florida's Knox Theological Seminary, told The Christian Post in an interview that such fears are unfounded.
"The Bible in general and the book of Revelation in particular does not predict this specific international problem. This is not the first, nor will it be the last, cry of annihilation or world destruction based on a misunderstanding of the biblical prophecy," Lamerson told CP.
North Korea is notorious for its human rights abuses and persecution of Christians. Sen. James Lankford, R-Okla., told North Korean freedom activists gathered on Capitol Hill last week that Kim's regime is terrified of the Gospel.
Lankford, the co-chair of the Congressional Prayer Caucus, said at the time while carrying his Congress members' Bible study Bible:
"I think about the words that are in this book and how terrified they are of this book. I think about some of the things that it says."
He then cited passages in Matthew and 1 Timothy 2 concerning the commandments to love God and love one's neighbor.
He summarized that "our first calling" of the Gospel is to be able to love our neighbor," and "to love God." He added that the calling from Paul tells people to "show respect and live quiet and dignified lives."
"That is the subversive text that the regime is terrified of and that is astounding to me," Lankford claimed.