Jennifer Garner Hopes 'Miracles From Heaven' Will Inspire People to Examine Faith (Interview)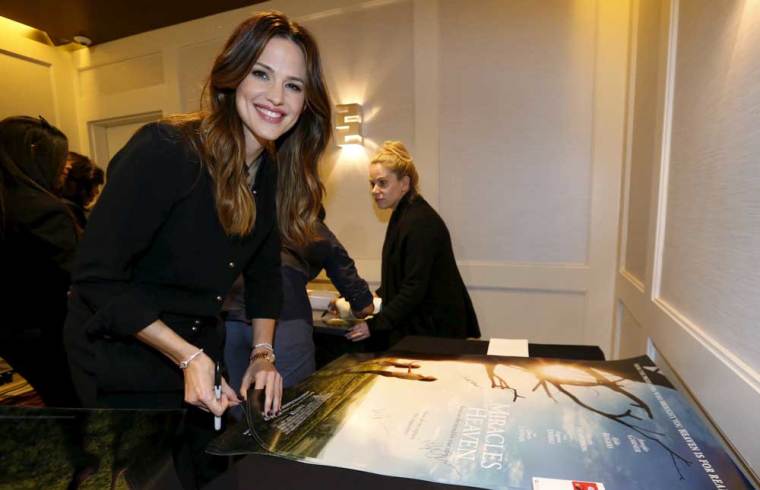 DALLAS – While on the road promoting her upcoming film "Miracles From Heaven," popular actress Jennifer Garner ("Alias," "13 Going on 30," "Daredevil") said she hopes the inspirational film causes people to re-examine their faith and beliefs.
"I think we have to pour some positivity back into the world. I think it's so necessary to focus on what's wrong and how we can fix it but it's also so incredibly important to see the beauty that's around us all the time so that we can foster that," Garner told The Christian Post about the Sony Pictures Entertainment film. "We can raise and lift up the importance of the smallest miracles that happen around us everyday."
"Miracles From Heaven" recounts the real-life story of a 12-year-old girl name Anna (Kylie Rogers), who is the daughter of Christy Beam (Garner). Anna is suffering from a pseudo-obstruction motility disorder and is unable to eat, using feeding tubes for nutrition. One day, she has a near-death experience after falling from a tree and is subsequently cured of her disorder – a miracle that the Beam family credit to their Christian faith.
While in Dallas, the Beam family, Garner, and producer Devon Franklin all joined the worship service at The Potter's House, founded by Bishop T.D. Jakes. During the service, Jakes who also serves as a producer of the film, invited Garner on stage to talk to the congregation. The mother of three spoke highly of Christy and revealed that playing her on the big screen made her stronger.
In the CP one-on-one interview with Garner, she explained how Christy transformed her own life.
"Christy is such a strong woman and she's been tested by fire. There is no fire like having a child who's ill, who's suffering and this role changed me because it gave me a sense of that perspective, that I was pretending and that she had gone through something for real and people are still going through," Garner explained. "It was just a constant and has stayed with me as a constant reminder of that. Also the strength and the rightness of a mother's love and that sometimes a mother's love is actually all the doctor ordered."
When asked what she wanted people to take away from the film, the West Virginia native talked about belief.
"I will be so thrilled if it lifts people's hearts in that way, if it asks anyone to re-examine their own faith and their own beliefs, that would be the pie in the sky for me. I can't think of anything better," the actress gushed.
Adding, "I think on a basic level even if you're someone who goes into this just because the other movie that you want to see is full and this is what's open at the time, you should walk out feeling inspired and you should walk out with a sense of hope. You should walk out reminded about how much you get from your family and community."
Overall Garner confessed that playing the role of Christy Beam was very emotional for her.
Watch her full interview with The Christian Post below.
In a video captured by DeWayneHamby.com during a Q&A conducted during the trip to Dallas, Garner revealed that her faith life has changed because of "Miracles From Heaven." The actress shared that in Los Angeles, where she lives, people don't talk about faith and it's a topic that has become very political. She said that people of faith are usually considered "outsiders."
"I will say that being around this community, and while I've always gone to church in West Virginia, that when I got back to Los Angeles, I was talking to my kids about the movie and they said, 'Mom you don't take us to church,' and we went that Sunday, and they went today without me. That decision was a direct gift from this movie and for that I'm very grateful," Garner said.
"Miracles From Heaven" is scheduled to hit theaters March 16th. For more information on Garner's role as Christy Beam, visit sonypictures.com