Jerry Falwell Jr. 'Under the Dark Spell of Donald Trump,' Conservative Columnist Says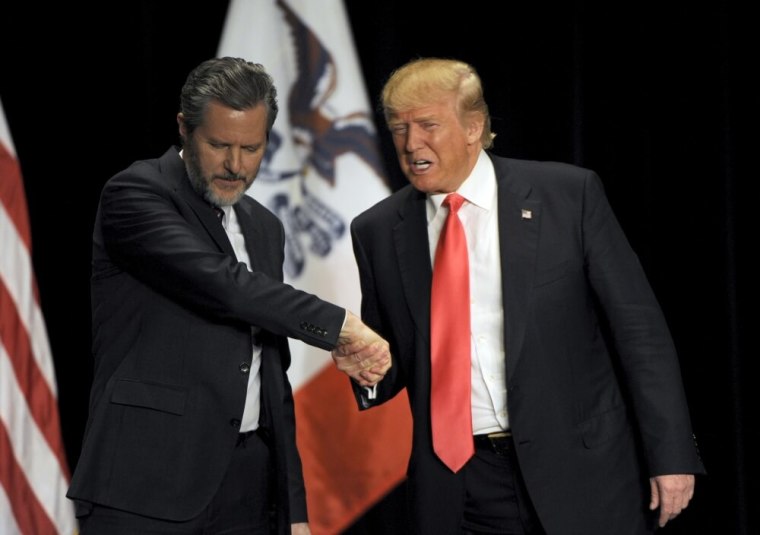 Liberty University President Jerry Falwell Jr. is "under the dark spell of Donald Trump," according to a column published in the National Review.
Peter Wehner, senior fellow at the conservative Ethics and Public Policy Center, penned a recent column in objection to Falwell's endorsement of Republican presidential nominee Donald Trump.
"Falwell has fallen under the dark spell of Donald Trump. That is not a crime, but it is having a corrosive effect on his intellectual and moral judgment. He is saying witless and defamatory things," wrote Wehner.
"In his private life, Falwell may be a devout man, but in his role as Donald Trump's flatterer, defender, and attack dog, he has pushed Christ to the rear. His politics are damaging his public Christian witness."
Of particular objection by Wehner was a column authored by Falwell and published in The Washington Post earlier this month.
"I chose to personally support Donald Trump for president early on and referred to him as America's blue-collar billionaire at the Republican National Convention because of his love for ordinary Americans and his kindness, generosity and bold leadership qualities," argued Falwell.
"We are at a crossroads where our first priority must be saving our nation. We need a leader with qualities that resemble those of Winston Churchill, and I believe that leader is Donald Trump. As Churchill did, Trump possesses the resolve to put his country first and to never give up in a world that is increasingly hostile to our values."
Wehner took issue with both the claim that Trump was akin to Churchill and that he can be described as kind and generous.
"Winston Churchill was arguably the greatest orator of the 20th century; in the 21st, Trump is among the most banal. Churchill possessed extraordinary knowledge of history and policy; Trump is the most ignorant major-party candidate in U.S. history," countered Wehner.
"Falwell praises Trump for his 'kindness' and 'generosity.' What a curious way to refer to a man who has mocked a former prisoner of war, the grieving mother of a war hero, and a reporter with a physical disability."
In January, Falwell announced that he endorsed Trump's presidential campaign, garnering much criticism from other evangelicals and Liberty University alumni.
"He is a successful executive and entrepreneur, a wonderful father and a man who I believe can lead our country to greatness again," stated Falwell.
This is not the first time that Falwell has gotten negative attention for his public support of Trump. In June, Falwell received backlash on Twitter for posting a photo with Trump that featured a Playboy magazine cover prominently displayed in the background.
In response to criticism on social media, Falwell posted a tweet arguing that his visit with Trump was in line with how Jesus witnessed to society's marginalized.
"Honored for same hypocrites who accused Jesus of being a friend of publicans and sinners to be targeting me over a decades old mag cover! TY," replied Falwell.
Wehner previously worked in the administrations of President's Ronald Reagan, George H.W. Bush and George W. Bush.