Jim Caviezel Shares What He Prayed Over Co-Star James Faulkner Before 'Paul, Apostle of Christ' Movie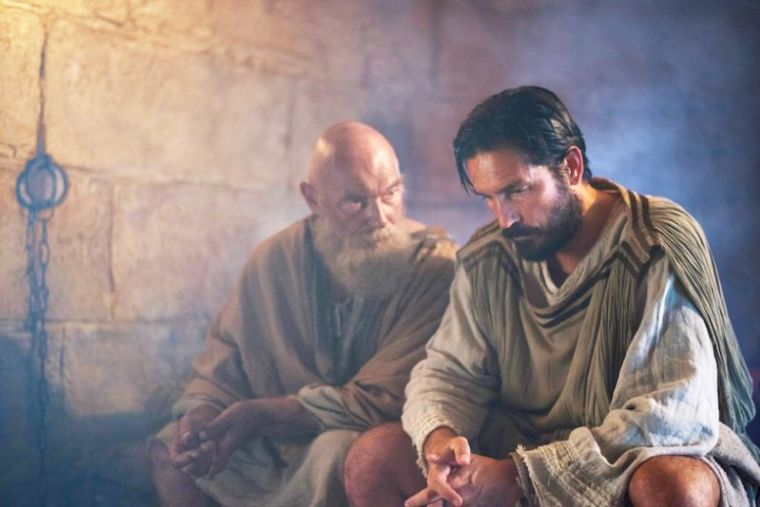 NASHVILLE — Hollywood actor Jim Caviezel is gearing up for the release of his new film, "Paul, Apostle of Christ," and told The Christian Post that before filming the Bible epic he prayed over his co-star, James Faulkner.
"Paul, Apostle of Christ," hits theaters on Friday and will bring to life the story of Saul of Tarsus, who was known for persecuting and murdering Christians but went on to become one of the most powerful and important figures of the Church after he encountered Jesus on the road to Damascus.
"Paul, Apostle of Christ" stars Caviezel as Luke; Faulkner ("Game of Thrones") as Paul; and Olivier Martinez ("S.W.A.T."), Joanne Whalley ("A.D. The Bible Continues") and John Lynch ("The Secret Garden").
"There's a part in the movie when he [Luke] said to Paul, 'I never met Christ in person but when I saw you preach I saw Christ in you,' and he was changed forevermore," Caviezel illustrated to CP, adding that he wants to be like that as well when taking on Christian roles.
"I never focus on me, I just want them to see Jesus, even with this film," he said.
Caviezel explained that conversion doesn't make people wealthier but it will bring them from death to life. He went on to share how he encouraged Faulkner to put himself aside and truly embody the role of the beloved Apostle.
"I prayed for James in 'Paul, The Apostle of Christ.' I [recently] read an interview where he [James] said, 'I didn't play Paul, He played me.' That was my prayer [for him] — that he would, and he did, and he became him," he said.
"Those are the great actors that don't want to get in the way," Caviezel added. "They sacrifice who they are to let the audience experience God in that way."
"The Passion of Christ" star has a long catalog of other films which he believes lean toward "faith-based," even if they are not explicitly Christian films. He listed, "The Count of Monte Cristo" and "Frequency" as redemptive films he's been a part of.
"Paul, Apostle of Christ" will showcase when "Paul suffers alone in a Roman prison, awaiting his execution under Emperor Nero. Mauritius, the ambitious prison prefect, can hardly see what threat this broken man poses. Once he was Saul of Tarsus, the high-ranking and brutal killer of Christians. Now his faith rattles Rome. At great risk, Luke the physician visits the aged Paul to comfort and tend to him — and to question, to transcribe and to smuggle out Paul's letters to the growing community of believers. Amid Nero's inhuman persecution, these men and women will spread the Gospel of Jesus Christ and change the world," according to the film's synopsis.
The movie was filmed in Malta, which is an archipelago in the central Mediterranean between Sicily and the North African coast. 
"Paul, Apostle of Christ" will premiere in theaters nationwide on Friday.
For more information visit the film's website.